The
Friends of Stewart Park
celebrated a major early step in their goal to make park play facilities available to all children Saturday morning with a celebration of the completion of the renovation of the park's carousel. The last piece was the adaptation of the chariot on the 68 year old carousel. As of Saturday wheelchairs may be secured after accessing the carousel via an accessible ramp that was installed last year.
"We wanted to address the accessibility issue," said Friends of Stewart Park Executive Director Rick Manning. "As you know it's a big theme for the inclusive playground. It's as barrier-free as possible, and a welcoming place for all children. We wanted to make sure the carousel reflected those values."
Friends of Stewart Park Chair Diana Riesman said the completion of the wheelchair-accessible chariot is the culmination of several years it took to restore the carousel.
The carousel was built and installed in Stewart Park in 1950, manufactured by the Allan Herschel Company, with 30 cast-aluminum horses. It was repainted in 19686 by Ithaca artist Annie Campbell. In 2016 a steel fence was erected around the carousel, and local artists Christi Sobel and Julia John repainted it again. Last year an accessible ramp was installed, and the last piece was refitting the chariot. The side of the chariot is now a hinged wall that allows easy wheelchair access when the outside portion is hinged down to meet the ramp.
Friends of Stewart Park officials say the Inclusive Playground will be unique in the region. They announced the public phase of fundraising for an accessible playground with a goal of $1.68 million, $1.5 million of which had already been raised in a silent phase as of last week. The goal is to allow children of all abilities to play side by side. Enhancements will include an accessible berm, wide walkways, a spray play area, sand and music gardens, new bathrooms, and a picnic shelter.
"When the community comes together behind projects like this, this is how we get to improve our beautiful city facilities," said Ithaca Common Councilwoman Deb Mohlenhoff. "We are paying more attention. We are not perfect, but we're attempting to be better at accessibility in our community. I am so excited to be representing the City today with the new accessible playground."
Saturday's celebration featured a ribbon cutting, and an announcement that a public phase of fundraising for a planned accessible playground. Officials reported that, as of last week, $1.5 million of a $1.7 million goal had already been raised as of last week. Carousel rides, normally one dollar, were free during the event.
The first phase of the playground itself is a community build planned for September 11th through 16th. Volunteers will work with playground professionals to construct the pre-school portion of the playground plus the sand play area.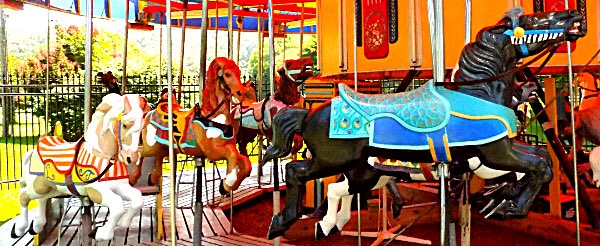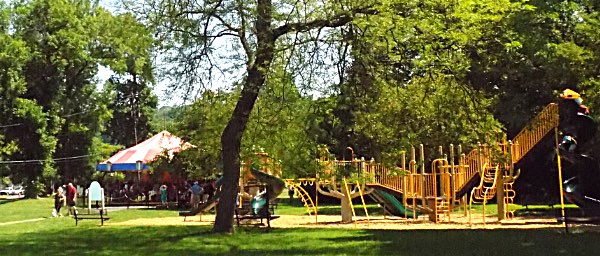 The carousel is open from 11am to 7pm, Wednesdays through Sundays.
v14i26