Really? Virginia Beach? How is THAT within reach?
Hey, if I can make it there – you might be able too!
Virginia Beach has everything you could possibly want – and for me, I wanted an AAmco transmission shop to fix my truck that broke on the Eastern shore of VA.
Happily, we have great friends there what hosted us for several days – only to find that it would take a week or more to get the pickup done. So we rented a vehicle and meandered home, knowing that a flight down to pick up the pickup was in our future…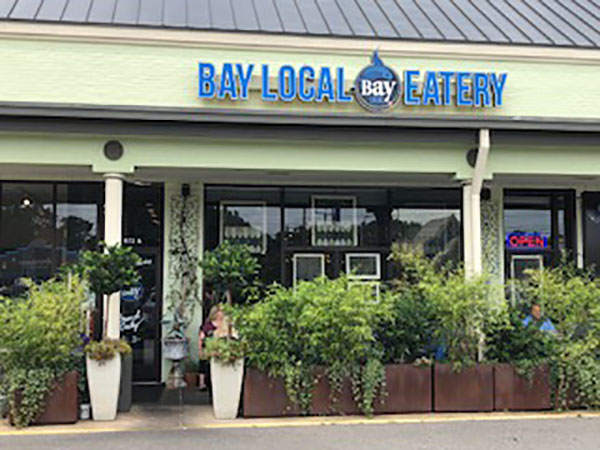 Our hosts are big fans of Guy Fieri and his show on the Food Network, Diners, Drive-Ins and Dives. Guy has spent quite a bit of time cruising Virginia Beach visiting excellent places. The place we visited called '
Bay Local
' has been recommended to Guy for the show, but he hasn't got there yet – so I'll give you a sneak preview.
First, Virginia Beach is, geographically, one of the largest cities in the US. Also, there is no way to get to anywhere from anywhere in a straight line, so I heartily recommend you get a GPS you can trust. No WAY could I have found this place by map or directions.
Actually, Bay Local has two locations and I believe we went to the one at 972 Laskin Rd. It is part of a small strip mall, nicely decorated with plants, flowers and looks welcoming. I say I BELIEVE we went to the Laskin Rd location because I lost track from the back seat. Sometimes you have to trust the driver…
Strip mall businesses seem to always be boxy and uninteresting – this place doesn't follow that path. Curves, circles and diagonal lines flow throughout, and almost every bit of flat wall space has photos of Virginia Beach fishermen from ages past.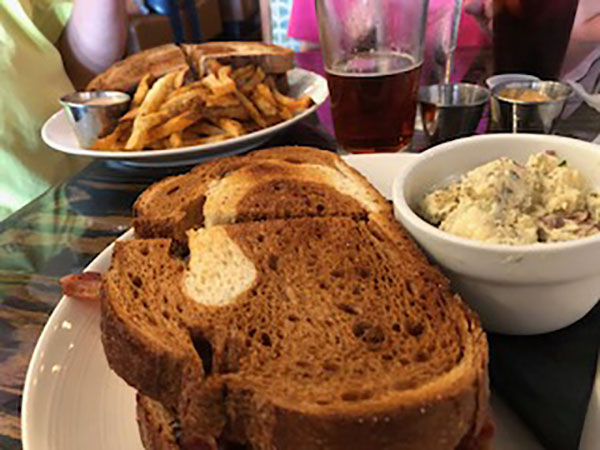 The service was relaxed and genuine. The greatest difficulty was deciding what to order, because every single item looked so darn good. While we were waiting for food, one of the people across the aisle in a booth had a 'Breakfast Burrito' delivered – it reminded me of an armadillo but yellow, with bacon spread over it. I asked the gentleman if he minded if I took a photo of it. He looked at me a little weird, but said OK. (I'm not known for my shy and retiring personality…)
Bay Local is just what it says, using locally caught and grown raw materials to construct edible masterpieces. The Calamari was perfect (not at all rubbery) and my Pastrami on Rye was seriously thick and juicy. I've heard that line somewhere before. Our hosts had Oysters Rockefeller which looked and smelled divine.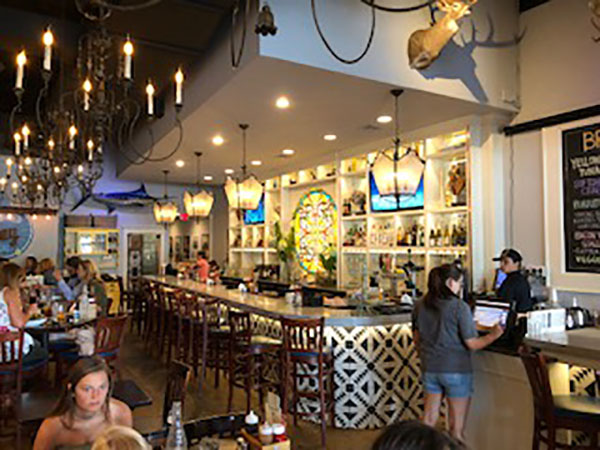 Even the choices of beer were local, and almost as good as Ithaca Beer…
The visit to Bay Local dulled the smarting I was feeling from the misadventure with the truck, and a week later I flew down to Norfolk to retrieve it. A side note, when they offer you a service contract when you buy a used vehicle, get it. The truck repair cost me less than $200, while the warranty company paid $2,800. Ok, I did have to spring for the rental truck to get us home and the flight back down, but it coulda been worse. A LOT worse.
Virginia Beach is on the way to the Outer Banks and North Carolina's ocean playground. Plug Bay Local into your GPS for an excellent brunch on the way. If it's within reach for me, it's within reach for you too!
---
'Within Reach' highlights the food, wine and fun of places 'within Reach' of Lansing NY. Of course, your reach extends exactly as far as you want it to. I am
Monroe Payne, Uncle Monte
to some. Come with me as I visit, taste and play in our own back yard, the beautiful Finger Lakes of Central New York.

v14i31