More than 2,500 people came to the Ithaca Tompkins Regional -- soon to be International -- Airport Saturday to see Tommy fly. Tommy is a Thomas Morse Scout, one of nearly 600 that were manufactured in Ithaca a century ago in what is now the Morse Chain building, and used as training planes in World War I. And fly it did! Pilot Ken Cassens took off from the grass runway that is sandwiched between the paved runway and taxiway, made several passes across the airport before making a perfect three-point landing to a cheering crowd.
"The Thomas Morse S4 Scout was an advanced high speed trainer designed for the US Army Air Corps to be used in World War I," read Ithaca Acting Mayor Deborah Mohlenhoff from a City of Ithaca proclamation. "The Scout played an enormous role in the early years of aviation, and became affectionately known throughout the aviation world as 'Tommy'. In total there were only 600 of these planes built, with 13 planes in existence as of today, and only one in fully restored condition to fly, our own Ithaca Tommy plane."
The plane was originally built by the Thomas Morse Airplane Company, a predecessor of Borg Warner/Morse Systems, that was located in Ithaca 100 years ago.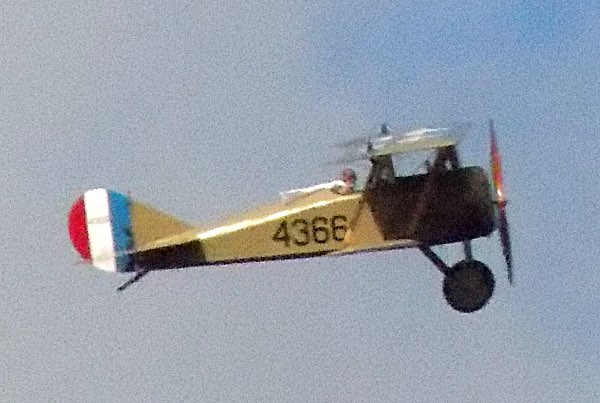 Ithaca Aviation Heritage Foundation
's Don Funke has been restoring Tommy for the past ten years, leading a group of around 40 volunteers. They stripped the plane down to its spruce skeleton, rebuilding it with as many original fuselage and metal parts as they had, and recovering the fuselage with donated fabric and paint. They refitted it with an original rotary engine.
Sixteen years ago the Ithaca Aviation Heritage Foundation was founded to find a Tommy Scout that could be restored and based in Ithaca, its original home. Members of the foundation followed every lead, finally learning of Newport Beach, California Doctor William Thibault, who said it was his 'retirement project' and he didn't want to give it up. Foundation members had acquired some Tommy parts after touring one of the buildings the planes were built in, which still exists today. They had built new wings before hearing of Thibault's Tommy, but it turned out they wouldn't need them.

It turned out that Thibault had family living in Ithaca. Eventually Funke met with Thibault while he was visiting Ithaca, and Thibault decided to donate it to the Foundation.

"When I first acquired it I thought I would be fixing it up and flying it," Thibault said, attending the event on Saturday. "They years went by and obviously that wasn't going to happen. There were a number of people interested. I wanted to either sell it or trade it, or leave it on the floor and exhibit it. When Don came to me with the idea that they wanted to fix it and fly it, that seemed like what I was really looking forward to. That's how it ended up here."
Mohlenhoff read a proclamation from the City of Ithaca proclaiming September 29th 'Tommy Come Home Day' in the City of Ithaca. Likewise, Tompkins County Legislature Chair Martha Robertson read a portion of a proclamation from the County, proclaiming each September 29th from Saturday forward. She called Thibault up to the podium to thank him for donating the plane to Tompkins County.
"We are delighted Doctor Thibault is here," Robertson said. "Thank you so much for donating the Tommy plane to Tompkins County. And the celebration of community... this is a team sport. This took tons of volunteers, people who donated space in their buildings for 15 years worth of construction. It took everybody pitching in to make sure there was a place to build this plane, and the support for it and the fundraising and everything else. We are so proud to celebrate this, and I am very proud that the Tommy plane will hang in the Tompkins Center for History and Culture downtown on the Ithaca Commons."

Borg Warner/Morse Systems Vice President of Global Manufacturing Steve Snyder noted that Tommy had originally be built at his company, and said it was a privilege to be able to witness a part of the company's legacy.
"When the team first acquired this particular piece of equipment the team was kind enough to bring it over to our lab during one of our technical conferences, approximately eight years ago," Snyder recounted. "It was in very rough shape, and I think I was one of the people that said, 'You're going to restore this? And it's going to be airworthy?' And here we are. At Morse we take great pride in that legacy and are unbelievably impressed with the dedication and hard work of the many volunteers who were part of the restoration of this aircraft."
A hundred years ago Thomas Morse Scouts and other planes flew in and out of the Ithaca Airport at Cass Park, where the Hangar Theatre, formerly an actual hangar is the only remnant remaining. Ithaca-Tompkins Regional Airport Manager Mike Hal told the story, concluding with, "It's wonderful to have the opportunity today to celebrate the richness of our heritage. And the spirit and resilience of our community."

In keeping with Tommy's history, pilot Ken Cassens took off and landed on the grass runway that is sandwiched between Ithaca's paved runway and its parallel taxiway. Tommy circled the airport at low altitude many times, giving onlookers a great view before returning to the runway in a perfect three-point landing.

There are no plans to fly Tommy again. The plane will be stored at the airport until it is put on permanent display at the new Tompkins Center for History and Culture, which is due to open on the Ithaca Commons early in 2019.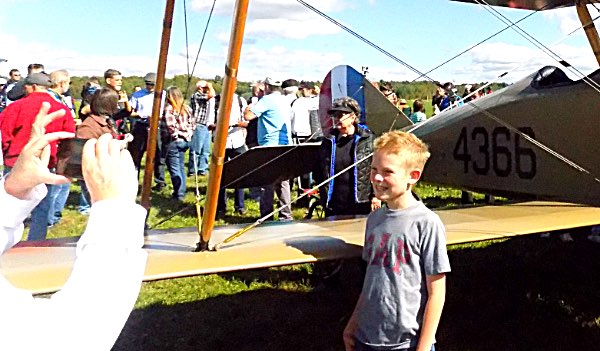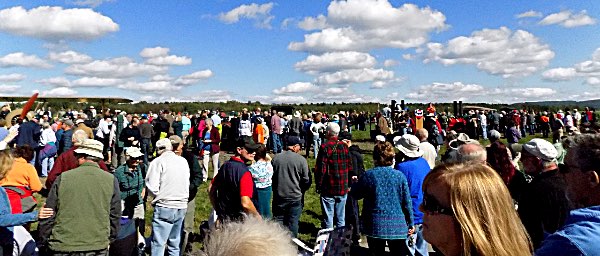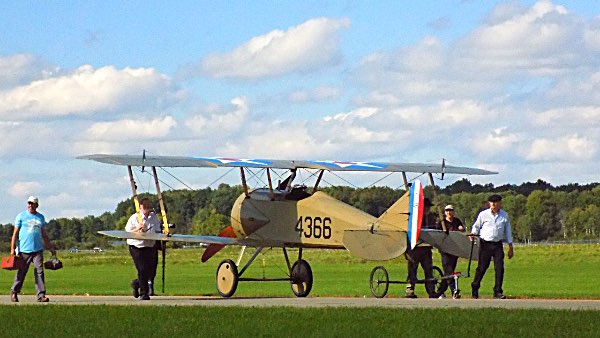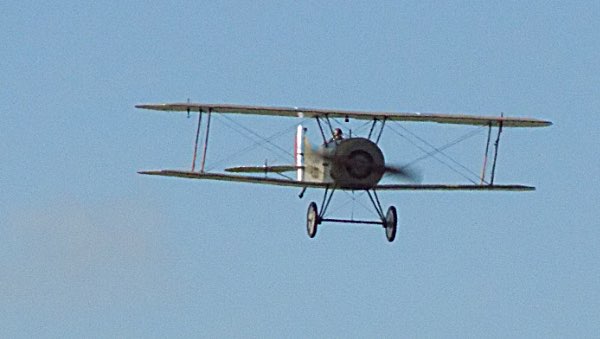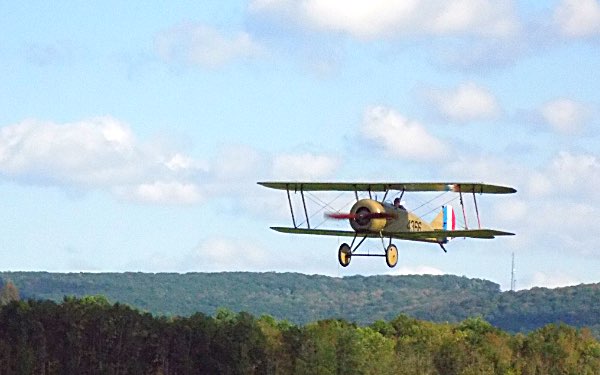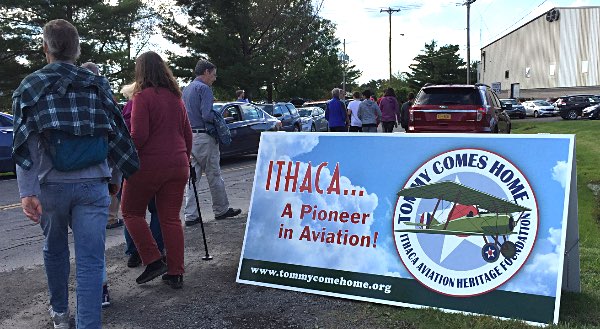 v14i38