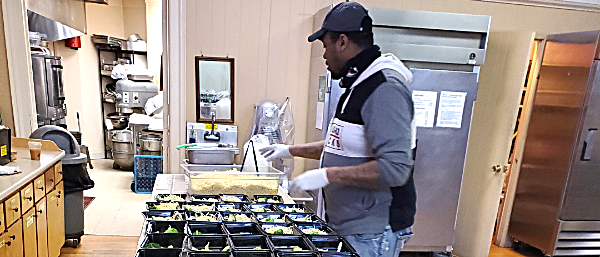 As restaurants across the state were ordered closed this week, two eateries in Ithaca decided to donate their excess food to a free meal program offered by New Roots Charter School. The owners of Viva Taqueria and Pasta Vitto on The Commons offered a generous donation of food on Monday to New Roots' free farm-to-school meal program. The owners made the offer after New Roots broadcast the free farm-to-school meals to any youth in the community.
"We are closing tonight for the foreseeable future," Ursula Kurman Browning, the owner of Viva Taqueria, wrote in an email to New Roots staff. "I saw that you were providing food for your students. We have lots of food — prepped and not prepped — and were wondering if you would be interested in any of it."
The farm-to-school team accepted the food for the free meals distributed every weekday from 12 to 1 p.m. on the front porch of New Roots at the Clinton House, 116 North Cayuga St., Ithaca. Parents who need a free meal for their children can request delivery or an alternative pickup location by emailing
This email address is being protected from spambots. You need JavaScript enabled to view it.

.
While the farm-to-school program typically offers free lunches to New Roots students, it was expanded to provide meals to any youth in the community when schools in Tompkins County closed this week.
"Collectively, we will all get through this unprecedented situation through generous acts of kindness and community empowerment demonstrated here by two longtime local organizations," said Michael Mazza, director of community engagement at New Roots.
The farm-to-school meal program was started by Allyn Rosenbaum, the operations manager at New Roots, when the school was founded in 2009. All meals are prepared by New Roots' farm-to-school team, including staffer Mark Thornton and alumnus Ashanti Rhody, in the commercial kitchen at St. Catherine's Greek Orthodox Church.
v16i12