Arts and Entertainment | Friday, June 14, 2019 | By Linda Glaser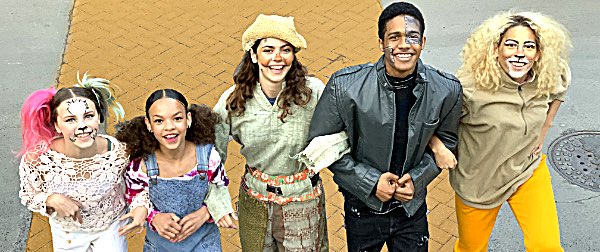 The Tony Award-winning "The Wiz" eases down the road to Ithaca, where Running to Places' (R2P) enthusiastic company goes all out in a collaboration with Circus Culture that will have audiences oohing and aahing and bopping in their seats. The show runs June 21-23 at the State Theatre of Ithaca.
The story is the familiar one: A tornado transports Dorothy (Ella Monroe) into the land of Oz, where she encounters good witches (Shyanne Lewis and Davina Barrett) and bad (Savannah Gonzalez) and acquires companions as confused about themselves as she is: the Scarecrow (Elsbeth O'Toole), the Tinman (Sirus Desnoes), and the Lion (Julianna Cuevas). The Wiz (Mwape Sokoni) – who is not what she seems – sends them on an impossible quest featuring flying monkeys, oppressed Winkies, and a well-aimed bucket of water.