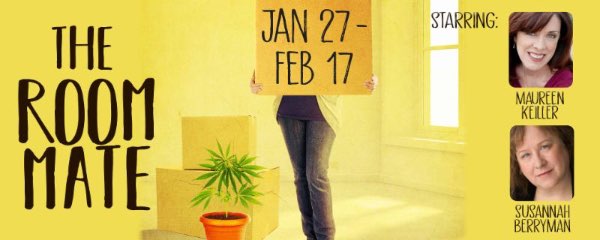 The Kitchen Theatre Company will enchant audiences with its upcoming dark comedy The Roommate by award winning playwright Jen Silverman. Performances of The Roommate begin at the Kitchen Theatre Company in the Percy Browning Performance Space on January 27th and run through February 14th. Opening night is Thursday, January 31st.
Recent divorceé Sharon is a 50's something homemaker who places an ad to find a roommate for her tidy Iowa home. When city slicker and probable outlaw Robyn moves in, she cracks Sharon's world wide open with possibilities.
Director Caitlin Lowans says, "Jen Silverman wrote the play in response to not seeing strong roles for women in their 50's, roles that allowed them to harness all of their power. I'm excited about showcasing two fantastic women and also exploring this story about the deep connections forged when you stop accepting the narrative you've been fed and start seeking an accomplice to just burn it all down."
Local actor and professor of Acting at Ithaca College Susannah Berryman, who will play Sharon, believes The Roommate brings something important to the Kitchen's season. Of the work's characters she says, "These two women, on the edge of middle age and old, are usually pushed to the side or invisible. They both have a strong need for transformation. So even when they don't tell the whole truth to each other, they are being honest."
Berryman has been a staple of the Ithaca acting community for decades and was excited to get the call from the Kitchen Theatre's Artistic Director M. Bevin O'Gara offering her the part. "There are a fair number of roles for women of a certain age that are written to be glib. That is not the case in this play," says Berryman. "The Roommate considers self-image to be a malleable construct-not carved in stone. The story explores that moment when, after years of thinking that we're stuck with being who we are forever, we realize we aren't made that way. The writing is vital and nuanced and--I know this is a made up word-'heartful.'"
Joining Susannah Berryman, who has performed and directed at the Kitchen Theatre many times, is Maureen Keiller, who will be making her debut at the Kitchen Theatre as Robyn. The play is directed by Artistic Director of Theatreworks Colorado Springs Caitlin Lowans. Scenic Design is by Frank Oliva, Costume Design is by Amanda Gladu, Lighting Design is by Sara Gosses, and Sound Design is by the Kitchen Theatre's own Lesley Lisa Greene.
v15i1