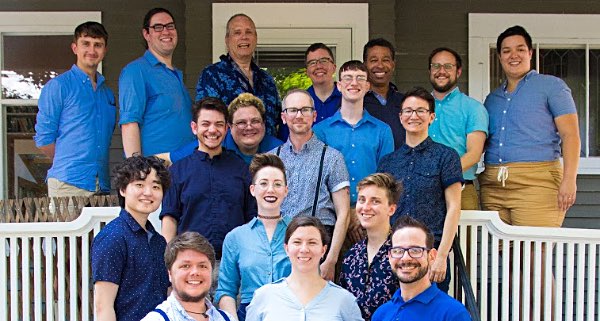 On November 17, 2019 the Ithaca Gay Men's Chorus (IGMC) will perform their Fall Concert, "True Colors" at 3:00 PM in the First Baptist Church, located in Ithaca's historic Dewitt Park at 309 North Cayuga Street.
IGMC will perform a varied list of musical pieces including a new arrangement of TRUE COLORS, composed by Cyndi Lauper, two compositions using the poetry of William Blake and much more. Also appearing on our program will be AFAB4, a newly formed quartet composed of members of IGMC.
Choral Director, Sam Kwan, begins her fifth season with IGMC. She is an alumna of Ithaca College's Voice Performance and Music Education bachelor's program.
IGMC is into its eleventh season of singing. Our seventeen members will be on stage in a program of accompanied music and a Capella arrangements. This concert will also include an appearance of quartet of transgender men, members of IGMC. They are called the AFAB4 (assigned female at birth).
IGMC was founded in 2009 and first appeared as a guest of the VOICES Multi-Cultural Chorus. VOICES and IGMC are members of Affiliated Choruses of Ithaca, formerly known as Ithaca Community Choruses, an organization providing opportunities for Tompkins County residents to perform in professionally directed choral groups. IGMC is the only inclusive non-audition choral group in the Ithaca area performing arrangements for the male voice.
IGMC performs regularly throughout the community and has received grants from the Community Arts Partnership. Recently, the chorus appeared at the Pride Day at the 2019 NYS Fair and Ithaca's 2019 Porchfest. IGMC performs at fundraisers, special events, and private weddings throughout the community. The chorus would like to thank the First Baptist Church of Ithaca for providing rehearsal and performance space since its inception.
v15i42