By

Dan Veaner

News

Print

Village of Lansing officials will consider rezoning a parcel on Bomax Drive to accomodate a proposed 140-unit apartment complex, just west of the Ithaca Tompkins Regional Airport. Park Grove Realty, LLC partner Andrew Bodewes asked officials at a joint meeting of the Board of Trustees and Planning Board Monday to rezone a 20 acre parcel from business use to residential. He brought Passero Associates' Jess Sudol and former Cornell Real Estate Operations President Tom LiVigne to explain the project and why a zoning change makes sense for the Village.
"There has not been anything new of this type built in this community and this county in a while," Bodewes said. "We think, in this location, it makes a lot of sense."
The project includes 14 10-unit buildings on a private circle drive on the south side of Bomax Drive about 1,000 feet west of Warren Road, between an existing industrial/commercial development and an apartment project. Included are a club house with a pool area and other amenities including walking trails, a community garden, and a dog park. The developers intend to keep an existing green area, including a creek, limiting construction to the northern part of the lot.
"It has some adjacent zoning that makes it make a lot of sense to request a rezoning from Business/Technology to High Density Residential," Sudol said. "It's not spot zoning. We're immediately adjacent to an existing High Density Residential project. So we're not proposing a use that isn't compatible with our surroundings. It also provides a transition of land uses."
Bodewes said that the project would provide a unique quality of living at a lower price than similar apartments in the city of Ithaca. He said that it would bring about five new jobs to the Village, and would help meet needs expressed in the 2006 Tompkins County Housing Assessment that concluded the county needed about 4,000 new housing units over a span of several income levels to accomodate people who work in the county but could not find housing here.
LaVigne said that about 3,200 units have been created, but noted most of them are student housing in the Collegetown and downtown Ithaca areas. He said this would be a high quality project that has a neighborhood feel to it.
"I do think this is a really good project for our community in general," he said. "There is still a great need for various other types of housing in Tompkins County. We think that our project will fill one of those niches."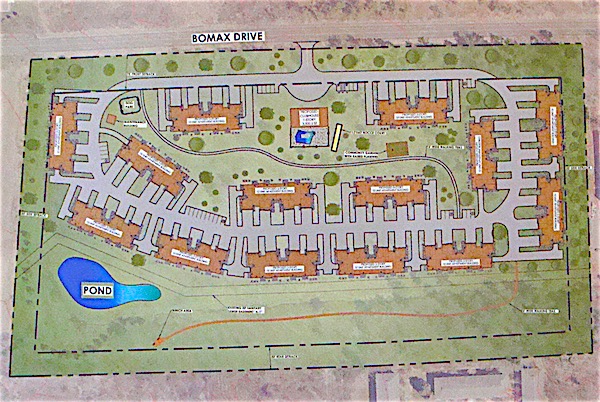 Park Grove Realty is based in Rochester, but LaVigne brings a significant local presence to the project. He said he has worked with Bodewes and Passero Associates for a decade. Among many other local projects, he was a key player in the creation of the Cornell Business and technology Park, across Warren Road from the proposed project, and in its management for many years.
"Our goal is to create a really nice apartment community that responds to a need that we see in this market," Bodewes said. "I have worked with Tom, developing here, for nearly ten years and we think there is a great need here for a variety of housing options. We think this addresses one of those options."
1,000 square foot one-bedroom apartments are anticipated to rent in the 41,300 to $1,400 range, 1,550 to 1,400 square foot two-bedroom apartments at around $1,600 to $1,700, and three-bedroom apartments up to 1,400 square feet would rent between $1,800 and $1,900. Bodewes stressed that the project is in the early stages and actual rents will be determined when it is more fully conceived.
When pressed by Planning Board member Lisa Schleelein on why the project doesn't produce much needed affordable housing, Bodewes said it wasn't economically feasible to build affordable housing on this lot because of its price. The lot is currently owned by Cornell University, which has produced a letter of support for the project. Bodewes said the University would have to recoup its investment in the land, and that makes it too expensive to build units with lesser rents.
Planning Board member Deborah Dawson also noted that including a sidewalk along Bomax Drive could make the project more attractive to the Village.
Sudol said his company has not seen other projects of this sort in the area, and his company has been very successful with this kind of design elsewhere around the state.
Planning Board Chairman Mario Tomei said the Planning Board will consider the zoning change at its next meeting.
v12i28