A plan for major improvements to the
Finger Lakes Marine Service
marina was considered at a Planning Board public hearing last week. The plan, prompted by NYS Department of Environmental Conservation (DEC) requirements, proposes improvements to just about everything on the property except for the majority of the docks.
"The marina is headed toward becoming an upscale marina," owner Barry Ford said. "It's already started. We've already 'upscaled' a lot of the customers coming in. The only way it could survive is to upscale."
Ford said that his mother didn't maintain the facility and DEC officials let things slide in deference to her age. But now that Ford has taken over the DEC has given him three years to comply with state demands to bring the marina up to snuff.
The commercial marina is located just before the entrance to Myers Park. The Finger Lakes Marine Service marina has 89 docks that are capable of accommodating 178 boats, plus 6 JET SKI® ramps. It includes a boat repair facility and winter storage as well as dock space and other amenities.
Next door, the Myers Park marina has 77 slips and 21 dry dock spaces. Space at the municipal marina is assigned by lottery, and offers a price advantage to Lansing residents. Ford noted that the park charges half the going rate for dry dock storage, which he said cost his business $10,000 of income because of customers moving boats from his marina to the park facility. Planning Board members suggested he approach the town Parks and Recreation Department to discuss the issue.
"The Town and Finger Lakes Marine need to work together, because the town and Finger Lakes Marine marinas join," Ford said. "They use the same channel. We dug out the channel this year at our expense so the boats could get in and out of both marinas. We were permitted to do it."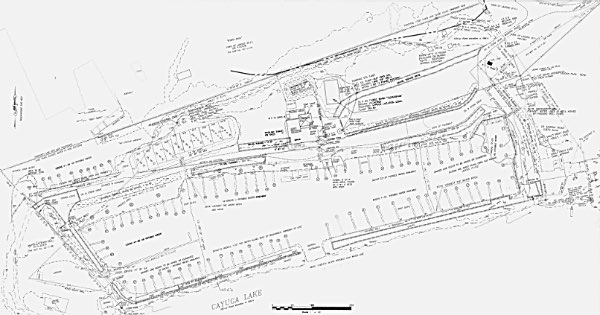 The project includes additions to the main building for a laundry room, decks, and a covered front porch, three wood-post picnic pavilions, work on a boat repair barn, 10 camp sites for recreational vehicles, replacement of an existing dumping tank with a larger new one, boardwalks along the docks, and a fire lane for emergency vehicle access. Future improvements to a bridge over a neighbor's lagoon, PVC sheet piling along docks, and up to 10 floating rental cabins near the docks. A few docks are expected to be relocated.
The neighbor whose lagoon is impacted by the bridge expressed concerns about the project regarding access to his property, and noise and light pollution, and maintaining privacy for his property. He complained that the existing low bridge limits access to his property for taller boats, and said he prefers a drawbridge or an unfettered channel into the lake. Ford said the marina would temporarily make the bridge able to handle heavy equipment for construction, but then return it to its current state. He said he had offered the neighbor a free boat slip to alleviate his complaint, but the neighbor had declined his offer.

The plan also includes improvements to sewage and water systems, a drainage and stormwater plan, and lighting, landscaping, and signage plans. Altogether it calls for 0.91 acres to be disturbed.
Amenities like camp sites, an existing playground, the laundry room are for the use of marina members only. Such amenities play into the facility becoming an upscale marina. When asked about RV camping spots, Ford said they are for members only.
"It's a misconception that our RV spaces are going to be like the park RV spots. The RV areas are only rented to our customers that rent a dock in the marina. We're headed toward a club-like scenario.
Planning Board Chairman Tom Ellis left the public hearing open, to be resumed at a future Planning Board meeting, to allow time for detailed information to be submitted.
v14i26