Governor Andrew M. Cuomo announced Wednesday that State Police will increase patrols to crack down on dangerous drivers and keep students safe as the new school year begins. The Governor urged motorists to watch for students as they walk or bike to school, follow posted speed limits, and obey the law by stopping whenever the red lights on a school bus are flashing and its stop arm is extended. This enforcement and awareness initiative supports ongoing safety measures the Governor has implemented to ensure the protection of New York's students.
"No matter how a child gets to school - whether on a school bus, a bike, a scooter, or on foot - they should feel safe," Cuomo said. "I urge every driver to do their part -- be alert and follow the rules of the road. Drivers who put children's lives in danger will be held responsible."
In addition to stepping up patrols, State Police will again be partnering with AAA for their annual 'School's Open - Drive Carefully' campaign. State Police will be displaying AAA's 'School's Open' bumper stickers on all marked patrol cars, as an added reminder to motorists to be on the lookout for students.
State Police Superintendent Keith M. Corlett said, "Traffic safety is a top priority for our agency. As school buses return and kids walk through our neighborhoods, State Troopers will ramp up enforcement and raise driver awareness to prevent injuries and save lives. We ask everyone - parents, neighbors and motorists - to work with law enforcement and pay attention behind the wheel to ensure safe travel for all children. We want to make sure this school year is a safe one for our smallest New Yorkers."
Mark J.F. Schroeder, DMV Commissioner and Chair of the Governor's Traffic Safety Committee, said, "As the new school year begins, I urge all motorists to pay careful attention to when and where children may be on their way to or from school. And if you see a school bus come to a halt, turn on its red flashing lights and put out its "Stop" sign, do not pass it for any reason. A moment's impatience could mean a lifetime of pain for a family and dire consequences for yourself."
The Governor's Traffic Safety Committee (GTSC) estimates that 50,000 motor vehicles illegally pass school buses every day across the state.
In May, more than 640 drivers statewide were ticketed for illegally passing stopped school buses during 'Operation Safe Stop', a one-day enforcement effort. State Police and local law enforcement also issued 1,991 tickets for other traffic violations and made 74 arrests for offenses including drunk driving and aggravated unlicensed operation of a motor vehicle. This enforcement effort included 702 police officers from 75 law enforcement agencies.
Tickets were issued for passing a school bus in the following regions: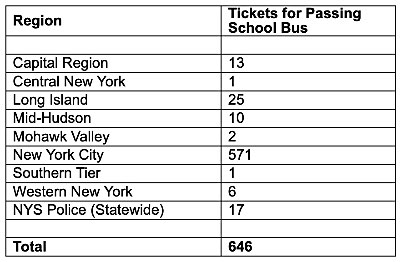 Operation Safe Stop is supported by the GTSC, the New York State Education Department, the New York Association for Pupil Transportation, the New York State School Bus Contractors Association, the student transportation industry, and state and local law enforcement agencies.
Drivers convicted of passing a stopped school bus face a fine of $250 to $400 and five points on their license for a first violation. For three violations in three years, drivers face a maximum fine of $1,000, a revoked driver license for a minimum of six months and could face jail time.
New York Association for Pupil Transportation Executive Director David Christopher, said, "NYAPT has advocated for years for a stop arm camera law in New York State and we are very pleased the law has finally passed. We believe the new law will help in reducing the serious issue of illegal passing of stopped school buses in our State. NYAPT surveys estimate there are over 50,000 incidences of illegal passing of stopped school buses each school day. Each illegal passing incidence creates a threat to students we are charged with transporting to and from school safely. We ask the motoring public to drive without distraction and stop for stopped school buses with red lights flashing. A child's life depends on it!"
v15i34