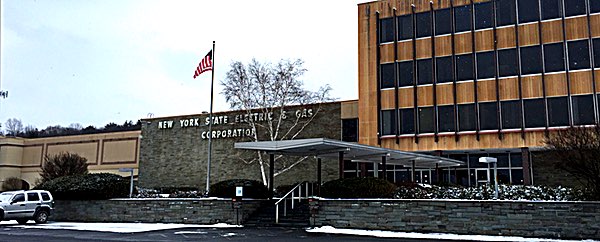 The Tompkins County Legislature, by unanimous vote, passed a resolution urging the New York State Public Service Commission "to condition any rate increases by New York State Electric and Gas on the provision of more reliable, affordable, and sustainable service to its customers to facilitate transmission of solar and wind energy systems onto the grid." As recommended by the Tompkins County Energy Task Force and the Legislature's Planning, Energy, and Environmental Quality Committee, the measure states that the Legislature supports the statements made by more than 60 people at the PSC's August 14th public hearing in Ithaca.
The resolution, in part, states that NYSEG customers in Tompkins County have experienced increasingly frequent power outages and marginal power quality in critical areas; that NYSEG has not adequately maintained its power grid and has failed to perform adequate routine vegetation management around its power lines; has discouraged development of solar and wind facilities; and has failed to resolve the situation related to the Town of Lansing's gas moratorium, in effect since 2015.
NYSEG's rate increases should also be linked to its ability to provide and maintain a power grid that can accommodate the beneficial electrification that will be necessary to meet the state's and Tompkins County's greenhouse gas emissions reduction goals, the resolution states.
v15i34