Sports | Friday, November 22, 2019 | By Steve Lehr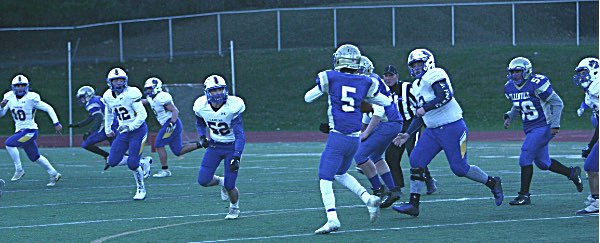 After earning the Section IV championship last weekend, the Lansing varsity football team was escorted by Gary Christopher downstate on a 3½ hour bus ride to Kingston, NY. The opponent for the Regional Championship game was the Ellenville Blue Devils who had just a ½ hour trip. That's just the way it's drawn up by the NYS high school athletic association for the 8-man competition. Section IV is to play Section IX at Section IX. Lansing athletics and its director Matt Loveless made sure the team was provided champion accommodations with a hotel on Friday night before the game in Kingston and some good eats as well.
Deb Brotherton and Lori Crandall spearheaded a little pre-game 'Best Western' tailgating with Bobcat football alums Mark Brotherton and John Munson cooking up burgers and dogs. Thanks everybody for the fantastic variety of foods and snacks. This was definitely a hot chocolate football day when it was time to settle into the wind chilled game that saw the sun fade quickly after the 4 o'clock kickoff.