By

Becca Lovenheim

Sports

Print
The Lansing girls captured their second consecutive IAC Large School title after a two-day competition and followed it up with securing their second consecutive Section IV Class C Championship victory. Last year, the battle for the IAC title was intense, with the Ladycats winning over a close second-place Newark Valley. This year, the IAC win for Lansing was decisive as the blue and gold girls outscored the Cardinals by 52 points. In a more closely contested meet at the Section IV Class C Championships, with points spread across 16 teams, the girls of Lansing found themselves waiting for the final announcement of the ending scores, 23 points ahead of Chenango Valley. 


The boys team was tied with Trumansburg for third at the end of the first day of IAC competition, only 6 points away from the top spot. It looked to be a close race between the top four large schools. With the Raiders stepping up the competition on Day 2, the young Bobcats fell to 4th place with their eyes on capturing this title in the future. The Raiders would win the boys competition by 34 points with Waverly (81 points) taking second and Dryden (75 points) in third. Lansing was just 4 points behind them with 71 points. At sectionals, many Bobcats found their way to the podium, but Trumansburg was dominant, scoring 128 points – 46 points ahead of Union Springs. There were only four points separating 3rd place Chenango Valley from 5th place Lansing.


 Complete IAC Championship meet results
can be found here
. Complete Section IV Class C Championship meet results
can be found here
.

Several new records were set by Lansing athletes over the course of these two championship meets:
Meghan Matheny '18 set a new IAC Championship meet and Trumansburg stadium record, winning the pole vault with a clearance of 12'6"
Catie Eisenhut '20 set a new Trumansburg stadium record and Lansing school record, winning the IAC Championship 1500 with a time of 4:44.09.
Eisenhut went on the better her school record at the Section IV Class C Championships, winning the 1500m with a time of 4:43.64.
Dakota Edwards '19 set a new Lansing school record in the long jump, jumping 21'6.5" and capturing third place in a very talented field at the Section IV Class C Championships.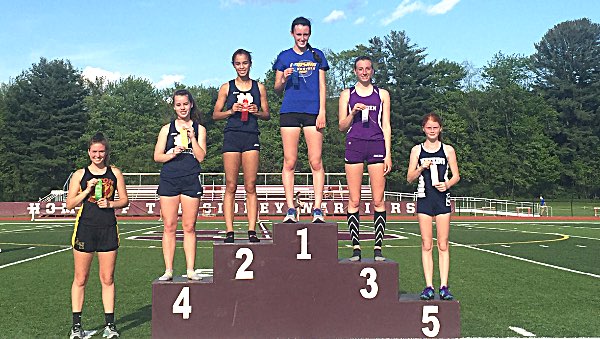 Other notable Lansing performances included:
The girls pole vault trio of Matheny, Miya Kuramoto '18, and Gwen Gisler '20 continued their sweep of podiums at both the IAC and Section IV Class C Championships, remaining undefeated this season.
Cat Zaloj '20 won the Section IV Class C girls high jump, clearing a new personal best of 5'2"
Mikaela Garcia '18, Kinsley Jacobs '23, Emmy Jackson '21 and Eisenhut won the girls Sectional 4x800 by nearly fifteen seconds.
Sam Panzer '20 won the Sectional title in the 100m dash with a new personal best time of 11.41. Teammate and captain Edwards took third in the event.
IAC All Star Performances by Lansing Athletes (places 1-3 are 1st Team, places 4-6 are 2nd Team) included:
RELAYS:
4x800 Girls, 1st Team All-Stars: Mikaela Garcia '18, Kinsley Jacobs '23, Emmy Jackson '21, Catie Eisenhut '20
4x800 Boys, 2nd Team All-Stars: Liam Hulsebosch '18, Jack Thomas '20, Torsten Gartenberg '20, Max Austin '21
4x100 Girls, 1st Team All-Stars: Matheny, Gwen Gisler '20, Paige Howard '21, Miya Kuramoto '18
4x100 Boys, 2nd Team All-Stars: Sirus Desnoes '21, Sam Panzer '20, Austin, Dakota Edwards '19
4x400 Girls, 2nd Team All-Stars: Cat Zaloj '20, Destiny Little '19, M. Garcia, Eisenhut
Matheny, Pole Vault
INDIVIDUALS (GIRLS):
Eisenhut, 1st Team 1500m and 1st Team 800m
M. Garcia, 1st Team Steeplechase and 1st Team Triple Jump
G. Gisler, 1st Team Long Jump and 1st Team Pole Vault
Jackson, 2nd Team 1500m, 1st Team 3000m
​Kuramoto, 2nd Team 100m, 1st Team Pole Vault
Matheny, 1st Team Pole Vault
D. Little, 1st Team 400H
Zaloj, 1st Team 100H, 1st Team 400H, 1st Team High Jump
INDIVIDUALS (BOYS):
Ethan Burt '20, 1st Team Pole Vault
Edwards, 1st Team Long Jump and 2nd Team 100m
Panzer, 1st Team 100m and 1st Team 200m
Alex Powers '18, 1st Team Shot Put and 1st Team Discus
Thomas, 2nd Team 3200m
George Taylor '19, 2nd Team 100H and 2nd Team Triple Jump
v14i20