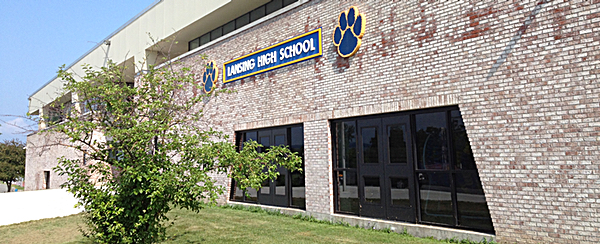 Next Tuesday, May 16, Lansing School District voters will go to the polls to decide whether the 2017-18 budget should be approved and to elect three Board of Education members. Voters are being asked to approve a $29,152,000 budget and the purchase of three school buses. The new budget is 3.94% higher than last year's budget with a projected combined (property tax and PILOT revenue) tax levy increase of 3.94% - the actual levy will be set later this summer. The bad news for property tax payers is that they will be picking up the slack from a $25 million reduction in the assessed value of the Cayuga Power Plant. That means a projected property tax levy increase of 6.68%.
Three open positions are are currently held by Christine Iacobucci and Tony Lombardo, and Glenn Swanson. Iacobucci and Lombardo hope to be elected for another term. Linda Pasto, Lynne Lacko-Sheldon and Brenda Zavaski are also vying for board seats. Swanson is retiring from the board after many years of service. The five candidates participated in a 'Meet The Candidates' question and answer session Monday. Below is a summary of their background and positions that they submitted in order to run.
Christine Iacobucci
Anthony (Tony) Lombardo
Linda Pasto
Lynne Lacko-Sheldon
Brenda Zavaski
EDUCATION: Ph.D. Sociology

EMPLOYER: Tompkins Cortland Community College

CHILDREN: four Lansing graduates
EDUCATION: Empire State College

EMPLOYER: The CBORD Group, Inc.

CHILDREN: Bailey, 9th
EDUCATION: BS,MS in Nursing, BS in child and family studies
EMPLOYER: Retired from TC3
CHILDREN (Names and Grades): Current: Savanna Grade 2, Tim class of 1996, Jamie class of 1999, Bet class of 2006, Jennifer class of 2008
EDUCATION: Lansing High School - Class of 1990, Tompkins Cortland CC - Class of 1992

EMPLOYER: Tompkins County Department of Finance

CHILDREN: Serafina (University at Albany), Steven (Grade 9), Caitlynn (Kindergarten)
EDUCATION: 2006 - Certificate of Advanced Study in Educational Administration from SUNY Oswego;
1982 - Master's Degree in Learning Disabilities from Providence College;
1978 - Bachelor's Degree in Special Education from SUNY Plattsburgh

EMPLOYER:
STRENGTH(S) OF THE DISTRICT AS YOU SEE THEM:
• Devoted, skilled, and caring faculty, staff, and administrators
• Involved and caring community
• Strong academic core
• Excellent extracurricular programs
STRENGTH(S) OF THE DISTRICT AS YOU SEE THEM:
For it's size our school district has a wonderful range of excellent programs, the Arts, Music, Sports and certainly Academics. Every school district has it's challenges, but our students are fortunate to have a supportive environment that fosters growth and achievement. We are fortunate to have high quality, faculty, staff and administrators that care, and put in so much effort - earning the Lansing School District an excellent reputation. Our class sizes are relatively small, our buildings and grounds, ball fields, auditorium, etc. are in good repair and many improvements have been made to the buildings and facilities.
STRENGTH(S) OF THE DISTRICT AS YOU SEE THEM:
• Dedicated staff, faculty and administrators
• Continued high achievement of students in many areas
• Broad offering of services to students of varied needs
• Communication of varied media to inform community of what is going on in school district
• Community of inclusiveness and support for all students
STRENGTH(S) OF THE DISTRICT AS YOU SEE THEM: As the former Registrar, it was evident that all families who registered their children had heard many positives about Lansing Central School District. Parents and guardians boast about the reputation of academics, sports, art, and music opportunities.

I see many dedicated teachers and staff members that give their best to maintain positive relationships with students and their families. I see decision making teams consisting of students, parents, teachers, support staff, and administrators at each building. There is solid communication to parents regarding events going on around the District.

I see a community that works together through recreation programs, the Rotary Clubs, Booster, and so many other clubs. Lansing has a Parent Teacher Student Organization that offers so many opportunities for families and school personnel. These are all amazing groups of volunteers that go above and beyond.

As I drive, I see a gorgeous campus, lake and, athletic fields that are perfectly groomed. I see great memories I had as a Lansing Bobcat.
STRENGTH(S) OF THE DISTRICT AS YOU SEE THEM:The greatest strength that I see in Lansing revolves around school leadership. The Superintendent is an advocate for shared decision-making. This is a commitment to having decisions that affect a school's functioning take place at a level that would most directly affect teaching and learning.
DISTRICT ISSUES WHICH YOU WOULD LIKE TO SEE ADDRESSED:
• Maintain Lansing's reputation of academic excellence while being fiscally responsible
• Continue inclusive collaborative decision-making
• Increase use of district resources to more of our community
• Continue education advocacy with state and federal government
DISTRICT ISSUES WHICH YOU WOULD LIKE TO SEE ADDRESSED:
Having excellent teachers, programs and a campus of buildings is expensive. The recent reductions in value to the power plant, the property tax cap and changes to the state budget along with state mandates have made fiscal responsibility a challenge. We need to continue to work with our state and local representatives on solutions and possible cost saving measures.

I believe that every student, regardless of background, economic or other circumstance should all have equal access to education. We must continue to foster a culture of inclusion at the Lansing School District.
DISTRICT ISSUES WHICH YOU WOULD LIKE TO SEE ADDRESSED:
• Continued fiscal responsibility
• More parental involment in educational process
• Recruitment of more nontraditional employees who would better reflect the increasing diversity of population
• More awareness of diversity in academic curricula
DISTRICT ISSUES WHICH YOU WOULD LIKE TO SEE ADDRESSED: My priorities are our children, children's families, teachers, and our taxpayers. The sequence of priority may be different depending on situation. Recently, I feel that there is a need to offer extra emphasis on the safety of the children in our district. I have also seen a concern from parents of students who are in need or are already receiving special education services. I would also like to make sure that the district is not missing out on grant opportunities that may be available through local, state, or federal funding.
DISTRICT ISSUES WHICH YOU WOULD LIKE TO SEE ADDRESSED:With such a diverse community, we need to make accommodations for cultural and socio-economic differences. We need to engage all parents in their children's education and make them comfortable in the school setting.
STRENGTH(S) YOU HAVE WHICH WOULD MAKE YOU A GOOD BOARD MEMBER:
• Involved Lansing parent and community member for over 25 years
• Knowledgeable and experienced (LCSD Board Member 2001 – 2007, 2010 – present)
• Dedicated to education
• Professional expertise in public education issues
• Conscientious
• Honest
• Reliable
STRENGTH(S) YOU HAVE WHICH WOULD MAKE YOU A GOOD BOARD MEMBER:
I believe I work well with others, and am willing to take the time to listen and learn about different issues and viewpoints. The school district can be a complex place, there is a lot that goes on behind he scenes. Our school district is not only part of the local community, it is part of a statewide system. It interacts with agencies across the county and state. There is a lot to learn and I have tried to learn as much as I can. I also enjoy the opportunity to give back to a community that has given a lot to myself and my family.
STRENGTH(S) YOU HAVE WHICH WOULD MAKE YOU A GOOD BOARD MEMBER:
• 31 years as a nurse educator at college level
• 31 years as a member of Lansing school district
• Ability to listen, problem solve, seek creative solutions to issues
• Served as PTSO president, member of multiple site based decision making teams Broad experience as parent of 4 Lansing graduates
• Have desire to ensure that current level of excellence district wide prevails
STRENGTH(S) YOU HAVE WHICH WOULD MAKE YOU A GOOD BOARD MEMBER: I am passionate about my role as a parent. I am a good listener, organized, and very enthusiastic. I am interested in the well-being of children, parents, grandparents, and our community. If I don't know the answer to a question, I will find out! This town is very important to me as my roots lie here. Lansing is very diverse with it's beautiful parks, lake, farming community, and awesome sports and recreation facilities. I am very familiar with public school budgets, finances, grant funding, and CPSE (Committee on Preschool Special Education). I started working in a public school setting 17 years ago. I began at Syracuse City School District in the Special Programs (Grants) Department which lead me to understand small to large local, state, and federal budgets. I worked my way into the Finance Division of the district. During that time, I served as the District Office liaison to 38 schools to train and manage each school treasurer and principal of an extracurricular budget that exceeded $1,691,000 in annual disbursements. It was my role to audit accounts, and make sure all requests followed district and state policies and procedures. I have also served as the District Medicaid Compliance Officer to ensure that our district's staff and students adhered to correct and honest practices.
STRENGTH(S) YOU HAVE WHICH WOULD MAKE YOU A GOOD BOARD MEMBER: I have been an educational leader who promotes success of all students by advocating, nurturing, and sustaining a school culture and instructional program conducive to student learning and staff professional growth.
With a stable, community-invested administration in place, I'd like to continue to help Lansing maintain its reputation as the best school district in Tompkins County. The district must continue to make informed, inclusive, mission-driven budget decisions that are fiscally responsible to our community.
I have really been honored and fortunate to have had the chance to fill a vacant board seat in 2013. I have served on the board since that time, most recently as Vice President. I've learned a great deal, served on many committees, attended many events and advocated for our schools.

It would be an honor and a pleasure to continue to serve on the school board and to server our community. Thank you.
I feel as the parent of 4 graduates of Lansing and current 2nd grader that it is time for me to commit to ensuring that the quality of education at Lansing continues despite the national environment of uncertainty
My father, my siblings, and I are all graduates of Lansing School District. My parents have always encouraged strong family values, along with the importance of sports and extracurricular activities a school offers. After attending college, I resided in Syracuse, NY and started a family. I had always wanted to return to Lansing as a resident, and made the move two years ago, when my oldest started college. I have 3 children:
Serafina (19) who attends University at Albany, Steven (14) who is a Lansing Bobcat freshman, and Caitlynn (6) who is a Bobcat kindergartener. I work at the Tompkins County Finance Department. My husband, Timothy Sheldon, and I, have been volunteer coaches in our children's recreation teams and I have served as a Chairperson for Syracuse City Edward Smith School PTO Board, where I successfully wrote grants to fund a reading garden, and other opportunities for students and families to enjoy.
I served as a Special Education Teacher from 1978 - 2006. I acted as an Adjunct Professor in the School of Education at SUNY Oswego in 2003. I was an Elementary School Principal at Wetzel Road Elementary School in Liverpool, NY from 2006 - 2011. I was hired by Tompkins County as an itinerant Teacher for Early Intervention through Children's Therapy Network in 2014 - 2015.

Most recently I had a rewarding experience as the Interim Elementary Principal for R.C. Buckley in Lansing, NY. That position ended quite abruptly when I was diagnosed with Stage 3 Breast Cancer. I am now in remission and I want to run for school board because I am committed to our children and I want to give back to our district and our community.
v13i19