Lansing Supervisor Candidates announced this week they have gathered enough signatures to get onto the ballot for the November 8th election. Lansing Democratic Committee member Pat Pryor announced Tuesday that Kathy Miller has collected enough signatures to appear on the Lansing Lighthouse line. Connie Wilcox announced Wednesday that she has collected enough signatures to run as an Independent.

"I believe elections are about choice," Miller says. "As a candidate I will reach out to voters to listen to their concerns and share my vision for Lansing's future. When voters go to the poles on November 8th, they can be assured if they choose me, of my commitment to every resident of Lansing. I look forward to the campaign and the opportunity it provides to communicate with voters and share ideas on the issues."
Miller defeated Wilcox and Supervisor Scott Pinney at the Lansing Democratic Caucus on July 28th. On August 2nd Wilcox officially announced she would run as an independent. She needed just under 200 signatures to get onto the ballot. Tuesday morning she turned in 241 signatures to the Tompkins County Board Of Elections. Wilcox says she collected the majority of signatures by visiting voters door to door.
Miller also needed slightly fewer than 200 signatures to get onto the independent Lansing Lighthouse line in November. She turned in 321 signatures Tuesday morning.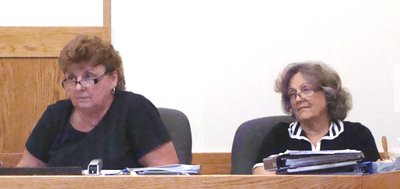 Councilwomen Connie Wilcox (left) and Kathy Miller at the August Town Board meeting


Wilcox was chosen as one of two Democratic candidates to run for Town Board positions. Now that she is running for Supervisor, the Democrats have one slot to fill. They have until September 27th to appoint a replacement candidate.

Michael Koplinka-Loehr, who was also chosen to be a Democratic candidate for Town Board also turned in signatures to place him on the Lansing Lighthouse line.

Koplinka-Loehr and a new candiate (if one is appointed) will face off against Republicans Andra Benson and Ed LaVigne for the two vacant Town Board seats.

"So let the campaigning begin!", says Wilcox. "I am very excited and know that I have a lot of hard work ahead of me, but win or lose, I know I will have given it my best, and I truly hope that I can help shape the future of Lansing as Town Supervisor."

{fcomment}

v7i33
elections2011