Lansing Deputy Supervisor Connie Wilcox was voted one of two Town Board candidates at the Lansing Democratic Caucus in July. But when she announced in August that she would be running as an independent to challenge Democratic nominee Kathy Miller for the Supervisor seat, it left the Democrats with a hole in their slate. Tuesday evening they appointed Ruth Hopkins to run for the board.
"I really care about Lansing as a place to live," Hopkins says. "It's a fascinating town. I've spotted a lot of things that I think I can improve. I think I have the luxury of some training that has given me skills that I can use. I thought I'd give back."
Wilcox and Michael Koplinka-Lehr were elected to be the Democratic candidates for Town board at the caucus, but neither was a sure thing at the time. Koplinka-Lehr, who has served as Tompkins County Legislature Chair, made an on-the-spot decision to run. Wilcox, currently completing her second term on the board, accepted the nomination, but warned that her intention was to run for the Supervisor seat, and that if she couldn't do that as a Democrat she would try to do so as an independent.
Because of that a committee was appointed to search for and appoint replacement candidates if they were needed. Sheldon chaired the committee, and Hopkins, Dan Konowalo, Ted Laux, and Donna Scott were also appointed to choose new candidates if needed. They considered three candidates including Hopkins, Katrina Binkewicz, and Phil Munson.
Hopkins has been active on the Lansing Trailways committee and is a former Lansing Zoning Ordinance Review committee member. She is a part time independent contractor, currently developing leadership programs for SUNY Leadership Institute that will be implemented in the 64 New York State colleges and universities. Binkewicz served on the 2010 committee and is a former Town Board member. Munson brought a farming family history and a point of view about proper land stewardship.
Sheldon says all three potential candidates would be electable if chosen to run. He says it was Hopkins' current involvement in Town matters that swayed the committee to appoint her as their candidate.
"Having someone who has the time to do the job correctly was a higher priority than electability, but I think all three people convinced us they could do that," he says. "And all three are electable. Ruth has been working very hard recently with the Lansing Trails and has been involved with the current events in the Town. So we felt she could hit the ground running with current stuff at her fingertips."
By the time the committee met after Wilcox withdrew Hopkins knew she wanted to run. She asked to recuse herself from the committee at that point, but committee members asked her to sit in. But she did not participate as a committee member in their second meeting Tuesday.
Sheldon says the Lansing Democrats will support Hopkins' candidacy by helping with mailings and yard signs, and limited financing. He says the Committee plans to raise funds for all the Democratic candidates.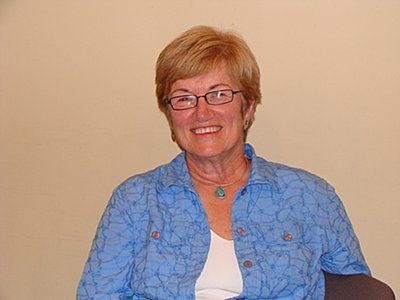 Ruth Hopkins
As the replacement committee chairman Sheldon was required to file Hopkins' candidacy with the Tompkins County Board of Elections, which he did Wednesday morning.
"We're delighted that Ruth is running," says Hurf Sheldon, who chaired the replacement candidate committee. "Ruth has been so active with experience in planning and economics and dispute resolution. She has a pretty vast resume. Clearly in doing the Lansing trails work she has been able to pull all that together in a way that's worked very well for the community."
Four candidates will run for the two Town Board seats vacated by Wilcox and outgoing councilman Marty Christopher. Hopkins will run against Koplinka-Lehr and Republicans Ed LaVigne and Andra Benson in November. The two with the most votes will win. Hopkins says she is looking forward to the campaign and the conversation that will be part of it.
"I'm very happy. I'm pleased. I'm honored," Hopkins said Tuesday night. "What an opportunity to talk to all the folks in town and learn what will make it a better town for them, and put it all together as you come onto the board. It's exciting. I look forward to the opportunity of getting even more involved in the community."
v7i36
elections2011