I think I'm a bit like you.
My recreation funds are limited, and if I'm going to spend it on an evening, a meal, or a movie, I kinda want to be sure those funds will be spent wisely. Wasting money on a poor restaurant or a rotten wine just doesn't do – however finding a delightful place with great service and generous servings of excellent fare – that's what makes this column so much fun.
I have passed
Little Venice
a thousand times. The awning looked nice enough, but the front just didn't look like "my kind of place" – and so I drove by. Over, and over.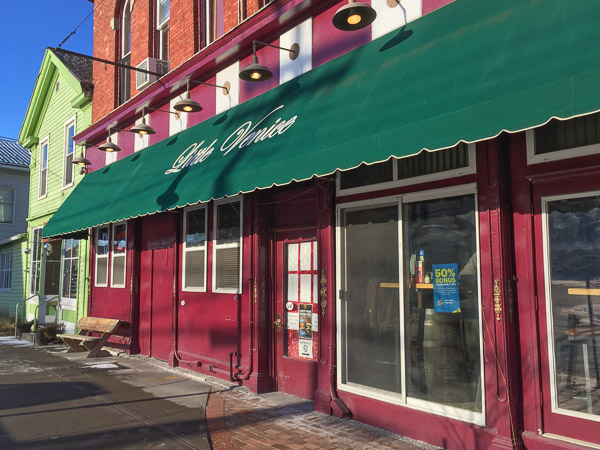 This past weekend, we had occasion to celebrate a friend's retirement party at Little Venice. The door centered under the awning said "use other door", which was just past where the awning ended. Thoroughly underwhelmed, we walked inside.
What a surprise. The door opened into a beautiful and bustling bar with rich, ornate woodwork I would expect from the 1920's. Entering the dining room, I felt like I was back in my childhood, at the better restaurants Mom and Dad took me to back when I was young. The décor is simple with a bit of understated elegance. The place is obviously cared for with pride.
By the time we entered the dining room, we were happily prepared for a delightful experience.
Our event was held in the meeting room in the back, where 45 of us fit comfortably and celebrated a career well done, and wished our friend the very best in the next stage of her life. Our orders were taken by a single server, who miraculously kept everyone's choices in order with a wonderful smile and good humor – despite the good-natured rowdiness we all exhibited.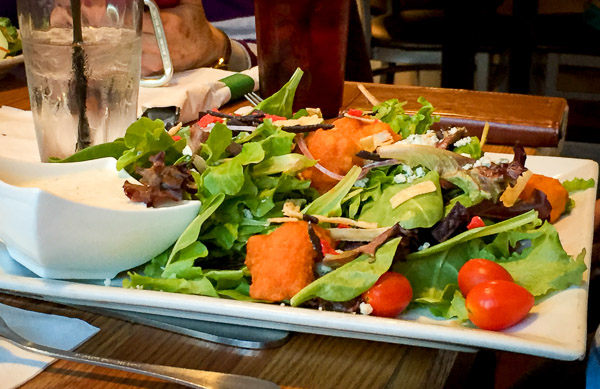 In short order, the appetizers arrived – Janet and I split a basket of "Loaded Fries" – covered with an extra sharp cheddar sauce, bacon and scallions. The mountain of fries were more than we could consume – but we made a great effort.
The entrees arrived in just the right amount of time. I confess, the Chicken Parmesan I ordered looked so good I dove in without a thought of taking a photo until it was too late. The gentleman sitting next to me ordered the Buffalo Chicken Insalata (salad), crispy chicken tossed in wing sauce, cheese, greens and veggies, crumbled bleu cheese, tortilla strips and homemade ranch dressing. I DID get a photo of that…
Janet had the Shrimp Portofino, sautéed shrimp, mushrooms, scallions, spinach, garlic and more served over Little Venice's homemade fettuccini. Their pasta is worth the trip all by itself.
No, there was no room left for dessert – in fact we took a full half of our entrees home to savor the next day. And even then, it was almost too much. Did I say the portions are generous? Waaaay generous?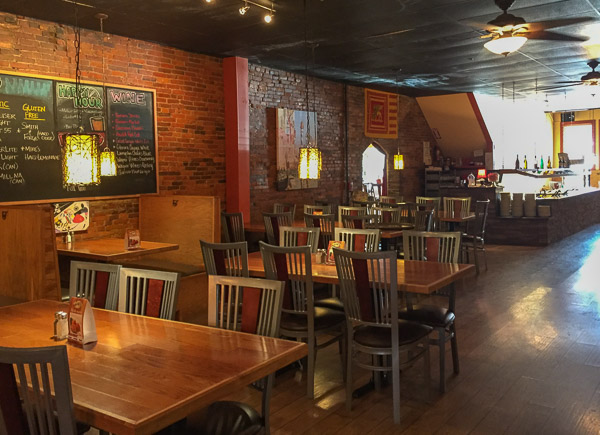 Little Venice is right on Route 96 near the center of Trumansburg. Look for the green awning with, appropriately, "Little Venice" printed on it. Parking in Trumansburg isn't a problem You can almost always find a space within a few steps of the restaurant.
Prices are mid range – well, mid range for me. Remember the bit about the limited recreation funds? The buffalo chicken salad costs $11.50, Shrimp Portofino is $19.50 and a King-sized portion of Prime Rib tops the list at $36. The complete menu is on line at their web site. They offer events, catering and even fundraisers for worthy causes. And they deliver pizza, wings and more throughout the Trumansburg area.
Little Venice Restaurant is at 49 East Main St, Trumansburg, NY, where they have been since 1992.
Well within reach!
---
'Within Reach' highlights the food, wine and fun of places 'within Reach' of Lansing NY. Of course, your reach extends exactly as far as you want it to. I am
Monroe Payne, Uncle Monte
to some. Come with me as I visit, taste and play in our own back yard, the beautiful Finger Lakes of Central New York.
v13i2