Janet and I are kinda picky when it comes to going out to dinner, since it happens fairly rarely. The one place where we have NEVER been disappointed is the Antlers Restaurant on Rt 366, east of Cornell. In business since 1972 first as the Stables and then The Antlers - it is still run by the same two gentlemen, Toby and Bill, who are there with a welcoming smile every night.
My history with the Antlers began with my Mom and Dad taking us there in the mid 90's. It was their special place; formal enough to be classy, casual enough to be comfortable. It was the first 'real' restaurant we took our three children to, and the venue of choice for family milestones of every type. Several times we've taken visitors from the UK to enjoy the charm and warmth of the Antlers. The décor is, well, antlers. Elk, moose, deer, bison and many, many more on the wall – obvious but not overpowering. Antique lighting and a fire burning cheerily in the stone hearth complete the mood.
It is not the mood, however, that keeps us coming back, it is the consistently high quality of the magicians in the kitchen. From salads to filet mignon, every dish is as beautiful to look at as to eat. We ordered Lobster Bisque to begin – they were presented with 'Enjoy!' written on the surface in a white garlicy sauce that only added to the taste – nice hunks of lobster in the thick soup. I mentioned on Facebook that we were going to the Antlers, and a great number of those who responded wanted to be sure we had the Lobster Bisque, as it is the best that exists. No argument there.
Shrimp cocktail is normal as an appetizer, but you will never find a sauce THIS good in any store.
Every entrée on the menu is excellent – I've had most of them over the years – but the Filet Mignon was special. Two medallions of perfectly prepared filet with blue cheese and their special sauce is the stuff taste buds dream of. Nicely matched with spring vegetables and a perfectly baked potato, the entrée was just right for my appetite. I'll admit that the size of the portions was a little less than I expected, but I was just nicely full with the last bite – full enough to pass on dessert.
Normally, I take photos of the food, but it was dark enough to make photography difficult, and I didn't want to annoy the other diners with the flash. You must experience the kitchen staff's artistry yourself. Though too dark for photography, it is still light enough to read the menu and gaze longingly into the eyes of the pretty girl across the table.
Since I have been a regular client of the Antlers for so many years, it came as a shock to me that it remains unknown to a substantial part of the community. This is, of course, criminal. EVERYONE in the region needs to know about this delightful piece of the Ithaca region, and to experience the smiles, the ambience and of course the excellent choices for your culinary delight.
Their Web site
has all the details of their history, and a listing of their specials. Monday and Tuesday, the Filet Mignon is only $19.95. Wednesday Prime Rib and so on.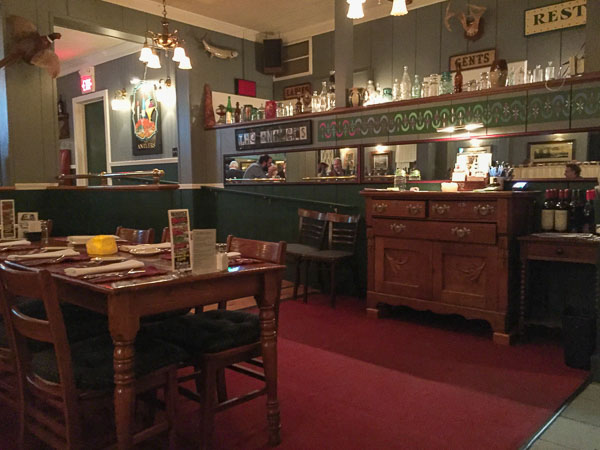 The cost is (for me) mid-range. With our entrees and appetizers (and a glass of wine each), the check came out to $90. I left a generous tip for absolutely stellar service. Our server was there when we wanted her and out of sight otherwise. Frankly, I expected to have to wait between courses, but she was efficient and helpful. Perfect.
Lest you think I am merely an advertising flunky for local restaurants and wineries, I assure you, nothing could be farther from the truth. They do not know a review will be written based on a routine customer experience, and I like it this way.
Now your part. First, treat yourself to a meal at The Antlers. Second, If you have a favorite place you would like to share – or maybe a place you would like to go sometime and want a fair review first, just let me know. I'm always looking for ways to entertain my wife, and if it entertains you as well, we all win.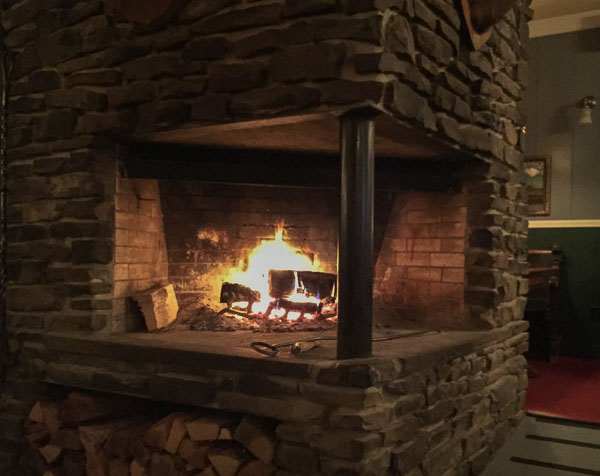 The Antlers Restaurant is easily within reach at 1159 Dryden Rd in Ithaca, between Varna and NYSE&G. Calling for reservations is always a good idea at 607-273-9725. Until next week!
---
'Within Reach' highlights the food, wine and fun of places 'within Reach' of Lansing NY. Of course, your reach extends exactly as far as you want it to. I am
Monroe Payne, Uncle Monte
to some. Come with me as I visit, taste and play in our own back yard, the beautiful Finger Lakes of Central New York.
v13i7