Meat Lovers, Beware - you won't be able to keep from coming back!
Philly is a city of amazing contrasts and surprises. Three minutes' drive brings you into other worlds, from skyscrapers to woods, to meandering creeks that appear untouched since the Indians (excuse me, Native Americans) lived here. A nature center that sells keepsakes at 1/5 the price of the tourist stores, Broad Street where the Flyer's play, and everything in between. I don't think wheat fields are in the mix though, but I could be wrong.
When I think of Philadelphia, I think of hockey, history and "Brotherly Love". Well, I think of them AFTER I think of food. There's no place better to get a Philly Cheese Steak sandwich done right than Pat's King of Steaks, whose founder Pat Olivieri originated the iconic dish.
Personally, I think the best Philly Cheese steak in Ithaca can be found at Italian Carryout, but that's another story.
Gourmet burgers abound, and since I'm a bit of a burger snob, I went looking. And I found it.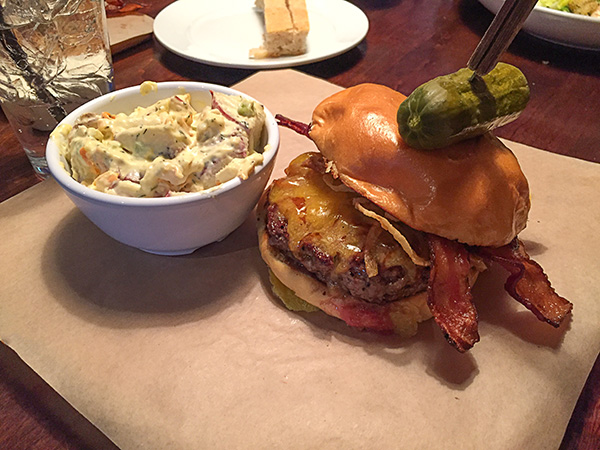 We had heard that the best burgers in Philly were at the
Buttonwood Grille
in Lahaska, but there is so much more. They have the best onion rings as well. I mean, you KNOW that they were big, beautiful onions just this morning, then battered and fried to perfection. But today, it's all about the burgers.
The meat that makes up the burgers isn't just ground beef, but ground brisket, chuck and short ribs, combined into a perfectly cooked creation from plain jane to Mediterranean. I enjoyed the Guiness Onion 'n Bacon burger with Applewood smoked bacon, horseradish, Guinness caramelized onions and of course the magnificent handmade burger.
The buns are lightly toasted on the grill with butter and the whole creation served on a square of wood with brown butcher's paper.
If you ask, the waiter will recommend a specific beer on tap that will go perfectly with your choice of burger.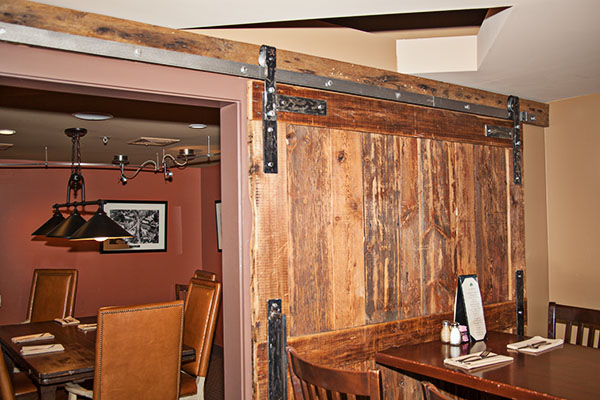 The dining room is casual but intimate. Walls are placed strategically so that, although the establishment is quite large, it has the feel of a small café. One of the cool features are the rooms that can be made private by a unique set of hanging doors like you might find in a barn. Rustic and very cool.
The wait staff is present, but not hovering. When you need them, all you need do is think that you might need something, and they magically appear…
A generous choice of sides (Remember the onion rings?) makes the burger experience at Buttonwood complete.
Prices are modest – especially for the taste treat in store – and portions are generous.
We spent about $40 for the two of us, just the burger platters and non-alcoholic drinks. The most expensive entrée – the Guiness Braised Short Rib is $22, so it really IS affordable.
I don't normally add links to videos, but you need to see THIS. The Buttonwood Grill part starts at about 1:30 in to the piece.
The Buttonwood Grill is located in Peddlers Village, Rts 202 and 263, Lahaska, Bucks County, PA 18931
Is it within reach? I think so – I made it there…
---
'Within Reach' highlights the food, wine and fun of places 'within Reach' of Lansing NY. Of course, your reach extends exactly as far as you want it to. I am
Monroe Payne, Uncle Monte
to some. Come with me as I visit, taste and play in our own back yard, the beautiful Finger Lakes of Central New York.
v13i12
v13i13