For us, Buffalo is 'The Big City', home of pro football and hockey, chicken wings and lake effect snow. Since big cities aren't our favorite place for a vacation, it takes a major event for us to leave our quiet rural abode to dive into the metropolis.
The reason was the PPSNYS Photographer's conference, Focus NY. As an officer, I'm kinda required to go and be the face of the organization. My lovely and long suffering wife Janet reluctantly agreed to come along. She thinks of Ithaca as 'The Big City', so Buffalo was going to be a major shock.
The hotel where the convention was to be held is
The Adam's Mark hotel
, near the waterfront on the west side. With GPS it was surprisingly easy to get to. Like any large hotel, it take a bit of getting used to. The elevators from the garage opened up to the ballroom thoroughfare; trade show on one side and meeting rooms on the other. Happy and excited photographers were everywhere…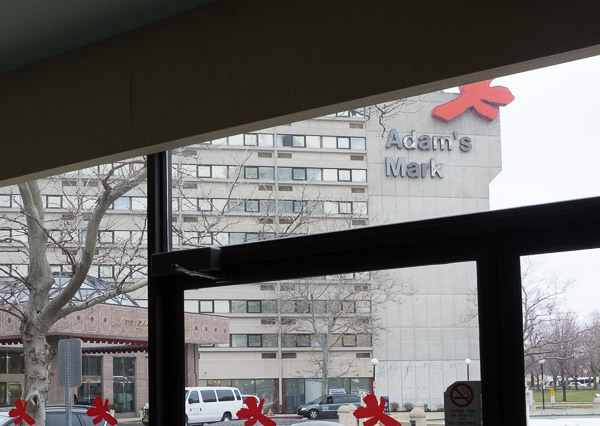 Our room was not going to be ready for several hours, so we had lunch at the Harbor Bistro and Bar. The dining area is nicely appointed in a sailing motif with model sailboats in glass cases everywhere and above, triangles of white fabric lit by everchanging lights for a comfortable yet slightly wild feeling.
The one server there was doing a tremendous job trying to take care of everyone, and succeeded for the most part – but our service was quite slow. I'm glad we weren't on a firm schedule. The food, although not bad, was nothing special. I had the "Roast Beef on Weck", and I might have been happy if the top of the roll was left off. I don't pretend to know what "Kimmelweck Roll" is, but it looks, feels and tastes like wet sea salt on a bun. After I discarded the bun, the rest of the meal was quite palateable.
We also had a breakfast meeting in the restaurant which was absolutely worth the fare. Served buffet style, it featured several kinds of sausages, mountains of bacon, French toast and spiced home fries and much more for only $13. I have to remember that "All you can eat" is not a challenge.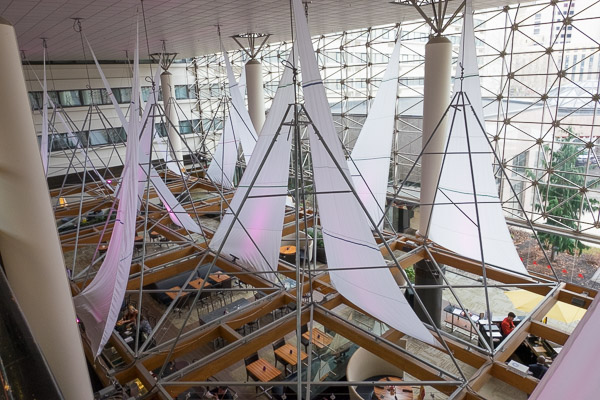 As far as the hotel itself, the rooms are a little smaller than I like, but did their duty in giving us a nice place to sleep. One of the beds was a bit swaybacked, but it didn't interfere with our sleep. We were exhausted anyway. The pool area is an area I was unable to explore, but watching through the immense glass wall, it appeared squeaky clean with many joyful children and dutiful parents in the water. Been there. Done that. Can you tell? A spa and exercise room is attached to the pool. Maybe next time.
My purpose at the Adam's Mark was to attend a convention, which involves learning, conversing, partying, drinking, wash, rinse and repeat. The convention staff were always in evidence but never in the way, making the trade show vendor's lives a bit easier and keeping the entire venue in perfect order.
Our only concerns about the hotel had to do with the elevators which seemed to be out of commission as much as not. When a session lets out and only one lift is available for everyone on the nine floors, the wait can become tedious – but most of the people were good natured, and we survived the wait.

The Adam's Mark is the preferred hotel for several airlines and the numerous professional sports teams that visit Buffalo, so they must be doing something right. Even with its glitches, we wouldn't mind visiting Buffalo again, and staying at the Adam's Mark.
Maybe we'll even take in a Sabers game. And Niagara Falls is only 18 miles away. Let's go – it's within reach!
The hotel is easy to find at 120 Church St in Buffalo. (716) 845-5100
---
'Within Reach' highlights the food, wine and fun of places 'within Reach' of Lansing NY. Of course, your reach extends exactly as far as you want it to. I am
Monroe Payne, Uncle Monte
to some. Come with me as I visit, taste and play in our own back yard, the beautiful Finger Lakes of Central New York.

v13i15