"Don't cry over spilled milk. It could have been wine!" is the sign over the bar at
Montezuma Winery
at the intersection of Rt 89 and Rts 5&20. This pretty much sums up the attitude here, fun, whimsy and good taste – with properly placed priorities.
One of the great things about living in the Finger Lakes is that there are so many wineries, distilleries, cheeseries, eateries and other-eries to visit that we could go for years without ever repeating ourselves, but I'll try. It's a tough job and someone's got to do it.
We visited Montezuma with friends a couple years ago and had such a good time we felt it necessary to do a return trip. As we expected, we weren't disappointed. Entering the showroom – tasting room – gift shop brings thoughts of a kid in a candy store. I'm the kid… The familiar scent of the wines mingled with fudge, spirits and mead give an idea of what's to come.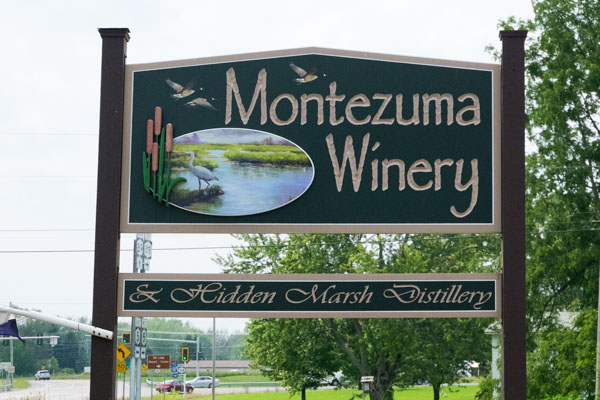 I was served by Robin, who was both knowledgeable about all the wines, fudge and spirits, and unapologetically enthusiastic about the entire Montezuma operation. With ambassadors like her, it's a small wonder Montezuma has the great reputation it does.
A little history before we taste. The Martin family started as beekeepers and honey producers over 30 years ago, which naturally led to creating honey wine. Martin's Honey Farm and Meadery began in 1999 and soon after began creating fruit wines. They create wine from the fruit – unlike some other wineries that add flavor to a grape based wine. This is the real stuff.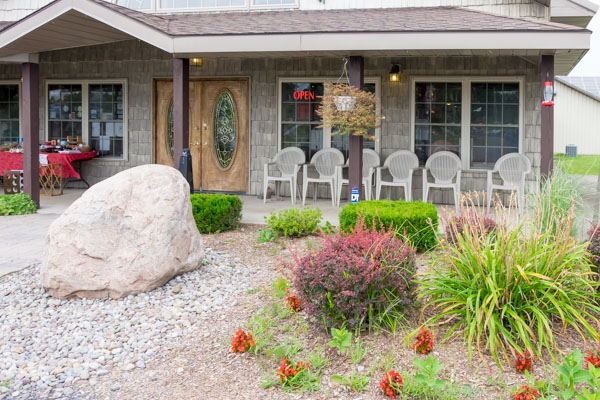 Their nicely manicured grounds and friendly front porch lead you into the showroom which is a case of sensory overload. There is so much to see not just of wine, but gifts, fudge of all flavors, fun signs and much more. The friendly showroom belies the substantial size of the operation, where they create their wines. Grapes, of course, but their focus is still on the mead and fruit wines.
The wines? I like 'em. The 2014 Reisling is cool and crisp with a citrusy nose and a clean finish. On a hot day, I could drink entirely too much of this.
The Cabernet Franc, I understand, is aged in stainless steel and has none of the oaky taste usually expected. The nose is decidedly fruity, preparing your mouth for something sweet, but the taste is good and dry. This causes confusion – like the mouth and nose are fighting. They quickly get over their spat and enjoy this unique take on a classic.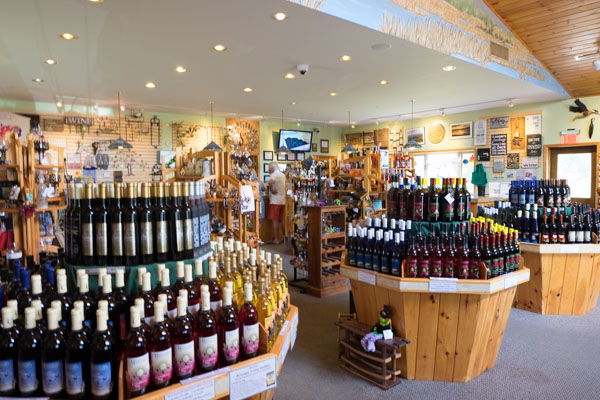 I tried two of their fruit wines, Dragonfly made from black currents and Pear Perfection from Bartletts. Both were quite sweet yet surprisingly active on the tongue, and tasted like – well, more. They both followed me home. I need to do more research.
Next time I'll try their spirits and maybe the Rhubarb Dessert wine. The list of wines to taste is just a partial selection of what they have for sale. There is much more, and all of it worthy of enjoying. Our Finger Lakes wineries have finally figured it out – that it's not just the wine, but the experience that draws people here to the finest wine region in the US. Sorry Napa Valley, I think Finger Lakes wine is best. Ok, I live here. I'm prejudiced. But even the Wine Spectator magazine is grudgingly paying more attention to us.
An enjoyable experience is what you'll find at Montezuma Winery. Good people, unique tastes, smiles and maybe even a laugh or two. It's easily within reach of Lansing and worth the trip. Make a day of it. Take some friends and start at Montezuma. Have a picnic lunch at Cayuga Lake State Park and work your way back through Aurora where you can find the "Bet the Farm" winery store, then to Long Point, Treleaven and back home.
---
'Within Reach' highlights the food, wine and fun of places 'within Reach' of Lansing NY. Of course, your reach extends exactly as far as you want it to. I am
Monroe Payne, Uncle Monte
to some. Come with me as I visit, taste and play in our own back yard, the beautiful Finger Lakes of Central New York.

v13i34