It's a little thing, but it's appreciated. 
The prices at
Frontenac Point Winery
include tax.
If a bottle is marked $16, that's what you pay. Straightforward. No fuss. Easy.
That's the feeling at Frontenac Point, where you are welcomed gently and you KNOW, it's all about the wine. No distractions, no shelves upon shelves of chaach, just great wines and a comfortable, 'European-Inspired' tasting room where you can relax and enjoy the tastings.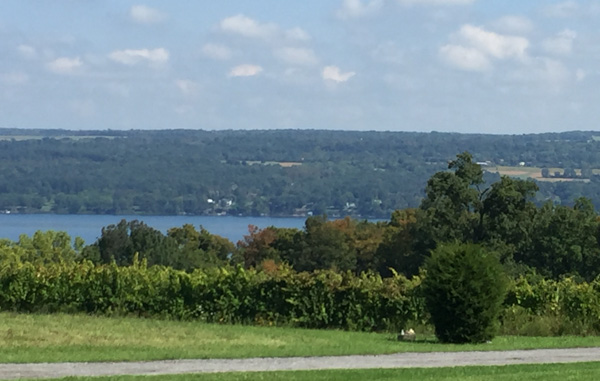 Or maybe you'd rather get a glass for you and your sweetheart and enjoy it on their deck. The view seems to go on forever…
This winery is all about the wine. It's a small operation run by 4 or 5 people whose only wish is to produce truly great wines and share them with friends. All their sales come through their tasting room. Behind the bar was Peter, working his way through the Hotel School at Cornell, and I can tell he is in love with this particular type of 'hospitality'. I chose a series of wines to taste, and rather than 'prime the pump' by encouraging me to taste the overtones of cranberries, pineapples and whatever else others suggest, he just poured the wine and let ME figure out what I just tasted.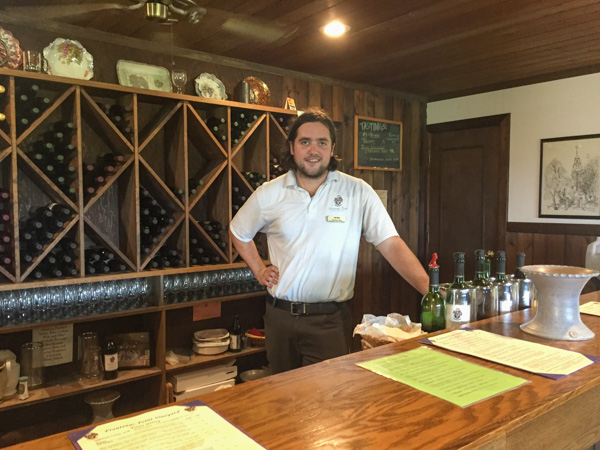 Several of the varietals followed me home. The Seyval is just what you'd want on a hot summer day with squeaky cheese. You know what I mean – the cheese curds that actually make a squeaking sound as your teeth meet them. It is a bit sweet to my taste, but there is a bit of a kick that wakes the pallet and an afterglow that begs for more. I could drink entirely too much of this.
The Chambourcin is in a class by itself. A dry red that's enjoyable – but the excellent taste just hangs on, refusing to leave. This is a new variety of red to me but is destined to become a great friend. Tonight, I'm grilling some nice fat strip steaks and the Chambourcin will pair just fine with them.
Peter loves to talk and share his love for Frontenac Point and their wines. It's rare, however, to meet someone who knows when to converse and when to just keep quiet while you are enjoying the wine. The winery has been working since 1978 when Jim and Carol Dolittle purchased a site with a panoramic view and began their operation with 3 acres of vines, producing only 400 cases of wine. Today the vineyard has grown to 18 acres which produces the grapes for all the varietals and blends of wines at Frontenac. It is a 'hands on', small and carefully tended operation. Their wines speak to the care taken from start to finish.
Frontenac Point Winery is just past Taughannock Falls State Park from Ithaca. The sign is small and the road narrow, but it is a delight once you find it. Their web site has lots more information, but no information will prepare you for the welcome and the tastes you will enjoy inside their door.
Make a point to visit them. It is well within reach!
A last thought, it's been mentioned that I don't do hatchet jobs on poor establishments. First, there are very few Finger Lakes wineries that are poor, and second, I pay attention to what Thumper's father told him: "If yuh can't say nothin' nice, don't say nothin' at all." The places you hear about in this column are worthy of visiting and you WILL enjoy them. I promise!
---
'Within Reach' highlights the food, wine and fun of places 'within Reach' of Lansing NY. Of course, your reach extends exactly as far as you want it to. I am
Monroe Payne, Uncle Monte
to some. Come with me as I visit, taste and play in our own back yard, the beautiful Finger Lakes of Central New York.

v13i37