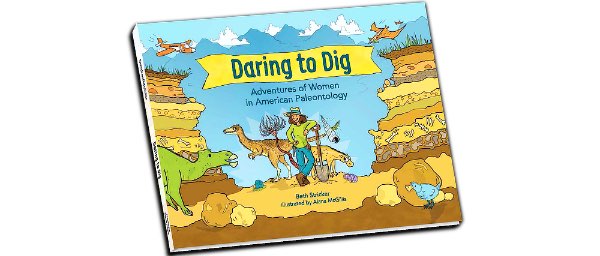 The Paleontological Research Institution (PRI) is pleased to announce publication of a graphic-novel style book for children (target ages 8-12) titled '
Daring to Dig: Adventures of Women in American Paleontology
', authored by Beth Stricker and illustrated by Alana McGillis.
Women have played a critical role in the development of the science of paleontology in America, but for many years their accomplishments have been overshadowed by those of men. Daring to Dig highlights the adventures and research achievements of a dozen women paleontologists, both from the past century and active today.
The challenges they faced—both societal and scientific—are explored through a series of colorfully illustrated vignettes, as are their successes in overcoming these challenges. This book shows children that paleontology is a science for everyone, and also introduces them to a variety of ancient organisms that are commonly missing from children's books about prehistoric life.
Daring to Dig concludes with brief biographical sketches of each of the twelve women featured in the book, as well as a glossary of scientific terms.
v13i42