Can YOUR teddy bear fly? Give it a chance, and you'll help make a local child's Christmas just a little happier! All it takes is a little Syracuse Crunch!
Stanley Steemer, in cooperation with the Syracuse Crunch Hockey Club, are poised to fly teddy bears into the excited, waiting arms of thousands of local children! The game, December 2, 2017 against the Belleville Senators will be the 7th annual Stanley Steemer Tired Teddy Toss at the War Memorial Arena. For those unfamiliar with the tradition, a teddy bear toss is a popular Christmas season promotion at many professional and junior hockey arenas throughout North America.
Fans are encouraged to bring teddy bears to the game, and throw them onto the ice when the home team scores its first goal. The toys are then gathered up to be donated as Christmas presents to hospitals and charities. In this case, The Salvation Army will hand out the toys at their annual Salvation Army Christmas Bureau Distribution December 20, 2017 at, Shoppingtown Mall in DeWitt.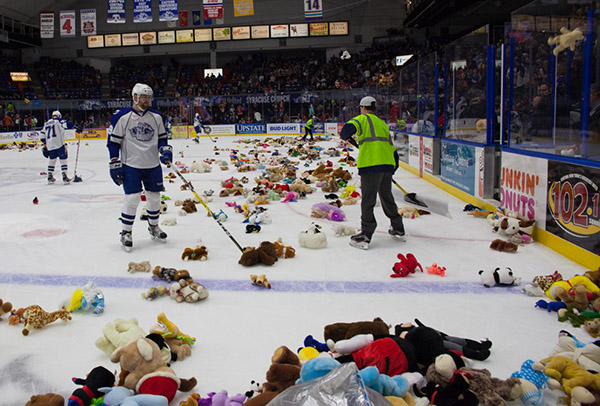 The Crunch encourages fans to bring new and gently used stuffed animals to the game and to throw them on the ice when the Crunch score their first goal. All the stuffed animals will be cleaned and refurbished by the event's sponsor Stanley Steemer and donated to The Salvation Army for distribution on December 20.
Fans can also bring new and gently used stuffed animals to the Crunch office at the War Memorial Arena, or drop them off at the Stanley Steemer building at 6710 Commerce Blvd (just off Carrier Circle) now through Friday, December 1.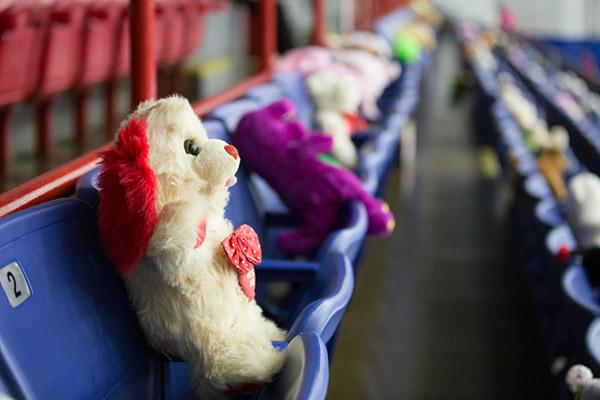 The pre-collected bears are laid out on seats in the arena in preparation for the first Crunch goal of the evening – just in case the occupant of that seat came empty handed.
Stanley Steemer of Syracuse President Jeff Trisciani says it will take a full week of work by several employees to clean, deodorize and refurbish all of the donated toys to "like new" condition, but it is absolutely worth the effort. The teddy bears will be distributed just in time for a very Merry Christmas for more than 3,000 families in the central New York area.
This is the 4'th year I've been involved with the Stanley Steemer / Syracuse Crunch Teddy Bear Toss, and I promise, it's the most fun you will EVER have at a hockey game. And, it's within reach.
Bring your bears. Let 'em fly.
---
'Within Reach' highlights the food, wine and fun of places 'within Reach' of Lansing NY. Of course, your reach extends exactly as far as you want it to. I am
Monroe Payne, Uncle Monte
to some. Come with me as I visit, taste and play in our own back yard, the beautiful Finger Lakes of Central New York.

v13i44