Sometimes the best places are those we walk by every day and never notice. They are familiar, but somehow unnoticed. Such is – or was
Kilpatrick's
.
I was early for an appointment on the commons and had a half hour spare time – and it was not quite lunch hour, I took a chance and went inside Kilpatrick's. Good decision. They open at 11:30AM. I was customer #1 for the day.
When I walked in, the place was deserted except for one very cheery person who welcomed me happily. Since it was so cold outside, she escorted me to the table next to the fireplace. A large mural is on one wall, tables, chairs, warm wooden surroundings, quiet coffee house music in the background – this is a place for great conversation. And a pint or two, but we'll save that for another visit.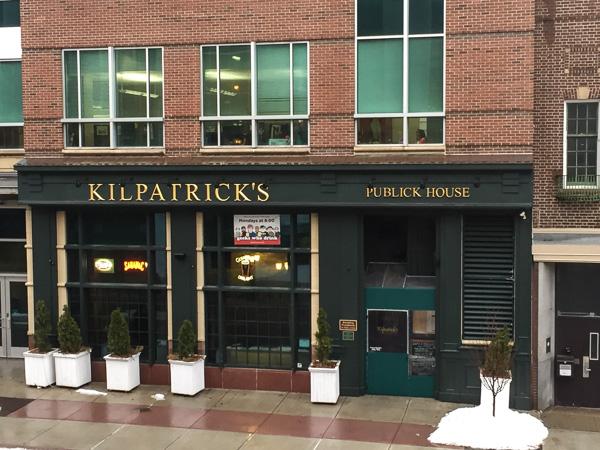 A word about the coffee. Perfect. I love my coffee, and I'll drink about any from Starbuck's to McDonald's, but this coffee was just perfect. Just honest, aromatic, elixir of life.
The menu had what you would expect at an Irish pub, Shepherd's Pie, Fish & Chips, Bangers & Mash, all sounded wonderful. Having had Bangers in Wales and Scotland, I thought I'd give it a try, and was pleasantly surprised. In most of the UK, the Bangers (sausage links to Yanks) are ok, but fairly bland.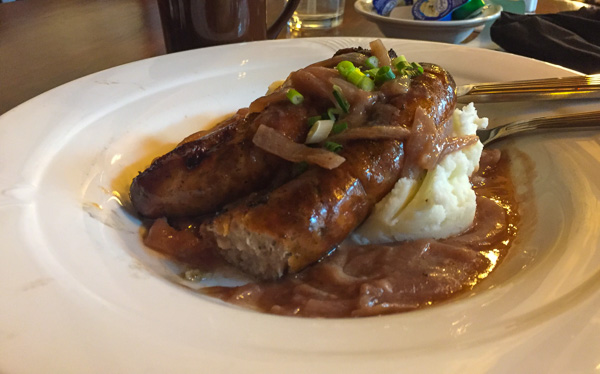 Kilpatrick's Bangers have a spicy taste that wakes up the taste buds without assaulting them. The food arrived hot and happy – just hot enough to keep me from eating them too fast – making them enjoyable. There were bits of green in the mashed potatoes – I suspect scallions – just enough to add a gentle delight to the potatoes. I could tell the potatoes were real – the occasional tiny lump let me know that they were absolutely not from a box.
My server Jess was always around when I needed her, and out of sight when not. As people began to come in for lunch she greeted everyone with the same smile and enthusiasm she showed me. It looks like she likes her job.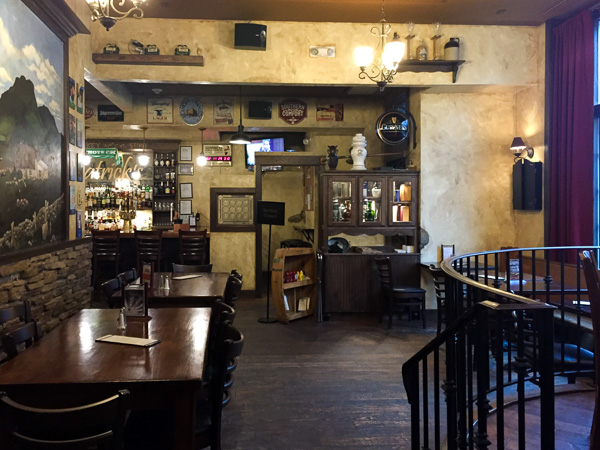 The single thing I like best about Kilpatrick's is its comfort. It 'feels' safe, warm, comfortable and welcoming, very much like I would imagine a similar place in Ireland would feel.
Now I have to go to Ireland to see. That would be a trip – but Kilpatrick's Publick House in downtown Ithaca is absolutely within reach, and worth a visit.
---
'Within Reach' highlights the food, wine and fun of places 'within Reach' of Lansing NY. Of course, your reach extends exactly as far as you want it to. I am
Monroe Payne, Uncle Monte
to some. Come with me as I visit, taste and play in our own back yard, the beautiful Finger Lakes of Central New York.

v14i4