Hidden in plain sight is a modest red building on Rt 13 hill leading out of Ithaca to Newfield.
Perhaps it is more like a small compound. When I was growing up, it was part of Seaney's Greenhouses, where mom would pick up garden stuff - at that age, I was just happy to go for a ride so I paid little attention. Then in the early 2,000's I noticed that every time I passed by the property looked just a little better, a little nicer, then a sign 'Stella's Barn' appeared, advertising itself as a gift shop.
More years flew by, and I overheard some chatter about this new 'rustic' restaurant on Newfield hill.
Again, every time I went by, it looked a little nicer until today, now deserving the adjective 'charming'. I have reviewed other restaurants with 'less than magnificent' outsides and been delightfully surprised. I checked out the menu on line, stellasbarn.com, and found everything from simple comfort foods to seafood and steaks, and all within my modest budget.
So making good on the mental note I made years ago, we finally planned a romantic dinner out and visited Stella's Barn.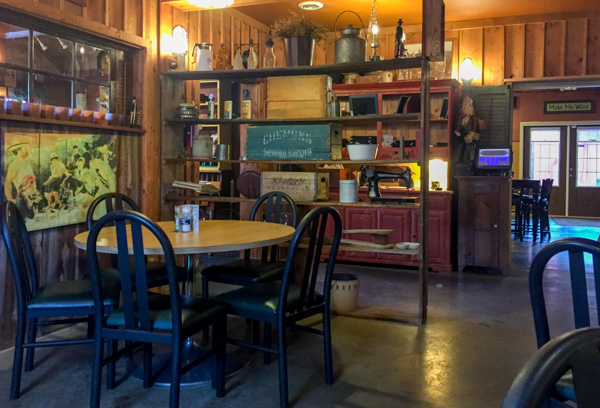 The sign over the door said 'Country Store'. Inside, were antique shipping crates, a 1920's era sewing machine, milk cans, bottles; all antiques. We were greeted with a big smile by Gabby who would be our server for the evening.
The interior of the restaurant was simple country. Antique cabinetry, 1950's chairs and tables and no pretense. Everything there, everyone we interacted with was genuine and comfortable. The double doors across from us opened into the bar called 'The Tack Room' - it is Stella's Barn, after all.
Now we have our wine and have ordered our entrees plus an appetizer to share.
Hog Wings.
When I saw Hog Wings on the specials board, I had to try them. They are fat, meaty pork ribs cooked in a tangy, slightly hot barbeque sauce that woke up the taste buds without burning them off. It was a mistake getting only one order to share.
Their house dressing for the salad is a creamy Italian. Try it. Trust me. You'll thank me later.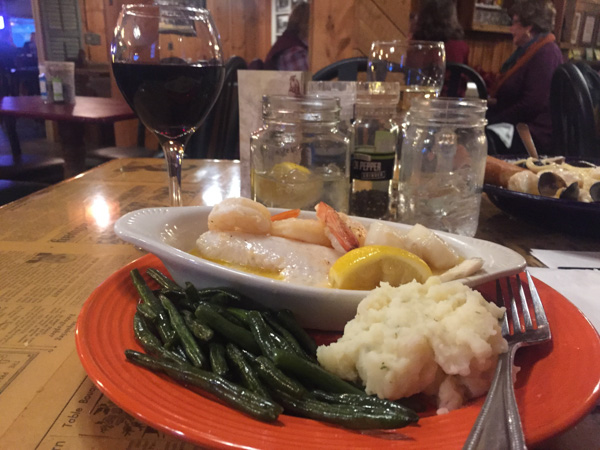 The main course for both of us involved shrimp and scallops, hers with mussels over linguini and mine with a fillet of haddock. I'm not generally a fan of fish, but this was the most perfect piece of haddock I've ever had the pleasure of devouring. Flaky, enough flavor to tell you what it was but not fishy at all.
Through the dinner, Gabby was there when we needed, and always smiling and chatty. Again, comfort. Stella's Barn has a widely varied menu from simple burger platters for $9.99 to a pound of Flank Steak for $26.99. Our bill (including a pair of glasses of wine each) before tip was near $75, and we gave Gabby a generous one, which she richly deserved.
Try Stella's Barn for yourself. They are open for dinner Monday through Saturday 4-9PM, and lunch Saturday, 11-4PM. And the great thing is, Stella's Barn is Within Reach!
---
'Within Reach' highlights the food, wine and fun of places 'within Reach' of Lansing NY. Of course, your reach extends exactly as far as you want it to. I am
Monroe Payne, Uncle Monte
to some. Come with me as I visit, taste and play in our own back yard, the beautiful Finger Lakes of Central New York.

v14i10