I have it on good authority that spring has finally arrived. While not sure that this prediction is 100% reliable, the last few days have been encouraging. The motorcycle is inspected and registered, flowering plants have been started or purchased, and I can go outside without a parka on.
Now that we have a few days of relative warmth in store, it's time to begin to wander about and find growing things. After such an impossibly dismal winter, growing things are sure to pick you up and give hope for the future – at least the immediate future…
For me, it has always been the crocuses that let us know that the coming of warm weather is possible, if not imminent. This year, they only brought hope. I'm also thinking that Punxsutawney Phil was extra torqued at being yanked out of his warm den no matter what the day was.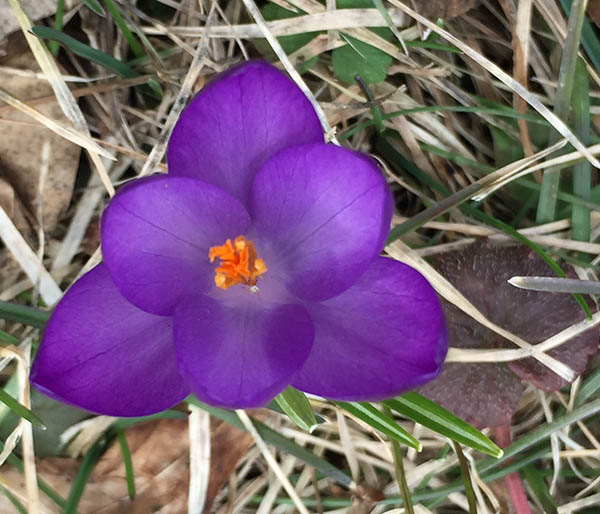 The first attempt at walking through the woods a few weeks ago was a washout, with trails changing their purpose to those of small rivers. Yesterday's foray was far more pleasant. Only a few puddles remain and living things are sprouting with cautious abandon. The forest trillium are waking up, sending their buds to greet the sun. Grass is becoming green, tulips, iris and daffodils let us know that they made it through winter and the willows are sporting the yellow that we've been looking for.
Lansing is gifted with some beautiful trails and, of course,
Myers Park
. Make the effort to get out to the wild areas and take a deep breath of spring. Bring your camera with you, because you never know what will cross your path. Looking at Salt Point from a distance shows almost no signs of life – until you look closer. When you open your eyes, the point is positively exploding with life.
Other places to view (and breathe in) the eruption of spring are the
Cornell Botanic Gardens
,
Lime Hollow Nature Center
, the
Cornell Lab of Ornithology
,
Cayuga Nature Center
(with its six-story treehouse) and the
Ithaca Children's Garden
. Don't forget the waterfalls, lakes and the life around them. Ducks, fish visible through the flowing water, flowers on the riversides – almost anywhere you look you will find something to wonder at. Don't miss the opportunity to appreciate the natural blessings within reach of Lansing. They are everywhere!
Follow your nose – smell the sweet aroma of spring!
---
'Within Reach' highlights the food, wine and fun of places 'within Reach' of Lansing NY. Of course, your reach extends exactly as far as you want it to. I am
Monroe Payne, Uncle Monte
to some. Come with me as I visit, taste and play in our own back yard, the beautiful Finger Lakes of Central New York.

v14i16