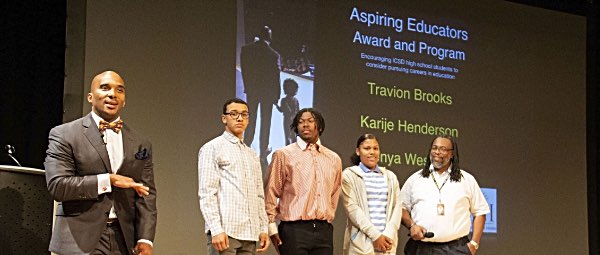 Ithaca City School District (ICSD) Superintendent Dr. Luvelle Brown announced the first cohort of students selected to be part of the Aspiring Educators Award and Program during the district's annual Convocation on Sept. 3.
The Aspiring Educators Award and Program recognizes high school students from the ICSD who show promise as future educators and educational leaders. The program is open to rising juniors and seniors from underrepresented backgrounds who are interested in pursuing teaching as a profession.
The first three students selected to participate in the Aspiring Educators Program are Ithaca High School senior Travion Brooks, and juniors Karije Henderson and Kenya Westfield.
Through the program, Brooks, Henderson and Westfield will receive mentorship opportunities with ICSD teachers and administrators, and will be included in professional development activities that expose them to the education profession.
"Increasing the number and diversity of talented individuals in the professional educator pipeline should be at the top of the list for all school districts," said Brown. "We can do much to provide young men and women from underrepresented backgrounds the chance to experience the joys of being an educator through direct mentorship and learning opportunities."
Following Brown's announcement, New York State School Boards Association (NYSSBA) president William Miller presented the ICSD with the "Champions of Change for Kids" award, in recognition of the work being done through the Aspiring Educators Award and Program.
The Ithaca Public Education Initiative (IPEI) supports the Aspiring Educators Award and Program through a special ICSD Superintendent Fund. This fund is open to tax deductible donations from community members who share Dr. Brown's interest in encouraging local youth to consider careers in education through the Aspiring Educators Award and Program.
v15i34