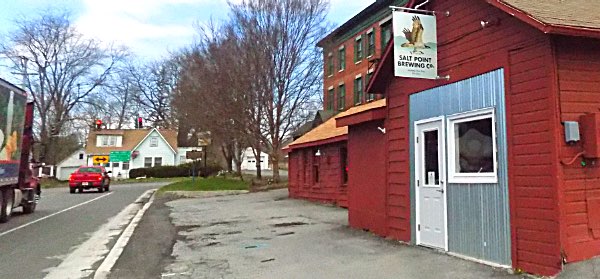 There's nothing like a local business that celebrates its location, is owned by local people, gets supplies from other local businesses, and produces a local product.
Salt Point Brewing Company
hits all the check marks, and has made a great start in the month it has been open so far. A tap room features several beers made on the premises, as well as local wine and a menu of food that comes from local farms and businesses.
"A big part of it, for us, was wanting to put this business here in Lansing," says Chris Hesse, who owns the brewery in partnership with his wife Sarah, Camilo Bohorquez and his wife Alexandra Karnow. "We didn't want to start a brewery in Ithaca or Trumansburg. We live here. We wanted it to be here. That was an important aspect of our goal."
The tap room has a bar and tables, and an overflow space in the back looks over three tanks used for boiling and mashing, nine for fermenting, and two for carbonating the beer before it is moved to kegs. The decor is natural wood with corrugated metal roofing material, with a chalk-board beer menu. An outdoor space has picnic tables for enjoying the beer on nice days.
Named for Salt Point, which is now a nature park only a few miles down the road, the tap room is decked with pictures of the old International Salt Company that was located there, operating under a few different names from 1891 through the early 1960s. The logo features an osprey holding a fish. Osprey have been emblematic of Salt Point since a nesting platform was erected and occupied there in 2013.
The idea came about as a natural evolution of Chris and Camillo's love for beer and home brewing. Chris had been home brewing since about eight years ago and says he considered opening a brewery an attractive, but far-fetched idea. More recently as he and Camillo brewed together the idea seemed less far fetched.
"A couple of years ago Camillo and I started brewing again," Chris says. "The more we brewed the more we talked, and the more we talked the more we did, and before we knew it, about a year ago, we got more serious about it. We started looking for equipment, and then a place to set up. That's how it all got started."
"When we talked about it it felt right," adds Camillo.
A brewery in New Jersey had grown so fast in its first year that it had outgrown its tanks and replaced them with larger ones. The foursome scooped up the opportunity, purchasing them and driving them up around the same time they began a lease for the old building at the side of the historic Rogue's Harbor Inn. That building had been a jewelry shop, a sandwich shop, and most recently the home of Stout Hearted Brewing Company.
"Having seen brewery equipment in here before we knew it was possible to use this building for brewing," says Sarah. "The biggest factor was that we wanted to be in Lansing. We wanted to be centrally located so it would be convenient and visible for the community, and contributing to the center of down-town as it is developing."
That began a period of remodeling the interior, installing and hooking up the tanks and, finally, brewing their first batch of beer. The first batches were based on their home brew recipes, but they soon began to experiment, keeping detailed logs of ingredients, temperatures, and all elements of each batch.
"Camillo has experience with dairy processing, so the equipment side of that, and the hygiene and sanitation side is very similar,' Sarah says. "Dealing with controls and temperatures is all very familiar to him. We work with equipment on the plumbing side, construction and piping, and liquid flows -- those are things we work with regularly, so it all came together nicely. We had some great advisors, too, to make sure everything was set up correctly for beer brewing and they worked us through the process a few times as we were getting up and running."
They were ready to open April 4th. The brewery is open to the public Wednesdays through Sundays. In its first month it has had impressive attendance, filling up especially on weekends. While three of the owners have other jobs, Camillo works at the brewery full time. Aside from brewing, he takes half the bar shifts, with the Hesses taking the other half. They say they want to have direct contact with their customers to see how each batch is going over, and base future batches on what customers like. Two employees also man (woman, actually) the bar on weekends.
"It's been really neat to stand behind the bar and interact with the community that's come in the door, and hear what they like, what their taste in beer is," Sarah says. "Some of them are hitting, and some people have comments about milder beers or less hoppy beers. So we're integrating that into our next batches, and we already have at least three in the tank that are based on suggestions we got from people that walked in the door and tasted our beers."
In addition to beer, the brewery offers local wines and a limited menu that currently features condiments, a farm plate from Sheffler Farm, cheese plate, roast beef sandwich, panini, and grilled cheese sandwiches both for adults and kids.
"Our model is the same with our food as it is with our beer, which is sourcing it as close to home as we can," Sarah says. "We have a farm brewers license which requires us to source grains and hops from New York State. We also do our best to source as much of the food as we can from farms right around here. Food from Just a Few Acres, meat and cheese from Scheffler Farm, a cheese plate from various local farms. We also get ingredients from Ithaca Bakery and Lansing Market."
The owners have applied for additional licensing so they can serve beer at this summer's concerts at Myers Park, and, they hope, the 4th of July concert. At the moment the beer is available in the tap room and one flavor is also on tap at the bar in the Rogue's Harbor Inn. local customers bring their own growlers to be filled up 'to go'. In the near future souvenir glass growlers will be available, companion products to the branded T-shirts already for sale, and Sarah says they hope to offer crowlers (beer cans the size of growlers) in the near future.
"We've had very good turnout," Chris says. "Friday and Saturday and even the middle of Sunday afternoons -- it has not been uncommon to have every seat filled, including all the tables and the bar, and on a few occasions the overflow space was filled."
v14i17