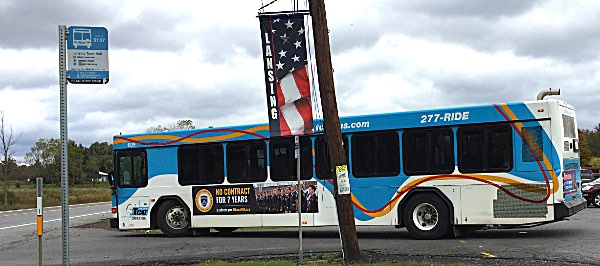 Tompkins County Area Transit
(TCAT)'s no-fare policy that went into effect in March to reduce any potential for the spread of the coronavirus between drivers and riders will extend to Tues., June 30. The TCAT Board of Directors called a special remote meeting today and voted unanimously to extend the policy for a second time since it first went into effect March 20. The policy was set to expire on Sat., May 23, the day before summer service goes into effect. Ceasing fare collections eliminates the need for riders to put their hands on the farebox, as well as limits the amount of time they spend near drivers, who sit adjacent to the fare equipment. The measure also aims to provide relief to riders who are struggling financially due to layoffs and job losses during the crisis.
"Continuing to suspend fare collecting is essential based on the fact that there are still so many unknowns," said TCAT General Manager Scot Vanderpool. "We will reevaluate the situation once again at the end of June and hope for the best."
As another precaution, TCAT is continuing to require riders to wear a face covering or mask before boarding and while riding the bus, per an executive order from New York Gov. Andrew Cuomo. (Those who have health issues preventing them from wearing face coverings or children under the age of 2 are exempt.) To promote social distancing, each bus has a 20-rider limit and, while in transit, riders are asked to sit as far apart as possible.
Summer service starts Sun., May 24 with some route adjustments
Many routes will be modified for the summer, but TCAT will still be operating reduced service to mirror lower demand. Ridership is down to only about 5 percent of what it was before the coronavirus pandemic escalated here in mid-March. Though stay-at-home restrictions are expected to gradually lift in Tompkins County and elsewhere, TCAT expects ridership to remain lower than normal over the summer period.
Summer service typically ends in late August, but TCAT will operate the schedule indefinitely as timetables for the re-opening of local businesses, schools and organizations remain uncertain.
· Though specifics will not be available until next week, routes not operating this summer include the route 10 and the (summer-only) route 22. Those are in addition to routes that TCAT has temporarily discontinued over the spring service period to include: 11N; 11S; 72; 75; 81; 83; 83W; 90; 92 and 93.
· Routes being put back into service are: 53 and 74
· Routes to be adjusted include: 11; 13; 14; 15; 17; 20; 21; 30; 31; 32; 36; 37; 40; 41; 43; 51; 52; 65; 67; 70; 77 and 82
· No changes to route 14S
Of note: For the summer TCAT added some more trips to urban routes, but due to low ridership, the Commons-Cornell route 10 will not operate. Those who need service from the Commons to Cornell are advised to use routes 30; 31; 32 or 51. Also due to many unknowns, the summer-only route 22 that usually serves state parks will not run. Though ridership has fallen drastically, TCAT expects the return of passengers as more businesses are allowed to re-open. Presently, TCAT is remaining abreast of information and guidelines issued by the state and county.
Additionally, TCAT also continues to adhere to strict protocols with the disinfection of buses and facilities used by employees and riders.
v16i21