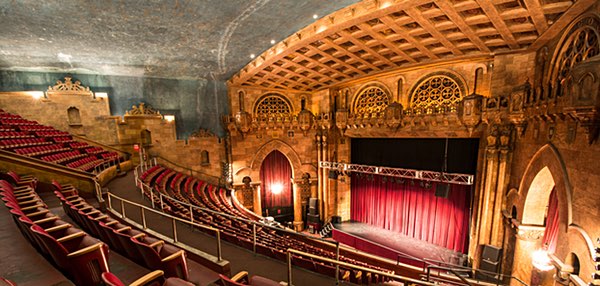 "It comes as a great shock, around the age of five, or six, or seven, to discover that the flag to which you have pledged allegiance, along with everybody else, has not pledged allegiance to you."
It was 1965, and early in the debate, when these mesmerizing words of prominent African-American novelist and essayist James Baldwin rang through the high-ceiling debating hall at England's Cambridge University, to a crowd of more than 700 students. At the invitation of the Cambridge Union Society, a "finishing school" for future British politicians, prelates and jurists, Baldwin and William F. Buckley, then-editor of the National Review, represented opposing sides in the debate motion, "Has the American Dream been achieved at the expense of the American Negro?".
On Thursday, April 18, 2019, Baldwin vs. Buckley: The Faith of Our Fathers, a remix of that famed debate, will be presented for one night only at 7:00 p.m. at the State Theatre of Ithaca in downtown Ithaca, New York. Conceived and arranged by Kyle Bass, The Faith of Our Fathers is directed by Cornell University Department of Performing and Media Arts senior lecturer Godfrey L. Simmons, Jr. and will feature projections created by Dehanza Rogers, an assistant professor at Cornell's Department of Performing and Media Arts. A conversation with Bass will follow the show.
"A theatrical re-imagining of this seminal debate has such resonance to what's going on today in the United States and the world in terms of race and privilege," says Simmons. "When Kyle sent this to Civic Ensemble, I felt I was reading something from a Town Hall during the last election cycle. The arguments by both Baldwin and Buckley are still happening today in our schools, our workplaces, our communities. These arguments can be exhausting, but this debate, especially Baldwin's arguments, enliven the eternal "race question" that has carried over from the 20th century as the most important question facing our society."
Simmons, who teaches acting at Cornell, is the Artistic Director of Civic Ensemble, an Ithaca-based theatre company that produces new and overlooked plays by or about women and people of color, re-imagined classics, and community-based plays.
Bass is associate artistic director at Syracuse Stage and the current Burke Endowed Chair for Regional Studies at Colgate University. He is the author of Possessing Harriet, which received its world premiere at Syracuse Stage in October 2018. A two-time recipient of the New York Foundation for the Arts Fellowship, Kyle is also drama editor for the journal Stone Canoe, teaches playwriting in Syracuse University's Department of Drama, and theatre courses in the Department of African American Studies. His full-length plays include Tender Rain, The Faith of our Fathers, and Bleecker Street.
Cast in the role of James Baldwin is Cornell University alumnus, actor and director Kevaughn Harvey. Harvey's previous acting credits include the role of Lucky in Waiting for Godot and Asagai in A Raisin in the Sun, opposite the late Yolanda King, the eldest daughter of the Reverend Dr. Martin Luther King. Jr. He has worked with Trinity Repertory Co., Yale Repertory Theatre, Epic Theatre Ensemble, Target Margin Theatre, and the Hangar Theatre, among others.
William F. Buckley will be played by Ithaca College alumnus Joshua Sedelmeyer. Sedelmeyer is an actor, director, fight director, and teacher who, last summer, played the role of GK in Civic Ensemble's production of Fast Blood, in association with the American Slavery Project. A member of Civic Ensemble since 2012, Sedelmeyer has also appeared in several staged readings and play development workshops, including Living With Water, produced at Binghamton's Know Theatre in partnership with the Cornell Co-Operative Extension.
v15i14