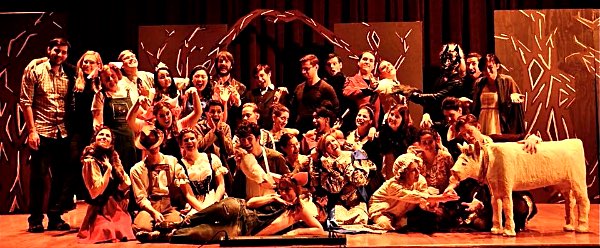 Vet Players, a student-run organization at the Cornell University College of Veterinary Medicine and the only musical theatre troupe at a veterinary school in the United States, will perform The Wedding Singer on March 30 and 31, 2018. This musical production of the 1998 popular film is stage and musically directed by Ithaca-based professional director Gabriella Patricia Carr, and choreography by Gabriella Patricia Carr, Gray Ryan, Ali Lindsay, Emily Herrold, Olivia Lenz, and Paige Winn.
The Wedding Singer is a Tony-nominated stage musical adaptation of the hit film starring Adam Sandler and Drew Barrymore. The musical tells the story of Robbie Hart (Alexander Quilty, DVM '19), a wedding singer, who meets Julia Sullivan (Hannah Brodlie, DVM '18), a waitress at a wedding gig. Despite their initial chemistry, Robbie is set to marry his fiancé Linda (Erin Fitzpatrick), and Julia is dating a Wall Street banker, Glen Glugia (Shaun Reining). Through break-ups and shake-ups, Robbie and Julia discover their true feelings for each other with help from their best friends, Sammy (Brian "Hutch" Hutchison) and George (Albert D'Agostino, DVM '20), and Holly (Shannon O'Keefe, DVM '19). Will they share their love for each other through wedding song, or are they stuck as wedding singer and bridesmaid forever?
Vet Players debuted in 1989 with a production of Little Shop of Horrors and has provided a creative outlet for students, faculty, staff, and friends of the veterinary school ever since. Each spring, the Vet Players presents a full-length production, with previous productions including Into the Woods (2017), The 25th Annual Putnam County Spelling Bee (2016), and The Scarlet Pimpernel (2015). This year, the cast is comprised of Cornell Vet Students, Cornell faculty and employees, and Ithaca-area community members.
v14i12