Kellyann O'Mara wants to find out what her customers' needs are and the best ways to meet them. O'Mara is the Vice President and Commercial Branch Manager of the M&T Bank Triphammer branch. Rather than fitting a square peg into a round hole she looks for ways to make a square hole for the best fit in customer services. And she likes to offer choices for clients.
"We like to work comprehensively with our clients," she says. "I find most banks have a box and they say 'here's our products and we want to fit you into the box.' One of the things I like about M&T is they are able to take it out of the box. For example, we have three different forms of overdraft protection. One is that you could link it to your savings account. For some people that isn't an option, but others prefer that."
The Triphammer branch employs nine people. Turnover is low. O'Mara says most of them have worked there for three or four years, and one for more than 20.
"I have a fantastic staff, she says. "We enjoy working together. We use almost any excuse to have a dish to pass or a party. They have great personalities. We try to keep it upbeat and make if fun. You have to go to work every day, and there's no sense in it not being a fun day. We make sure we say 'good morning' and talk about each others' lives, and get involved and care. We just had a baby shower for an employee, and someone else who was moving on to a different position, so we celebrated that. You want people to succeed."
That translates to their customers. O'Mara says that she wants every client to receive personal service, to be greeted by name, and to feel welcome whether they come into the branch every day or once a year.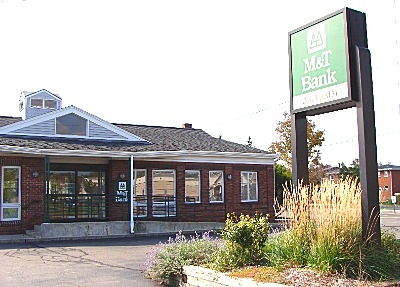 O'Mara's own focus is working with business clients. Here theme is the same -- find the services that best fit the client. She says M&T has some unique products, especially business products. The bank is one of the top SBA lenders in New York State.
"This year alone we were able to bring in 24 new business accounts, so this is a very vibrant area," she says. "It's a great blessing to be located here. It's a great community. We have a great location in Lansing, and Ithaca. We have a lot of businesses, but we also have a lot of retail clients who have begun to realize the value of a bank where there are additional locations, and unique services."
M&T Bank is based in Buffalo. It has existed under the current name since 1856. In the early '90s M&T bought Citizen's Savings Bank Of Ithaca, expanding into the Tompkins County market. O'Mara's branch is on Triphammer Road across the street from Triphammer Marketplace. The other local branch is on the Ithaca Commons. ATMs are sprinkled around the county, including the Commons and the Cornell University campus. M&T can be found state-wide, and has locations in Florida, Pennsylvania, Arizona, Maryland, Utah, Colorado, New Jersey, Virginia, Connecticut, Washington, Delaware, Oregon, West Virginia and the District Of Columbia.
Originally from Illinois, O'Mara's family followed her Air Force father's career, which included Okinawa, Japan for nearly five years starting when she was eight.
"The only downside was that it is a tropical environment... so I'm not really a big winter person," she laughs. "We lived with the Japanaese people as we moved closer to the base. That was an excellent experience."
The family moved to Cortland where her father had family, and she finished school there. She received a degree in Political Science and Public Relations from SUNY Geneseo. She worked in banks while in school, and joined a bank management trainee program right out of college. She was managing a branch in her early 20s.
"My Dad said, 'That's really great, but you're not just responsible for you. You're responsible for all the families of the people that work for you. Part of being a successful manager is to have successful people'," she recalls. "I've always taken that to heart. I want my people to advance and be successful and to move on. It makes me very proud. When they do we can find some one new and give them that opportunity. Coming in each day and having people who want to be here and want to succeed and learn and be coachable is really important, and it makes my life so much easier."
One thing led to another and she found she really enjoyed banking. She worked at Key Bank in Cortland, and then HSBC. When HSBC sold those branches she was recruited by M&T to manage the Triphammer office and work with commercial clients. She and her husband, also from Cortland, settled there and now have three grown daughters. O'Mara says she originally thought she would become a lawyer, but she loves being a banker.
"I deal with a lot more people in banking," she says. "That's my favorite part of my job. Getting to know people, getting to know their story, and developing that relationship."
M&T uses a community bank model so that local branches can become part of their communities. The Ithaca branches are part of the Binghamton region that has its own President and covers the Binghamton, Ithaca and Corning areas. Many of the region's decisions, including loan decisions and charitable contributions, are made locally. In Ithaca this year M&T is receiving the 2014 Philanthropist of the Year Award. The bank will have donated over half a million dollars to various organizations in the region this year.
Locally the bank donates to the Ithaca Education Initiative, Chamber of Commerce events, the Salvation Army, and the Day of Caring, among others. M&T is a Pace Setter for United Way. O'Mara serves on the Leadership Tompkins board, a United Way volunteer, is about to become her BNI chapter treasurer, and is part of the Ithaca Rotary Club. She also serves on the Southern Leadership Council for the bank.
O'Mara has been at the Triphammer branch for two and a half years, and says her priority has been to provide excellent service to every client.
"Our business is based on relationships," she says. "We try to get to know our clients. When you walk in we try to greet you by name. If you need anything you can call us. My business clients know that if they call me at five of five and we're going to close at five, I'll stay until six to solve the problem if I need to. And many times it's not so much a problem as an additional need they want to have met. They know that the level of service that they're going to get is going to be high. I think that's what really sets us apart from other banks."
v10i38