Dottie's Ice Cream
who specializes in cakes made to order, all made in a special kitchen in her home.  She makes both ice cream cakes and baked ones, from simple frosted cakes to multi-tiered cakes with flowers.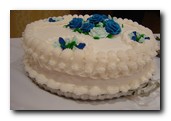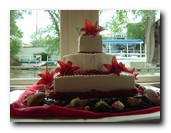 She operated the Baskin Robbins franchise at the pyramid Mall for 18 years.  "The kids could work with me and we could be together," she says.  After 18 years Pyramid didn't want small franchises any more, so she formed her own business selling Hershey's Ice Cream and making cakes.  Her daughter-in-law named it "Dottie's Ice Cream."
After three rough years at the Triphammer Mall and one more at Pyramid, Munson moved the business to her Lansing home.  She built a new kitchen in a nook off of her home kitchen, and got a certificate from the Health Department.  Munson says she actually has a lot more work space now than she did in her store front.  The kitchen has a three-bay sink, storage and counter space and a double oven.  She has two freezers, including one that cools to -10 degrees, the temperature needed to store ice cream cakes.  
One counter has a device that looks like an overhead projector or a darkroom enlarger.  Munson uses it to project designs onto cakes to guide frosting.  "It projects the picture onto the cake," she explains, "and then you draw it in gels.  I do a lot of those."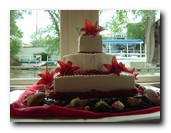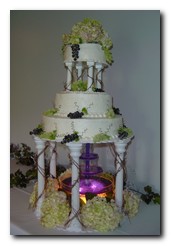 Munson began baking when she was a child.  "I've done it all my life," she says.  "I started 4H when I was eight and I've been cooking ever since.  She trained to make ice cream cakes before purchasing her Baskin-Robbins franchise.  "I spent three weeks of concentrated training in California," she says.  Before that she had studied Home Economics in college and had spent many years in 4H.  
Everyone in the Munson family has a favorite cake.  "Bob's is apple pie.  Bill's is definitely the angel food cake -- you take lemon sherbet and creme de menthe and the stuffing from the center of the cake, and then you stuff it all back in and you make something like chocolate ganoshe and pour it on the top.  And John, I don't know, lemon maybe?  And of course all the kids want ice cream cake.  Mint chocolate chip, definitely!  Everybody gets their cake."  Her own favorite is chocolate.  "And I still like ice cream," she adds.
She sells cakes for all occasions.  "Brides buy wedding cakes and the mothers buy the shower cakes," she says.  "Ice cream cakes, everybody buys.  Baked cakes go out for anniversaries.  I just made a huge birthday cake for a lady who turned one hundred."  She does college parties, graduations, just about any occasion you can imagine.  She says January is a very busy ice cream cake month.
Munson says that she makes more ice cream cakes than baked, but that baked cakes are used for more of the bigger events.  She says her Lansing customers seem more interested in birthday cakes, but she makes a lot of wedding cakes for people in the surrounding areas.  "I make everything: I do white cake, yellow cake, strawberry cake, lemon cake, carrot cake, spice cake, chocolate cake..."
Munson says the most unusual cake she made was in the shape of a turkey.  "I had to make a round cake.  I baked a big ginger cookie for the tail feathers.  That took some work!"  Because all her cakes are made to order each one is unique.  "A lot of it is making a special cake for a special person.  I'm doing one this week for a lady that's retiring, and she's going to help her husband on a Christmas tree farm.  So I'm making a cake with a dancing Christmas tree on it."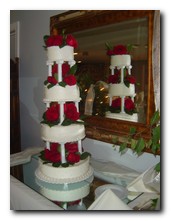 Dottie Munson
Her daughter Judy helps in the business, making flowers and frosting most of the baked cakes.  "She's my partner in crime," Munson says.  Recently a family brought a cake up from New Jersey, and it was ruined from sitting in the back car window.  Judy took a digital photograph of the skeleton design, refrosted the cake, then duplicated the design from the picture.  When the pair had finished it was as good as new.
Munson puts out business cards and flyers to promote her business, and advertises in the Ithaca Journal and the Lansing Star.  She bakes cakes for special parties at some restaurants and hotels, recently baking chocolate cakes for La Tourelle for a week.  But most of her business in for individuals, and she has a lot of repeat customers.  "I did the kids and now I'm making cakes for their grandchildren," she says.  That is a very sweet tradition.
----
v2i20
It is probably be safe to say that nobody in Lansing makes as many cakes in a year as Dottie Munson.  Munson is the proprietor of