It's a family affair with daughter Nicole also working at the stand, and brother-in-law Kip Kersat basing his landscaping business there.  In fact Kersat's crew installed a pavilion where customers can sit and enjoy their cones.  The pavilion features a beautiful circular patterned stone floor and a large koi pond and waterfall.  "We're pushing this part of the business," Kersat says.  The stone work, the water features... we started doing water features about three years ago."  His wife Theresa, Lori's sister, works with him doing payroll and office work.
Kip has run Kersat Landscaping in this area for 18 years.  It's a full service landscape company that does plant installations and designs as well as decorative stone work and ponds.  Part of the reason he wanted a location like this is that he plans to sell plants.  "This is going to be a full blown nursery," he says.  "We're going to sell plants.  We have greenhouses that are probably going to go up in the late Summer, early Fall."  He says the new heartscape stone and water features business is going to be called Water's Edge.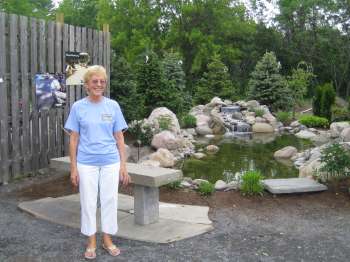 Sandy Ulrich in front of the coi pond and waterfall
In the ice cream stand Lansing High School girls work with Joe selling many flavors of Perry's ice cream as well as soft-serve.   Veronica Dedrick and Lisa Petry worked for the previous owner, Tina Turek.  "They were highly suggested by Tina," Lori says.  "This is all new to us, the ice cream business.  So they trained us."  They also trained their new employees including Nicole, the Molinari's high school aged daughter.  Lori's parents, Sandy and Mike Ulrich, work earlier in the day while the girls are in school.  "They're the day shift," Lori says.
The Molinaris bought the business intact from the Tureks.  "We bought the building and all the equipment.  There are a couple of freezers in the storage building, and walk-in refrigeration."  She says they have enough space that they won't run out of ice cream.  "We shouldn't run out, anyway," she says.  "We came close over this weekend," she adds noting the hot, humid weather meant that a lot of people wanted ice cream.
Everyone has a favorite flavor.  "I'm old fashioned vanilla," Kersat says.  "I'll tell you that cotton candy's pretty good," says Lori.  She says she is thinking of getting bubble gum flavor this summer, because her son likes it.  She says husband Joe likes all the flavors and adds, "I take a smaller than a kids size cone just for the taste every day."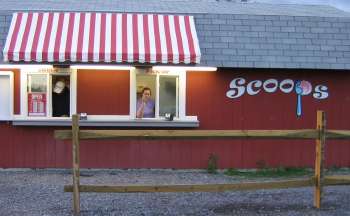 Order on the left, pick up on the right
The family is renting the current location, but looking for a property to buy where they can relocate the business in a permanent location.  They say it will be very near the current location if and when they do.  They'll take the ice cream stand, pavilion and pond with them.  "We'd like to keep the same exact setup.  We'll move the whole thing, but it won't be far.  It will still be in Lansing," Lori says.  She says owning the property will allow them to add features that customers will like, but she is keeping their plans close to the vest.  "Just say there is more to come," she says.
The Molinaris like employing Lansing High School students.  "You know it's good, because at night they have their friends coming in.  They come over and hang out with them a bit and it's nice.  I wanted it to be that kind of community gathering place, and they have that."  No one can deny that the ice cream is good, especially in the weather we've had this week!
----
v2i21
One of Lansing's most popular spots in the warm months is the ice cream stand where Route 34 turns north toward Auburn from 34B.  Now under new management, the stand has been renamed Scoops, but the ice cream is as good as ever.  "We didn't change anything," says Lori Molinari, whose husband Joe is running the stand.  "When people found out that we had bought it they actually came up to us and told us not to change anything.  They really liked the soft serve and the different flavors of hard-serve.  We've added a couple of different hard ice cream flavors, but pretty much  everything is the same."