"My favorite part is watching people bring in all kinds of miracles that they've been working on," says owner Julie Schroeder.  "They'll get a little piece of fabric and spend hours, weeks, half a lifetime working on a treasure of a project.  Beautiful quilts, sweaters, clothing."  She also enjoys keeping up with textile trends and new fabrics.  "Right now there's a lot of research going into fibers from unusual sources like corn and soy," she says.  She has bamboo yarn on the shelf that is quite soft and vibrant.
Schroeder has been with the store since 1977, when she took a part time job working there.  "I was in school at Cornell and Carolyn Walsh started the store in the basement of a building on Buffalo Street," she recalls.  "I remember going there when I was in school, because I was taking a weaving class."  When Walsh decided to move she wanted to have somebody that was invested in the business running it so she offered Schroeder a partnership.  Eventually Schroeder bought her out.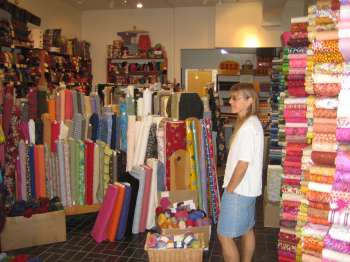 She has seen a lot of changes in customers' interests since the '70s.  "There wasn't as much going on in natural fibers, and certainly the big boom of quilting hadn't happened yet.  Carolyn carried a lot of things for macrome and beads and stuff that was happening in the late '70s.  Definitely more of a hippieish movement, more of a fringe element than mainstream."
Schroeder says quilting exploded onto the textiles scene in the 1980s.  "Rotary cutters were invented and that sparked a whole movement of techniques for producing quilts.  It was a revolution in the techniques for cutting fabrics and reassembling them.  Ithaca had a big part in that.  In 1976 they sponsored a bicentennial gathering of quilters here.  Some very famous national quilters showed up.  There were talks and exhibits and all kinds of things."  This movement effected sales in her store.  "People were looking more for small cotton prints, calicoes, things like that.  It was taking off on older quilt traditions at that point.  Since then it has soared into all kinds of modern art."
She makes her own projects, but tends toward things she can use as examples for her customers.  "A lot of times what I do carries into the store," she says.  "I do a lot of things for display.  People see something and they want to copy it."  She says the latest boom is in knitting.  "The great thing about knitting is that it's not a huge investment in equipment.  You can buy a pair of needles for five dollars and a ball of yarn and you're knitting."  She offers personal advice as well as knitting classes in the store.
Often customers come to the shop for help with a project that has gone wrong.  "That's a huge part of what we do," Schroeder says, explaining that some projects get twisted around or that patterns are sometimes inaccurate.  "A comma is in the wrong place and suddenly you've got a triangle instead of a square.  So part of the detective work -- I'm a person who really loves puzzles -- is going back and seeing where they went off track."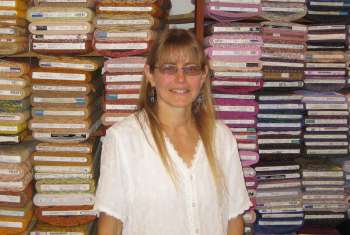 Julie Schroeder
It is all about people and textiles for Schroeder.  Part of what she likes about owning the store is getting to know her customers.  "A lot of times it's not about the project," she says.  "It's about something else that's going on in their life.  So there's a lot of psychology involved, which I don't have a huge background in -- probably now I do!"  These customers come back, and sometimes she sees generations of customers.  "They're knitting for a new grand-baby, or they've got a new boyfriend," Schroeder  says.  "Projects are so involved in peoples' lives.  And I meet the people.  I meet the baby that's wearing the booties, and fifteen years later, or five years later that person is involved in projects, too."
Homespun celebrated its birthday this week with a sale that goes through tomorrow (Saturday).
----
v2i23
The Homespun Boutique has been a part of the Ithaca landscape for 32 years.  In fact this week the fibers and fabrics shop is celebrating it's birthday.  Located just east of the Ithaca Commons, it is packed with fabrics, yarns and supplies for sewing and knitting.  It has a cluttered, homey feel, welcoming and warm.