Ithaca Tompkins Regional Airport
, but it is celebrating an important anniversary this year.  50 years ago Tompkins County bought the East Hill Airport, which then became the Tompkins County Airport.  "It's an interesting deed," says Airport Manager Bob Nicholas.  "It talks about various odd things like a farmer that was allowed to grow crops on the east side of the runway.  There was a limit to how close he could come to the runway and he had to make sure the crop didn't grow above five feet.  There was another verbal clause in this title as well that some retired army officer was given a verbal lease on a house until June 1957."
To celebrate the airport commissioned several photographs from the 1950s from the
History Center
and put them on display in the terminal with photos of aircraft from the 50s they already had.  The History Center included summaries with the pictures, which will be on display throughout this year. Another cause for celebration is the 11.6% increase in passengers flying from Ithaca over the twelve months ending March 31.  In that 12 month period more than 80,500 passengers boarded planes in Ithaca, the largest 12 month traffic increase in four years.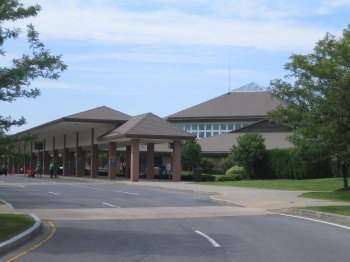 The new 33,000 square foor terminal building opened in 1994, along with an 800 foot extension that increased the runway to 6601 feet.
But Nicholas remains concerned in part because flights have dipped slightly, and partly because it is so difficult for airlines to make it in the current flying environment.  "With the added time we now need for security, check-in... you hope that the flight's on time and that there aren't any thunder storms.  Then you get on the flight to New York and you're in LaGuardia.  And then you've got to get from LaGuardia to Manhattan.  When you factor all that in, the difference between doing that and stepping into a car is not that much any more."
On July 1, 1956 Tompkins County purchased the airport from Cornell University for $324,500.  The 500 acre property was made up of 23 different parcels.  Prior to that it was known as the East Hill Airport.  "I think it opened some time in the '40s," Nicholas says.  "Robinson Airlines moved up from the Cass Park airport.  Then Robinson became Mohawk and Mohawk had a maintenance base here for a while.  The County's been here ever since and it became the Ithaca Tompkins Regional Airport in 2001."
The airport has been completely self-supporting for 20 years, which means no County tax money goes toward running it.  It earns its keep largely from rent from the airlines, which accounts for about 75% of its budget.  Runways, taxiways, and equipment are purchased with Federal grants that are funded by taxes on airline tickets and other related sources like aviation fuel tax.  It runs its own fire department as well as acting as landlord to the airlines and smaller business on the field.
When the new terminal opened three airlines served Ithaca.  Trans World Express only lasted a year.  Continental underwent a cost cutting initiative that pulled service from many of the local airports.  Only US Airways remained, and they were in trouble.  "It was a very difficult time," Nicholas recalls.  The local effect of US Airways' second bankrupcy was getting stuck with a whole bunch more bills that they didn't pay.  The first time they went into Chapter Eleven we got stuck for about $160,000.  For our airport that's a huge amount of money.  The second time wasn't quite so bad, but it was still around fifty or sixty thousand.  So that's an immediate whammy on your local budget."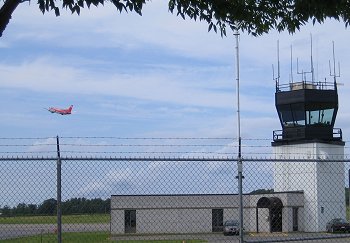 It became part of his job to explain to the County Legislature why the airport should remain opened.  "One of the little known things about this airport is the benefit it gives to the local economy, which is estimated at about $30 million a year," he says.  "That is in terms of jobs created, services purchased by the tenants.  And then that money recirculates.  That's without even looking at how many people fly in here just to do business.  You can't quantify that.  But it doesn't happen if the airport's not here."  He also noted that in accepting Federal money the County had oblkigated itself to keep the airport open for at least 20 years, income or no income.
Around that time Northwest Airline switched their aircraft in Elmira from turbo-props to jets.  "I heard that they were interested in coming with their turbo-props into Ithaca," says Nicholas.  "They had some spare aircraft and they'd been looking at Ithaca for a while.  It was about the same time that the Air Service Committee started to get interested in doing something.  So the two things happened at the same time."
They asked for a lot, but the County found donors to ante up as much as $250,000 if the airline didn't make its goal of $5.3 million.  The pledge turned out to be unnecessary when Northwest exceeded their goal.  Nicholas wasn't surprised.  "I think we were all expecting it to, because Detroit made a lot of sense," he says.  "It's a good connection point to the West Coast and the Far East.  We met the revenue guarantee after ten months and exceeded it by about 35% within a year."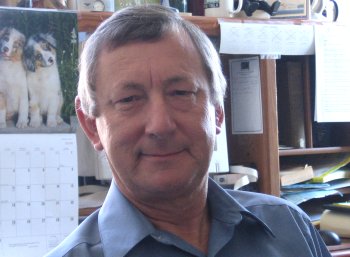 Airport Manager Bob Nicholas
Nicholas, a London native, will celebrate his 40th anniversary in the aviation industry next month.  He began his career in August of 1966 calculating weight and balance for British European Airways, then worked as a dispatcher for cargo aircraft.  All of a sudden when aircraft started being hijacked and blown up he joined a new division that sought to prevent the hijackings.  That required travel, including six uncomfortable months in Iraq in the pre-Saddam era.  After three years he switched to training, which brought him to California, where he met his wife.  
Moving to the United States he worked for small airlines and eventually found himself perfectly credentialed when the Fort Lauderdale airport was looking for an airport manager.  He got his college degree while working there.  When their children grew to be of school age the Nicholases looked to move North to put them in better schools and to be close to his wife's family in New York city and his own in Canada.
At that point he sent a slew of resumes anywhere he could think of that met their requirements.  His resume landed in Ithaca at the same time the airport manager was quitting.  "He wasn't just quitting," Nicholas recalls.  "He had a real bust up with his boss.  He said, 'Oh this came across my desk today.  There's your replacement.'  And he just walked out."  Only the third airport manager in its 50 year history, he's been here for 17 years.
Looking toward the future Nicholas says it is a balancing act for a small airport to match supply and demand.  "The challenge is to have the right balance of air service here that's sustainable," he says.  "When I first came here in '89 we had US Airways, we had Piedmont, we had Trans World Express, we had Continental Express and a little airline called Mohawk.  And they have all come and gone."  He constantly calculates whether the two airlines operating 13 flights per day is the right amount for Ithaca.  He is encouraged by Northwest's success, but concerned about the future of US Airways.  "Our charge is to try an make this airport as much a part of the community as we can."
And with an airport that you can land at, get off the plane and have your luggage and be on your way in ten minutes, there are advantages to flying in and out of Ithaca.  Passengers have enjoyed those advantages for 50 years, and that is cause for celebration.
----
v2i28
You may not find a cake at the