What Engel now calls 'The General Store for Kids and Kids at Heart' was begun by Jan Norman, who owns of Silk Oak silk screening.  Engel and Betty Gail Downing purchased the business in 1981.  "We were able to secure a loan, and I still remember the loan payment of one thousand three hundred, thirty-three dollars and thirty eight cents," Engel says.  At the time Engel was fresh out of college.  With a background in linguistics, she had lined up a job in the translation department at the United Nations.  "But when push came to shove, the lure of staying in Ithaca made me decline the position," she says.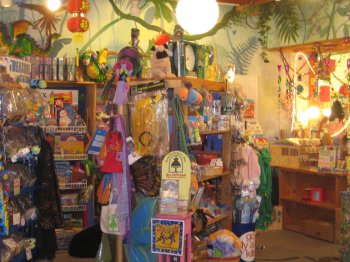 So she took a job at Downing's Gallery 121, a womens' clothing store, and soon impressed Downing, who was having a baby at the time.  "We hit it off immediately," Engel says.  "When she had her first baby Logan, who is still a dear person in my life, I said, 'I'll take her!'"  And she watched the baby while working at the store, cementing her friendship with Downing.  After a year Engel was ready to move on, but Downing proposed a partnership in Cat's Pajamas.
"She had far more experience than I in the retail aspect of things, " Engel recalls.  "I relied on her expertise in the business aspect of things and learned as I went.  She was a person who taught me to enjoy the scary, ecstatic, high, low concept of something that you dive in head first and -- you just go with it.  And luckily she believed in me enough to say, 'If there's one person who can do it, it's you.  It was a true friend to friend thing.  I am so grateful that she kept me here!"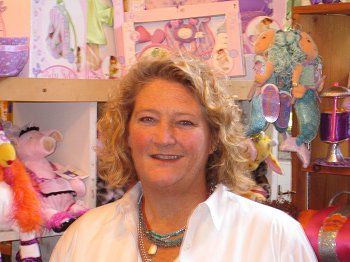 Jennifer Engel
And it worked.  Engel has run Cat's Pajamas for 25 years.  The store has always been in the Dewitt Mall, but has moved around the mall until it settled in its present location.  "At one point in the late '80s we had three spaces," Engel says.  "There was a baby store, a clothing store, and the toys.  That was in the heyday of retail in Ithaca."  She says you can make as much out of a smaller space as you can from three spaces with much less headache.  "If the bottom line is the bottom line, it is awfully nice to have one space where you can turn on a dime."
In the age of Toys R Us, smaller businesses must differentiate themselves.  The approach that has worked for Engel is simple and direct.  "We are your neighbors," she says.  "You're buying from the people who live down the street, who are your neighbors, whose kids you know... I grew up in a small town with mega shopping everywhere, but I remember Mrs. Wagner's Bakery, and I know Ben's Five and Dime, and it's very different from the Home Depot or the Grand Union.  That's what differentiates us from the bigger box.  It's not so much what we sell."
But in some ways it is.  When a customer asks about a toy she listens.  Over the years she has also worked with local toy makers, carrying prototypes of their work, some of which have become widely popular.  She carried David Kirk's prototypes of 'Miss Spider' pull toys, and still carries the now hugely popular toys to this day.  She has worked with Trumansburg Toys, and Scott Pardee (who developed the game Chebache), among others.  And she finds herself giving advice to potential toy makers on what works, safety standards that must be met, and the ins and outs of the toy business.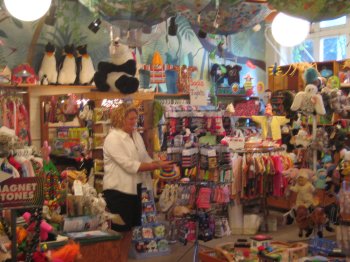 "Our best form of advertising is word of mouth," Engel says.  "When we're talking about people in Lansing and out and about, that is truly the best."  In order for that to work, the toys she sells must be memorable and striking.  "I have to love it," she says.  "It has to have play value.  It has to be packaged properly.  It has to be easy to wrap.  It has to be at a price point that's right.  I always buy the minimum.  And then I wait for people to report back to me.  And the good thing about where we live is that they do, whether I ask them or not."
Engel's children are grown now, with Robbie, her youngest, in Ithaca High School, and Jack in his Senior year at Cornell.  She considers two others her own, also grown, neighbors who were so close they became family.  "I couldn't have done it without the four of them," she says.  Engle watched how they played with new toys.  "They're all very different kids, very different players.  They looked at things in a differently critical way."
But she loves kids of all ages.  And her language skills sometimes come in handy.  "Just the other day there was an adorable little boy in the store, and I could hear that they were Japanese," she recalls.  "I threw out a few words, and oh! oh! The little boy was surprised.  The mom was surprised.  And people are touched when you even make a stab at speaking in their language."
Over the years Engel's customers have grown up with the store a part of their lives.  "It's really starting now," she says.  "The kids who came in originally in strollers are now beginning to come in pushing their own strollers.  That's not to say we haven't seen them in between."  She says there is another side to the store, that it has what she calls a 'cradle to grave' selection.  She also sells to therapists, from senior therapists, senior, occupational, play, and psychologists.  "One of my favorites is my speech therapist friend who looks at things in completely different ways than i look at them.  So I have learned to look at things in very different ways."
Engel's favorite toys have to do with dress up.  She likes toys that are only limited by a child's imagination.  "With one cape you can save the planet, you can turn water into a rabbit, you can be Harry Potter and go to wizard school," she says.  But surprisingly, the item that has been consistently successful over her 25 years is umbrellas.  "We've always sought out cool, wonderful kids and adults' umbrellas."
Still exuberant, contagiously enthusiastic, Engel loves what she does.  "I cannot express how lucky and how thankful I am that I've been allowed to do this for 25 years," she says.  "Does that mean every day I come here for 25 years I'm jazzed to be here?  I have to tell you -- pretty much.  Yeah!"
----
v2i37
Sometimes you walk into a store and notice that you are happy.  It is inviting, interesting, fun... you're just glad to be there.  And when you walk into Cat's Pajamas the feeling is mutual.  "They're like my family," says owner Jennifer Engel about her customers.  "They are the people I rely on to get me through my day.  We love that you're in our lives and we're so excited to see you here."