Lee had held various jobs including working at Julie Schroeder's Homespun Boutique in Ithaca.  When she left Homespun Lee says she didn't set out to directly compete.  "I didn't set it up to compete with her at all actually," she explains.  "For some reason, knitters tend to pick a store that is their favorite store.  I actually tried not to buy stock from the companies she buys from so that I have different things than she has.  There are a few things that have to overlap because they are so good we both have to have them.  We have very similar tastes, though, and that's why I like her so much of course!"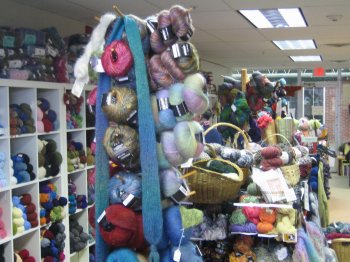 Displays have yarns with items you might make out of them
Now she is trying to manage her stock as she transitions from Blackler's tastes to her own.  She took 'Machines' out of the name of the store to reflect the focus on yarns and fibers.  And she is finding that she must adapt quickly to trends in knitting, as well as customers' tastes.  When she bought the store the rage was knitting socks.  "Everyone was knitting socks and so I picked up a couple of new sock lines," she says.  "This year it's lace.  Everyone is knitting lace, beautiful lace shawls."  And Lee says that some of her customers are men.  "They are definitely not as obsessed with the felted purses that the women are!  But they do like to knit mittens and hats."
"I try to have a little bit of everything for everyone," she says.  "I want a broad price range.  I want a broad fiber range.  I think I have over 23 different fibers in the store."  But she is learning to control her stock, to not present too many choices.  "I definitely want to keep my focus on good quality materials and on good variations of color and having all of these different fiber options, but maybe not multiples of each option."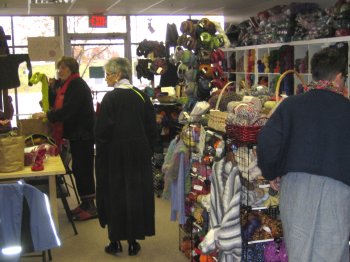 Another aspect of the business is the extensive series of knitting classes she offers.  Lee enjoys teaching some of the classes, while others are taught by two other experts.  Most of the classes are filled.  "Our beginner basics class -- we cannot offer that enough," she says.  "I started three of them this weekend and now I have to start up another class.  That's 18 knitters."
The classes lead to sales, of course.  And part of being in the knitting business is getting involved with customers' projects.  "Often I do find myself getting involved," Lee explains.  "It's a very service-oriented retail setting in general, because there is more than just picking something and buying it because they need help in making it, they need help in finishing it, they have questions on how to take care of it so it is very service oriented."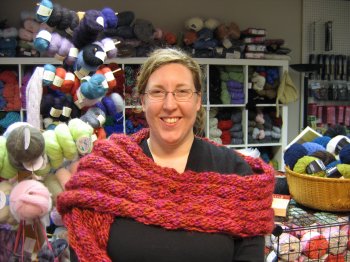 Owner Hickory O'Brien Lee
Lee actively uses her Web site to promote the store, classes and merchandise.  She offers monthly 'Blog Specials.'  Last month the special was a 10% discount on any yarn with orange in it, to help celebrate Halloween.  She also has an on-line newsletter with articles, information and an original pattern in each issue.
Lee is still getting her sea legs, so is happy with the way things are going now.  But she says the store does reflect her tastes and interest in spinning.  "I just went to the New York State Sheep and Wool Festival and I bought a bunch of fleece, robeing, and batting so now I need to know how to spin," she says.  "That might be another direction the store goes."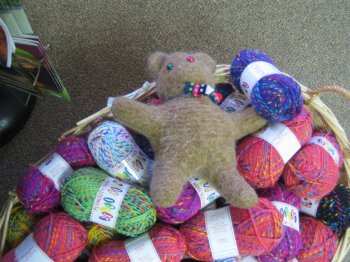 Lee only bought the store last December, and moved it from Mitchell Street to the Triphammer Mall in Lansing.  While she lost some local customers, the move has been very good for business.  With three part time employees, the store is open seven days a week.  "I didn't expect it to be as busy as it is," she says.  "The store is doing really well and that's a great thing."
----
v2i43
Perhaps it shouldn't be surprising that someone who started knitting at age six ended up with her own knitting and yarns shop.  Hickory O'Brien Lee didn't necessarily think she would end up owning her own shop, but when she learned that Shelley Blackler was selling Knitting Machines Etc., the opportunity was too good to pass up.  "I love the yarn," Lee says.  "I love the fibers, I love the colors, and I love everything about the yarn.  But I also like that I have met so many really, really fantastic people, mostly women, but there are a few men that come into the shop."