Fazzary also owns the Laundromat two doors down.  The space in between will become a brew pub by Spring.  He envisions it as a unique place for adults to come.  Fazzary plans to put an archway between the pizza side and the pub side to allow casual access between the two with the pub side geared toward adults and the pizza side for families, much as it has been.  "They can sit down and have some pizza, some home brew," he says.  "I'll probably carry some regular types of beers, plus some Ithaca Beer Company and some different micro-breweries stuff out of Syracuse.  Just a beer and wine license, nothing fancy."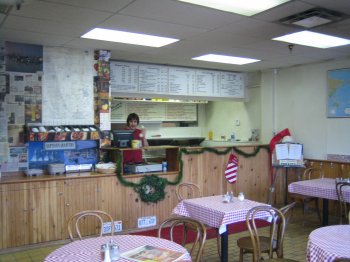 Fazzary says he wants to build on what Rogans did, but add the new dimension.  That means he is keeping the menu and recipes as-is, and some of the store policies as well.  "Everything is made fresh every day," he says.  "Nothing is frozen, thawed, the dough, the sauce, everything is made fresh.  Putting the sauce together, making the dough from scratch, prepping things.  When you come in to get your pizza, no matter what size, you get two free fountain drinks.  So if you get two pizzas, you get four drinks, but we don't deliver sodas any more with the orders."
He does plan to expand the menu a bit.  He'll soon be offering whole wheat crust pizzas for people who don't want white bread.  And he gets fresh bread from Ithaca Bakery each day.  The restaurant still delivers from as far as the Gossett Center to East Hill Plaza.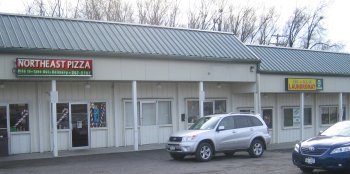 Soon there will be a new sign and a beer-bub between the
pizzaria and Laundromat
When the pub opens, it will feature a unique system that mixes beer on the spot.  "The beer system behind the bar will  be a 15 barrel system, not a small system," Fazzary explains.  "There are three tanks.  One tank will make a light beer like your regular pilsner.  The other tank we will make a dark beer, and then we will blend them in a mug 50/50 and give you a certain type of beer.  75/25 and 25/75 will give you another beer."
He says the pub will also serve local beer and wine.  He plans to play oldies on the stereo during the week, and feature live Blues and Jazz on weekends.  For decoration he talks about wine barrels with plants on them.  "Nothing fancy," he says.  I always looked at it as something for the baby boomers.  "People between 35 up to 60-70.  Where are you going to go?  The divorce rate is very high now and we try to develop a place where a single person comes in and wants to sit down and have some food, or just a drink and not be bothered."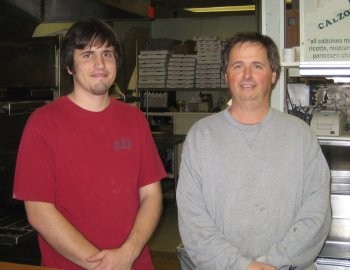 Mitchell Disbro (left) and owner Steve Fazzary
With 7 years as a pizza restaurant manager and  26 years in the cheese manufacturing business, owning a pizza business seems like a logical progression.  But Fazzary says he was actually looking for a 'retirement business' that would be low-maintenance but provide an income.  "I always wanted to do a Laundromat," he says.  "It's something you can walk away from, come back to, clean up, and not have to be there 10-15 hours a day.  You come in, clean up, collect the money, make sure there are supplies there, floors are mopped up, and everything looks good."
But he wants to do it right.  "My whole thing from the beginning was to open a place that's clean, that looks good, it's bright, it's easy to get into and get out of," he says.  With some help from friends he built the Laundromat himself, and plans to do the same with the pub.  And he is looking at new services that he thinks local customers will love.  "The Laundromat we are going to start up the drop off dry cleaning and that will be non-toxic through Angelo's downtown.  We are going to have wash, dry, and fold service.  We will have an attendant over there most of the day and we'll be washing and drying clothes by the pound and we'll have the dry cleaning drop off at Angelo's downtown."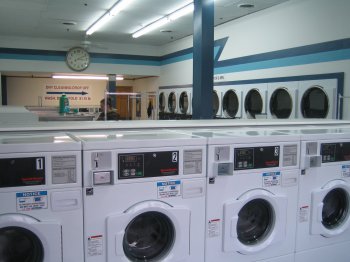 He says he probably wouldn't have attempted the pizza business if it weren't right next to the Laundromat.  Having the three storefronts in a row gave him the opportunity to consolidate his attention, allowing him to go to one place to take care of it all.  He is liquidating apartment buildings in Cortland, and he'll soon have the one location in the Small Mall that he can focus all his attention on.
Meanwhile, the pizza business is going well, and Fazzary plans to get the pub up and running some time in the Spring.  He hopes to coordinate it with the opening of the new hotel being built across the street.  Once it does visitors and residents alike will have a friendly place to eat and hang out.  "Just try to keep it simple and everyone have fun," he says.  "The brew pub will be where you can just come in and forget about your problems, sit back and have some pizza and beer, and listen to some good music."
----
v2i47
If you've picked up a pizza from the shop at the Small Mall recently you probably noticed a flyer taped to the box saying that Rogan's Northeast is now called Northeast Pizza.  The sign hasn't been changed yet, but changes are coming.  It's the same great pizza, but there is more coming according to new owner Steve Fazzary.  "The actual name of the business is Northeast Pizza and Beer Company," he says.  "We'll add the Beer Company to the name after we get the brew pub going."