The business was founded by Rick's parents Bernie and Ellie.  Bernie had been an executive at Western Union in Manhattan, but wanted a change and to to own his own business.  They narrowed down possible locations to Saratoga Springs and Ithaca.  In 1976 they purchased the Ithaca Taylor Rental franchise.  Then in 1983 they decided to break off from the franchise and the firm became an independent family-owned business.
Meanwhile Rick had graduated college with an accounting degree, then moved to California where he had his own business as a scuba instructor.  But in the late '70s the recession meant that people spent less discretionary money, and with dwindling customers he decided to come home.  Real estate was more reasonable here as well, and when Bernie said there was a place for him in the business Rick and his wife Mitzy moved to Lansing with children Tonya and Tony in 1981.
"One thing that I missed was the feeling of having roots, you know, calling a place home," he says.  "Out in California, at least where we lived, there were a lot of transients.  It's not like here where you develop a good sense of community.  In Lansing it's a real tight community.  I missed that."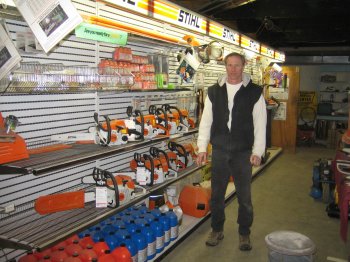 Glenn Rick
Once here he found he enjoyed the rental business and working with his parents.  "Gradually I learned the business," he says.  "My mother was very much involved in the business too.  So we all worked well together and expanded the business over time."
Rick's Rentals focuses on construction equipment and parties.  Supplying parties has been the main part of the business, though equipment rentals are catching up.  "I guess you would call it homeowners garden and yard," Rick says.  "It was always a general rental operation, anything from a champagne fountain to a pressure washer.  We carried it all."
Tents range from 20 x 20 foot backyard canopies to a 40 x 80 Clearspan tent that has no interior poles, providing more room for guests.  The latter is new for the company, purchased because of customer requests for larger tents.  The company also carries a line of Stihl tools and sells supplies like sandpaper for power sanders or chain saw oil.  Customers have the option to buy equipment they rent.  Delivery, set-up and training on the equipment is part of the service.  He has rented items as far as Utica and Rochester.  "Those are extremes," he notes. More typically they deliver rentals to Interlaken, Ovid, Cortland, and the counties surrounding Ithaca.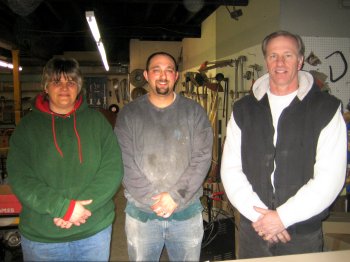 Susan Kelley, Randy French, Glenn Rick
Rick says that what he most enjoys is dealing with people.  "I really enjoy seeing the customers walk through the door and saying 'hi' and 'what's up'", he says.  "We have a nice customer base here.  We know about 98% of the people who walk in through the door we have seen before.  I guess I would say that's my favorite part of the business, just interacting with them."
Rick's son Tony has become the third generation of Ricks to join the business.  He has worked at the family business summers since he was 13, and now at 24 has is part of the business full time.  During the party season he focuses on setting up tents, but is learning other aspects of the business as well..  "I rely on him a lot for the party end as far as keeping that going in the right direction when we get busy," Rick says.  "He actually came down to the convention with me and went to the seminars and walked the equipment floor with me.  So it's been a real pleasure having him on board."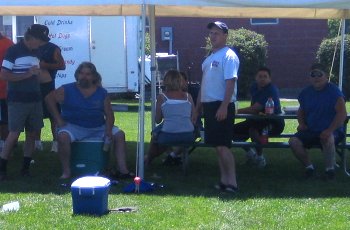 A Rick's Rental player (standing center) between games
Tony also plays with his dad on the Rick's Rental adult softball team.  And the team wins.  Last season it was undefeated until the championship game.  "Everyone has become friends and we try to fill in the roster with good players," Rick says.  "It's a good team, we're not out there for blood but we want to win so everyone has a good time but it's very competitive too.  We pay the sponsor fee and buy the hats and the shirts.  If we need a new bat here and there we will pick up a bat. Right now we are the oldest sponsor team out there."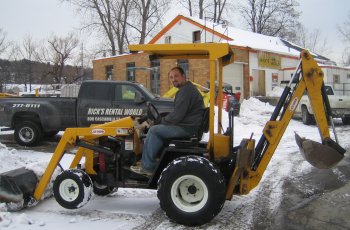 Randy French clearing snow with a rental back hoe
Rick says that he has worked for himself most of his life, and enjoys having his own business.  He has five full time employees, and hires college students in the summer months when the party season gets busy.  He enjoys being involved with all aspects of the business, and changing conditions and trends.  For example, he is considering getting American Rental Association certification in wedding planning because that is already a big part of his business.  "You're never done learning," he says.  "That's one thing I like about having my own business.  There is always something you have to pick up.  And I like that aspect of calling your own shots."
Rick relies on employees like store manager Sue Kelley.  "I have excellent staff here," he says.  "I delegate as much as I can."  He is also proud to own a local business.  I think it is important," he notes.   "I get the sense in this Ithaca area we are the only locally owned rental business in the area.  So the dollars you spend here stay in Ithaca."
"I do like having my own business," he says.  "We are always looking to take care of the people who are looking for something."
----
v3i8
If you are throwing a party or digging out your stream, chances are you'll call Rick's Rental World.  From tents to tables and chairs, place settings to back hoes and chain saws, the company has what you need.  And if they don't have it for rent, they may have it in the future.  "We are always looking to get into new things," says owner Glenn Rick.  " We listen to what people are asking for.  We can't have everything so if we don't have something one year, check with us the next year because we might have it if we get enough requests."