Rasa Spa
you are transformed into a serene atmosphere.  The energy is there, but there is no hint of bustle.  "I think we were able to continue that throughout, which is great," says owner/manager Rachel Hogancamp.  "It is about continually getting people to understand that it's okay and more than okay -- really important to take time for ourselves."
Hogancamp, who also owns
Bodyworks
on North Cayuga Street, partnered with Island Health and Fitness Club when its owners called her to create a spa in the building.  The building is themed toward health with the fitness center, spa, Cayuga Medical Center's outpatient physical therapy department, a prosthetics business, a sports medicine practice, among other businesses.
In a city that has many spas, Hogancamp has differentiated Rasa by focusing on health.  "There are so many different things that people create that are called spa," she says.  "There are folks who have largely hair salons and stylists who then attach services and that counts as a spa.  Then there is a spa like ours which is a different kind of spa in that we are mostly dealing with body and health care and we aren't offering some of the things that other spas are offering.  So we aren't doing hair, and we aren't doing nails.  That was a conscious choice early on for me because it just creates a different atmosphere."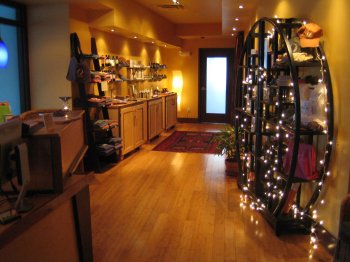 The reception area leads to the locker rooms
She takes obvious pride in the atmosphere that pervades the entire business, from the reception area to the locker rooms, to the Tranquility room, sauna, and the individual treatment rooms, including a couples room where you can get a massage with a friend.  The menu of services includes massages and bodywork, facials, hydrotherapy, scrubs and wraps.  Facial product lines include one that is fully organic and the other 'mostly organic'.  The spa offers a hot oil scalp treatment, shiatsu and Thai massage, and reflexology which focuses largely on feet and hands.
But Hogancamp wants her clients to use the facility as a retreat, not just for appointments.  She says clients can be in the Tranquility room for as long as they want, reading, thinking, or meditation.  "My goal is to encourage people to book a 11:00 am massage but come at 10, and stay and do what you want to do in the Tranquility Room or the locker room, and get your treatment for that hour whether it's a hot stone massage or a wrap or a scrub or whatever facial you're doing."
Hogancamp wanted to make her spa a uniquely Ithaca experience, so she drew from among local artists to create the space and the furnishings. She worked closely with Diana Katzman of Balance Studios to create the space, colors and the natural flow of the rooms.  Lansing's Linda Blossom provided the sinks and counter tops.  "Paul Colucci made the two benches and the table in the Tranquility Room," Hogancamp says, pointing out the items.  "Every room has one of his small art pieces plus a shelf.  Leah Houghtaling, who is one of the owners of the Atomic Lounge, built the front desk and all the retail shelving, our cabinets for storage, and in the women's locker room she built us an armoire and a beautiful table that has a river of rocks running through it.  The lighting was designed by a local woman, Celeste Rega.  It was great to collaborate with all those folks."
She also wanted to make the spa environmentally friendly.  "When we purchased everything for the spa we did it really consciously," she explains.  "The sheets are these crazy soft microfiber sheets.  We bought microfiber robes too and towels because I really wanted to do as much green building as we could.  Washing microfiber takes less water and it takes less to dry it in terms of the energy.  It is also supposed to last a lot longer.  We put bamboo floors in for the same reason, trying to pay attention to renewable resources.  Out in the hallway there is a large section of the space that is all wood and I did that for a feeling of connection to the earth and also bamboo grows so fast.  If you're going to use a grass wood you might as well use something as renewable as it can be."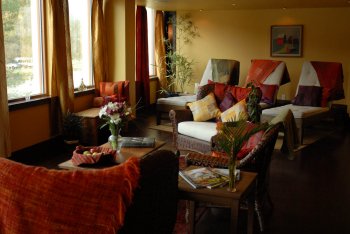 The Tranquility Room features furnishings from local artists
Hogancamp came to Ithaca 1987 to go to Ithaca College where she earned a bachelors degree in arts administration.  She thought she would be going on to law school, but was sidetracked when she attended the
Finger Lakes School of Massage
.  "I just really loved it," she says.  "I was going to massage school on the way to law school and decided not to do law school and really loved the massage world and ended up doing that.  It just sort of happened."
Soon she was teaching at the massage school, and in 1995 she opened Body Works Massage Therapy.  She still runs Body Works as well as Rasa Spa, and is an accomplished photographer as well.  While she could have chosen to make the spa an extension of Bodyworks, she opted instead to make it a unique experience.  "The two atmospheres are very different," she explains.  "Body Works is a fabulous place that's a small practice in a house downtown, and has that real quite atmosphere.  Here it's really peaceful and wonderful but it's a whole experience.  When people come here, it's a real whole spa experience so it's very different than just going to get a massage."
When you come to the spa you get a pair of sandals and a locker key at the front desk.  You go into the men's or women's locker room where you change clothes.  Robes are provided in each locker, and both locker rooms sport a sauna.  "So you can take your time and sauna and shower and do all that while you're here and then you come out the other side of the locker room into a large room which we call the Tranquility Room," Hogancamp says.  "It has chaise lounge chairs and rattan furniture and it's got a living plant wall in it that we had somebody install for us.  It has a fountain going, there's water with lemons and cucumbers, there's apples and tea so people can just spend as much time in there as they want to."
But she also stresses the connection to wellness and health.  "A lot of my personal practice has been in injury rehab," she says.  "I have seen a lot of clients who come to me because they are in pain and they are looking for some relief and they are looking for someone to help them and get better.  I think there is still a lot of misconception in the public that spas are purely about relaxation and they are just indulgence.  A lot of cultures include things like massage and making sure you sit in a sauna for half an hour a day or getting a facial as a regular routine.  But in America we're still a little stuck in 'oh my gosh, I can't do that, I can't spend money on myself. I'll buy it for somebody else as a gift, but I won't do it for myself.'"
The Spa offers packages to businesses, and Hogancamp says she wants to increase that as the business grows.  "We are a member of the Chamber and I am going to try to really encourage people who are members of the Chamber to come," she says.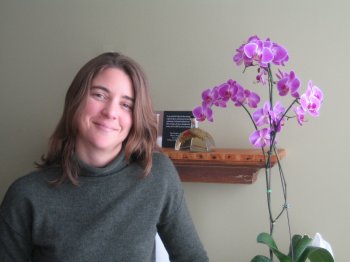 Rachel Hogancamp
Like many business people Hogancamp has struggled to balance the massage and body work that made her want her own business with the actual business side.  "I can't pretend to say I have found balance yet," she says.  "I pared my practice down a lot over the years because I was teaching a lot.  I worked pretty solidly for a year and a half on getting Rasa going, so I wasn't doing a lot of other work.  I was still teaching a bit and still seeing clients, but it kept getting less and less as this became more and more."
She manages a staff of about 15 people, along with a hand full of contractors.  "My staff is fabulous," she says.  "We have a great group of people here.  Working with them is really wonderful."  But she still loves taking time off from running the business to walk into the Tranquility Room and see her clients let go of the bustle of daily life.  "I think it's a great feeling walking into that room and seeing people really have dropped down a couple notches and take a breath, or when they leave and having heard the comments of how great an experience they had."
----
v3i10
As you enter the Island Fitness building, it is all business, modern, rising to impressive height and there is an energy and bustle to the building.  Take the elevator to the second floor and enter the