If mere enthusiasm were enough to sell you on a photographer you would probably pick Sue Sheerer.  And that's before you see the quality of her work.  Sheerer specializes in catching unexpected, joyful moments in her work, whether it is in a portrait taken in her studio, or an unrehearsed moment at a wedding.  She especially enjoys working with small children, catching their sense of innocent wonder.  "I do what clients want, but my style is that of relaxed, candid photography," she says.  "Especially with younger children."
Her studio is full of props and backdrops to lend variety to her photo shoots, and to allow her to match an object with her subjects.  In one picture a small child wearing an engineer's cap plays with a toy train.  In another a baby wearing a chef's hat plays with a pizza and a rolling pin in a triptych that captures three different moods.  Another shows a toddler 'having a ball' in four shots with a beach ball. "I started specializing in maternity and newborn pictures," she says.  "I still have a passion for that.  I've become so fixed on capturing the beauty of a baby.  A baby is an amazing subject."
But Sheerer doesn't limit herself to babies.  In the two years since she has opened her studio she has begun to build other niches in photographing seniors, weddings, and sports team pictures.  "Some photographers like to specialize in a particular area," she says.  "But I love all the areas so much that I'm looking to strike a balance.  It keeps it fun to go from a senior picture to a newborn to a corporate picture to a wedding to the sports program.  I really love all of it."
To see her portfolio you would never know that she is almost entirely self-taught as a photographer.  Sheerer says she became interested in photography when her children, a daughter now 7 and a son now 4, were born.  As she snapped pictures of them she challenged herself to take better and better pictures each time.  She soon realized that capturing a child's fleeting moments requires a better camera that can take sharp, detailed shots of a sleeping child, or a kid on a swing in less than ideal lighting conditions.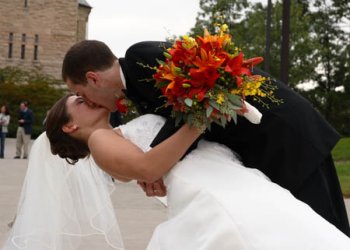 That's when she stepped up her 'obsession.'  She bought a used copy of 'The Complete Kodak Book of Photography' and began experimenting with her new camera, taking hundreds of pictures of objects under different lighting conditions and using different camera settings, making notes on what she had done and what the result was. 
"I don't know if I could have afforded to teach myself in film, because the cost of printing and developing test shots would have been outrageous," she says.  "But with digital photography I took a picture of the newel post on my patio maybe 200 times.  I'd change my settings, take a picture.  Change my settings, take a picture to see how these things would change.  And they certainly did."
A scrapbooking enthusiast, friends saw her pictures and began asking her to take pictures for them.  In 2005 she started photographing weddings just to get the experience, and called around to offer her services for free to area photographers.  She ended up assisting Ithaca's John Reis and Renee Marques in Cortland.  Eventually she worked as Reis's wedding specialist, designing wedding  album layout.  "He taught me a massive amount of stuff," she says.  "Being in the studio every day, I had the opportunity, sitting next to the guy editing pictures in Photoshop, to say, 'What are you doing to that guy's nose?  How did you do that?'  John is a great man and he even loaned me my first set of studio lights."
By that time she had opened her own studio in the basement of her Lansingville home.  She had turned down some weddings, because she felt she needed still better equipment to professionally capture weddings in environments like Cornell's Sage Chapel.  She decided to go professional, to buy the camera she needed with money she would charge for her services.
With a business management and marketing degree from Cornell, once she decided to go into business she jumped in with both feet.  She approached pediatricians and OB doctors, offering them pictures for waiting rooms if they would let her place her business card there as well.  She also built a
Web site
to show her extensive portfolio and range of pictures.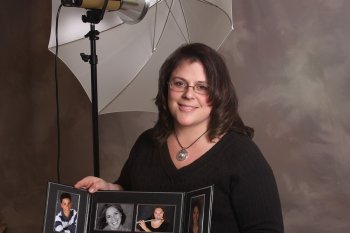 Sue Sheerer
Meanwhile she heard that the Town of Lansing might be looking for a new sports photographer, to take the team pictures for Recreation Department program teams.  "I presented my portfolio to (Recreation Director) Steve Colt that fall, and he said they might be looking for somebody for the spring.  Then two weeks before the season started he called, and said, 'Are you ready?  We've got 400 kids on the roster this year.'" 
That was so successful that she will continue to do it this season, as well as photographing teams for the Town of Groton.  But Sheerer admits that studio work is her passion.  "In a standard session I don't know what I'm going to use," she says.  "I think that's what people love about me, especially with young children.  It's called 'True Life Photography' because I don't put them on a posey table like Sears and Walmart."
Sheerer is also self-taught in Photoshop.  "I picked up a lot of things working with John Reis's group," she says.  "I owe their production manager a great deal, and I get online and read forums.  If I get stuck on something I pick up the phone and call other photographers.  I subscribe to a lot of trade magazines, too, and they always have a tidbit.  I file those in a binder and when I have time I practice the techniques."
Sheerer uses a professional lab for printing pictures.  Again she takes full advantage of the digital age, using the lab's online services to get the prints exactly as she wants them.  Part of the advantage is that she can set up a Web page for each client to view and choose images they want printed.  "All the proofing is done online, and everything is digital," she says.  "I have a Web page, and I have confidential and private galleries for each client, so they don't have to share the link unless they want to.  It's convenient when Grandma and Grandpa and aunts and uncles live in different cities, or other countries, so they can help decide which pictures they want."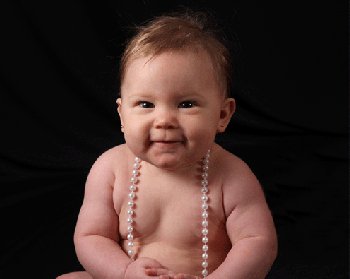 Because computer equipment is not consistent in how it displays graphics, Sheerer has set her monitor to mimic the colors, contrast, and brightness in test photos she had printed.  This way she can tell how a print will actually look.  "What I see is what the printer is going to print."
For the near future she will have her hands full.  She is limiting herself to six weddings in the coming season so that she can focus on studio work and the sports photographs.  She says she will build her senior business, which she says is surprisingly enjoyable.  "I didn't think that I would love it so much because senior pictures tend to be a little more posed," she says.  "But I really enjoyed it.  They were goofy and giggly, and I got some unexpected shots.  So I am working on building that part of my business this year."
Meanwhile she has crafted what began as a hobby into a business that uniquely fits her passions and her lifestyle.  "I like the interaction with people," Sheerer says.  "I like the spontaneity of not doing the same thing every day.  Even though I'm taking pictures I never know what's going to happen.  It's a fun way to live life.  I like the flexibility.  I have to work some nights and some weekends, but the tradeoff is that I get to be here for the bus when the kids come home from school.  That's really important to me."
---
----
v4i11