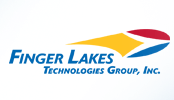 You don't get a homey operator named Sarah who knows all about you and the people in your life to connect you to Floyd, who she tells you just stepped across the street to get a haircut, even when you are served by a small private telephone company.  To the contrary, the Ontario & Trumansburg Telephone Companies, and Finger Lakes Technologies Group are forward thinking firms that specialize in fiber optic transmission of data, voice and conferencing technologies, as well as e-mail and fax, data networks, backups, and co-location, and network security and services as well as traditional telephone service.
Under the leadership of CEO and President Paul Griswold, the companies are merging local service in rural areas with high-tech solutions.  "His vision has always been to connect the two phone companies with fiber and extend the fiber out to places where people need the connectivity," says Finger Lakes Technologies Group VP of Sales Peter Pizzutelli.  "So we went south to Ithaca through the Trumansburg Telephone territory, and north and west to Rochester.  Paul's vision was to put all these together so instead of having to go to one person for a phone system, and one for a phone line, and another for Internet you now go to one entity."
Trumansburg Telephone has been in business since 1906, and was purchased by Griswold's family in 1926.  The Ontario Telephone opened in 1908, and was sold to the Griswolds in 1920.  The current president is the fourth generation in his family to manage the companies.  Legally the three companies are separate, but Griswold runs them together to take advantage of what each brings to the table.  While the phone companies are regulated by Public Service Commission rules, the subsidiary Finger Lakes Technologies Group, which he founded with his brother William in 1995, is free to sell products and services wherever they can.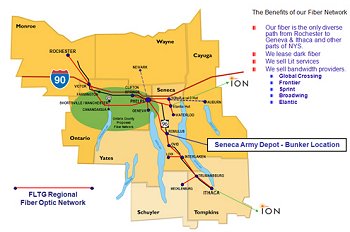 Finger Lakes Technologies Group's fiber network spans from
Rochester to Ithaca and beyond, and continues to expand in
central and western New York
The merging of traditional phone service delivery with high tech, high bandwidth offerings provides a perfect synergy for a time when more and more people want high speed, integrated communication services.  That brings benefits to the company's traditional customers, as well as experience to new ones that need higher-tech business services.  "Trumansburg Telephone is very rural," Pizzutelli says.  "We're proud that we have as many DSL customers as we have, because to get to the rural customers is very expensive to do.  About a third of our subscribers have DSL, and I would say in Trumansburg probably 70% to 80% have access to it."
Merging technologies means that things like voice mail and faxes can all be integrated with e-mail, creating one place to get them all.  With IP based telephone systems these things can be merged with phone service and a range of features that includes various forms of remote conferencing.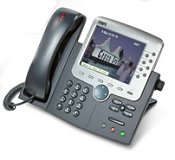 "Sometimes an e-mail is the best way to communicate," Pizzutelli  notes.  "Sometimes an audio clip is the best way to communicate.  Sometimes the written page is the best way to communicate.  But a lot of times having a quick conversation is the best way to communicate what you need to get out of it.  That's why a Network Operations Center is so important, where you can talk to a live person.  If you've got a deep technical problem you're going to want to use e-mail because you're going to want to be very precise, and to download logs from the device and send it to the person that's going to help you.  But the typical business person or residential person is looking for a very simple answer.  It takes an iterative process of communication, which voice does such a great job of doing.  It allows them to resolve their questions very quickly."
The big push is to expand the company's fiber network that allows them to offer high speed Internet and telephony services that Account Manager Rose Ketchum says are faster than cable or DSL.  Ironically Ketchum lives in Spencer where high speed Internet probably won't be available for some time.  "I'm probably going to be one of the last people that get it, because of where I live," she laments.  "I have to go to work to get the fast bandwidth.  It's so much faster than it is at home."
The company recruits local people with the expertise that fits into its high tech vision.  Pizzutelli worked for Cisco Systems, the leading networking hardware company, when he met Griswold nine years ago.  Cisco was just getting into the voice market at the time.  "I met this guy," he recalls.  "All of a sudden he's got the vision of merging the voice, the video, the data over his network to be able to provide all the services -- the connectivity and bandwidth -- and products -- the phone systems and the local area networks and all the equipment you need to pass traffic around your network -- he had the vision of putting it all together and having all the engineering services you need under one roof."
Two years ago Griswold recruited Pizzutelli to become Vice President of Sales.  Last year Pizzutelli recruited Ketchum, who, with her husband, ran Chemung Computer in Elmira.  "Rose saw this right away coming on board," Pizzutelli  says.  "Because of the model with the hardware, the services, and the engineering support -- customers are looking at us saying, 'That is a great story.  I want to buy from you.  When can I get the fiber?  When can I get this IP phone system in?'  It's really amazing.  Rose started selling almost immediately because it's such a nice model."
Pizzutelli stresses that usability is as important as the technologies that bring new features and benefits.  "The whole part of the engineering side of it includes the customer interface," he says.  "Its more than just training.  If the customer has a problem that they can't solve with the help menu or going on line to figure it out, they still have to be able to call us.  We have a Network Operations Center that handles those types of calls.  It's another human interface part of it that allows people to be more comfortable using it."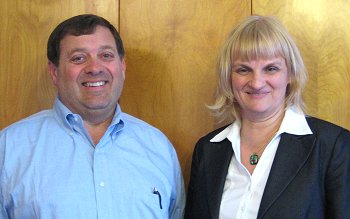 Vice President of Sales Peter Pizzutelli and Account Manager Rose Ketchum
One area the company isn't getting into is television.  Pizzutelli says that is because the Internet has drastically changed the way we receive video content.  "I remember watching a Bills game in October and three of my kids were there and my wife was there and we all had our laptops open," he says.  "Every one of us was watching video content, something else while we were watching TV.  That was the big eye opener for me, that video content was going to become the big wave that's going to push bandwidth.  Investing in all the equipment that's needed for video today -- I personally don't believe that market is going to be around for a long time.  It's not going to be a huge growth market."
One thing that is a growth market is secure backup and electronic storage primarily for medium and large companies.  In January the company purchased 'Area Q' at the Seneca Army Depot.  Pizzutelli says the secure area contains 64 bunkers protected by a triple layer of fencing that were used to house nuclear weapons.  He says security and high speed bandwidth are the two elements needed to make this part of the business successful. 

'Area Q' provides a secure home for digital storage in 64 bunkers
With the bandwidth fiber brings and the security the area's last use demanded, the facility is perfect for its new purpose.  "Now we have the ability to have a very high tech environment in the Q area, the northern section of the Seneca Army Depot," Pizzutelli  says.  "That can be converted from wasted space to a nice employment generation engine that we hope will help out the whole area."
The company is finding its niche in rural cities in upstate New York like Ithaca, Trumansburg, Geneva, Canandaigua, Victor, Auburn, Elmira, Corning, Painted Post.  While it does sell products and services in some of the larger cities, it is contracting with institutions along the way and growing its network in leaps and bounds.  The company was just awarded the South Cayuga school district IP phone system contract, and hopes that will turn into providing bandwidth as well.  That would allow them to connect the school system to another customer, OCM BOCES.  Auburn City School District is also part of OCM BOCES.  "We're building the fiber in Auburn now," Pizzutelli notes.  "So that will be another link and we're trying to figure out the best way to connect those right now.  One of the possible routes is through Lansing.
Because of that connection residents in rural areas like Lansing may soon have access to high speed connections as well.  The company already supplies trunk Internet access to local Internet Service Providers such as Lightlink and Clarity Connect.  Lightlink has been providing wi-fi Internet connections in some areas, and Pizzutelli says that as his company lays its fiber through Lansing along the route to Auburn and Syracuse he can envision Lightlink tapping into it to provide wireless access to residential customers along the route.
"Phone companies are mandated to provide phone service to every customer in our territory, but there is no mandate to provide high speed bandwidth for everybody," he says.  "However New York State is starting to get proactive at priming the pump with funding to at least get the design started and the networks moved out into rural areas.  We're trying to participate in that."
While the regulated telephone business shrinks as more people want VOIP and other Internet services, Finger Lakes Technologies Group is well placed to take advantage of the new technologies and offer them in packages that people want.  "The western and central areas of New York are within our sites right now," Pizzutelli  says.  "We're building fiber at a pretty fast clip.  Our first real push into those areas is Ithaca.  Next we come up the hill to Lansing.  We're doing that in Geneva, Waterloo, and Seneca Falls.  We hope in the not too distant future to come up the east side of Cayuga Lake up to Auburn and on to Syracuse.  That's the path we're hoping to take."
----
v4i14