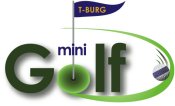 Tompkins County's newest golf course is of the mini variety.  On July 3rd Mike and Melinda Cirri opened T-Burg Mini Golf with a grand opening that drew a lot of local Trumansburg people.  Since then golfers have been coming from all over the county and beyond.  "During our opening weekend I'd say probably have of T-burg came in to see us," says Mike Cirri.  "Now we are getting a great mix of people from Trumansburg, Ithaca, Watkins Glen, Cortland, Interlaken.  We've had a group of people from Casanova drive down three times to play.  We had a group from Israel that was here on vacation."
Born and raised on Long Island, Cirri attended Ithaca College in the early '90s.  After college worked in New York City for about ten years.  While there he met and married Melinda, a native of Hungary.  Seven years ago the couple decided to move back to the Ithaca area.  Two and a half years ago they began planning their mini-golf course.

"I enjoy golf very much, but that wasn't our deciding factor," Cirri says.  "We wanted to build something in the county.  Something local, something that we could call our own.  And we wanted to make sure it was something that we would enjoy,  After our fourth or fifth trip to Cortland to play we decided that the Ithaca-Trumansburg area could probably use a miniature golf course."
The couple interviewed a specialty companies that design and build miniature golf courses.  They selected Harris Miniature Golf, based in Wildwood, New Jersey.  The Cirris told their designers that they wanted to a course that would be both challenging for adults yet still be fun for children.  During the design phase the couple played several mini-golf courses to get more ideas, which improved their original plan.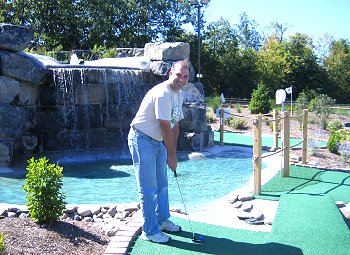 Mike Cirri
"We laid out a course on paper with their designer, which my wife and I both thought was a great course," Cirri says.  "Everything he did made it better.  We extended the holes to make them a little longer since we had space.  We built a waterfall about twice the size of a typical waterfall in a course they build, because again, we had the space.  And we used the natural landscape.  There's a fifteen foot elevation change from the front to the back of the course.  We used that fully to create these really challenging and fun holes, yet keep the course 100% wheelchair accessible."
They also worked with Plantsmen Nursary's Dan Segal on a landscaping plan.  There are over 2,000 plants planted in the 25,000 square foot footprint of the 18 hole course.  Cirri says that all the plants are  perennials, drought resistant and deer resistant.  He says that last is actually true because he has observed deer, coming onto the course after hours to drink from the water features, leaving the plants alone.
"As you get into the higher part of the course you start to get more into evergreens and things that you'll find in a more mountainous setting," Cirri says.  "The actual waterfall itself was designed around Taughanock Falls, and it looks very similar from certain angles."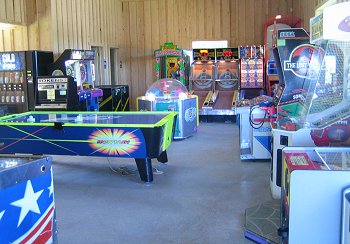 The '19th hole' is a large black box with colored pegs that stands against the arcade building.  When players come off the 18th hole they drop their ball into the box, which bounces off of several colorful pegs.  Depending on which hole it falls into the ball adds strokes to their score, or takes them off.  If they had a hole in one they could lose it if the ball falls into the wrong slot.  Or it could win them a temporary tatoo or a 'Buddy cup,' a drinking cup featuring the course mascott, Buddy.  One hole in the box puts players into a drawing for a free mini-golf game.
In addition to the golf, the Cirris have two dozen arcade games ranging from classic pinball machines to a karate machine to skiball.  Players purchase tokens, and most of the games reward you with tickets that you can trade in for prizes.  They also have snack and soda vending machines.  A corn maze cut into a ten acre corn field in the shape of a castle completes the experience.  If you find hidden items in the maze you are entered into a drawing for a season pass for mini-golf for next year.
My favorite part is the people coming here," Cirri says.  "The conversations, meeting people from all over the county, the state, the town, the country, the world!"
The couple has big plans for the 23 acre property, and they show a layout of present and future attractions on their Web site.  In the shorter term they are considering offering a season pass next year, and possibly a ten game discounted pass.  They are also thinking about serving pizza if demand ie sufficient to make it profitable.  They also hope to put in batting cages on the north end of the property next year. 
They are also planning a go-cart track, and a second 18 hole miniature golf course.  Cirri says that for the first ten years or so he thinks it will be a seasonal operation, but doesn't rule out heated buildings for some attractions.  "That's why we spent so much time selecting the property," Cirri says.  "We wanted to make it a destination attraction."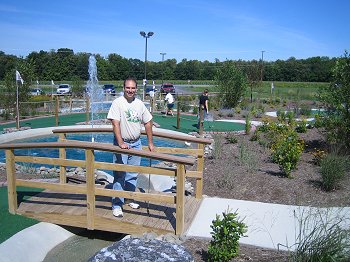 A View from the Bridge
To some extent they are already doing that.  A shaded pavilion provides a place for business retreats and birthday parties, and they are offering the course to not-for-profits at little-to-zero cost to use for fundraising.  Already they have September events scheduled for the Dream Factory of Central New York and Family and Children's Services.  The couple creates coupons to be distributed by the not-for-profit, and for every coupon redeemed they donate fifty cents to the organization. 
They hosted their first tournament on August 30th.  It was called 'Putt for Pets,' and the couple raised about $300 for the Tompkins County SPCA, which brought pets for adoption for the event.  They got local companies to donate prizes.  First and second place winners got trophies and a chance to compete in a national mini-golf tournament in late September. Winners at the New Jersey tournament will win a share of $10,000 in prize money.
Melinda works at the College of Veterinary Medicine at Cornell University, and Mike works for Jamex in Lansing.  During the mini-golf season he has switched to part time.  He says the management at Jamex has been flexible about his hours to allow him to run his business during the golfing season.
While the rainy summer has hurt business, Cirri says more and more people are coming to play golf.  "It's been going great for us," he says.  "We've been seeing a steady stream of people.  A lot of people are still learning about us, but there is definitely a steady stream.  Every day we have more people that are playing us for the first time and are repeat customers.  That tells me that the word is still getting out there about us."
----
v4i35