They're saying the economy is going to the dogs.  In just about a week that will be a good thing when Those Dirty Dogs joins the local economy, opening in Lansing Village Place (in front of the Shops at Ithaca Mall) with a target date of October 18th.  The brainchild of Adam Fitscher and Jennifer Bushey, Those Dirty Dogs will offer self dog washing as well as professional grooming and washing, dog day care, a boutique of products including gourmet dog treats, and a range of services geared toward dog owners.
"We're trying to make it fun, family oriented, and different from just a groomer," Fitscher  says.  "Right now this is something that nobody else has.  That's why it's going to work.  People are going to like it."
The couple is counting on dogs liking it, too.  Fitscher says leaving a dog at home all day isn't healthy because the animals tend not to get exercise, may tear things up out of boredom, and don't socialize.  He says the day care service will address all of those issues.  "We call it Club Canine," he says.  "If people work all day long it's not healthy for their pets to stay home all day long and sleep.  They can come and socialize, exercise, have fun and meet new friends.  It's a lot of fun for them and a lot of fun for us, and the owners don't have to worry about what the dog is getting into."
The day care portion of the store has an enormous indoor area with play and rest areas for dogs, as well as side rooms the dogs can explore.  The main area will feature a playground for the dogs, with a Playschool playhouse.  The 'VIP Lounge' will feature beds and futons where the dogs can rest.  There are other rooms where dogs can be separated according to their behaviors and energy levels.  Fischer says that eventually he plans to tile one of the rooms to create a pool where the dogs can go swimming, even in the winter.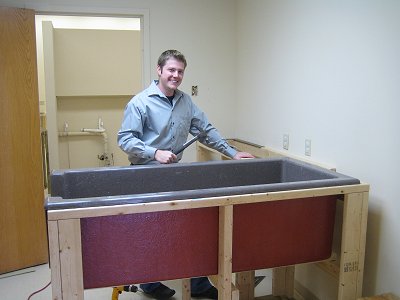 Preparing a tub in one of the self-dog-wash rooms
The boutique will carry chew toys, ropes, balls, and other small items.  Designer dog bowls, beds, knick·knacks, pet jewelry, and washing products will give the shop more of a boutique feel.  The most unique products will be natural food for dogs.  That includes 'Grilled Beef Madness Biscuits,' bacon and cheese molasses, apple and carrot slices.  "We are going to bake home made gourmet treats as well," Fitscher says.  "So there will be a lot of little things that you wouldn't find in a regular pet shop.  It will be more of a higher end type of inventory."
There is also a facility where professional groomer Ann Cotterill will work.  In front of that are two rooms where you can bring your dog to wash yourself, and the tubs are set up in a way that will accommodate a family if everyone wants to get in on the act.  "Normally when you bring your dogs to the pet store you drop them off and you leave so there is no need to bring the kids," Fitscher  says.  "But involving the kids is good for the dog and good for the dog owner because they get to bond."
Rounding out the staff will be Jaimi Bain, who has worked at the Cornell Vet School for years.  In fact, the Vet School is what brought Bushey and Fitscher to the Ithaca area.  Origanlly from Buffalo, Fitscher  met Bushey, a Plattsburgh native, at college in Oswego where he was studying business administration.  They lived in Rochester and Buffalo until Bushey was accepted at the Vet School here.  Fitscher had been working as a plumbing supply salesman, but when they came here they wanted to do something different.
The idea came about when their own dog Phoebe was injured at a pet wash in Buffalo.  "When we got home we noticed that the little pad on the back side of her four paws were shaved off completely," Fitscher  recalls.  "She was bleeding profusely.  They denied it and said she came in that way.  We were very unsatisfied with that.  Another time we took her to a chain pet store and she came out terrified and shaking.  In my research I learned they don't wash them in tubs -- they literally hose them down.  I guess that's efficient for them, but it's not the best way to handle a dog."
The pair were convinced they could do it better, making the experience safer, more fun for the owners, for the dogs, and for themselves.  "Opening my business has always been my long term dream," he says.  "I didn't realize it was going to happen so soon.  I expected to work for somebody while Jen finished school, and then we would move somewhere and she would be making enough money that then I could start my own business.  That was our goal, but we just loved this idea.  We talked to family members and friends and everybody loved it.  So here we are."
While Bushey got settled at Cornell, Fitscher tracked down Jay Sciarabba, who used to own a pet store and pet wash on the Ithaca Commons.  Sciarabba gave him advice about the local market, including that Jay's father Andy had the perfect storefront for rent in Lansing Village Place that the Colonial Veterinary Hospital used while their facility was being renovated.  The plumbing and room layout was already keyed to animals, there is ample parking, and it is close to the city.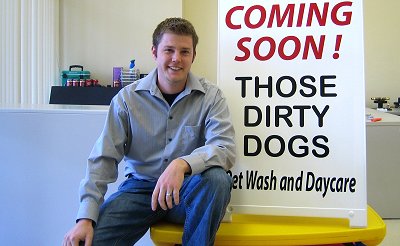 Adam Fitscher
"The demographics are all over the place because it is such a diverse area," Fitscher says.  "It's great because we're just down the road from the city, so people driving in from Dryden and Groton can drop the dog off for day care.  Then you have your college kids who can't spend that much money on washing their dog, so they'll come in for a $12 for a medium sized dog.  Then you have the elderly community that may have a small dog they wash in the sink, but the dog doesn't socialize so they can come in to use the day care.  It's all a matter of having a range of products and services to offer that huge demographic.  This location, for us, is key."
The couple plans to have a tip jar, but not for tips.  The money will go to a different animal society each month.  The first month the tips will go to the Tompkins County Dog Owners Group.  They plan to rotate the donation between them and the Tompkins County SPCA and a few other local shelters.  "We're hoping $50 or $100 here and there will help out."
Fitscher says he is looking forward to seeing how it all works out.  "We don't want this to be a regular nine to five job where you come in, type on the computer for a while and go home for the day.  We want everybody to have fun.  We're going to use group management so everybody's ideas will be brought forward on promotions, on prices, on what to order for the boutique."
Even though the business hasn't opened yet Fitscher is planning for the future.  He says his goal is to have five locations in five years.  "It's a bit of a stretch -- Jen laughs at me because we're not even open yet and I'm thinking 'Where else can we go with this?'" he says.  "You have to have something to work towards.  We want to have one back in Buffalo.  We also want to have one in Plattsburgh, which is where she's from.  We want to have one in Syracuse and either Albany or Rochester."
He says the couple hasn't ruled out incorporating a veterinary hospital at some point after Bushey finishes school, but probably not here in Ithaca because that market seems to be covered by existing facilities.  For now the first Those Dirty Dogs will be opening its doors, and the plan is that it will improve the lives of local dogs and their owners.  The business invites customers to bring their dogs with the slogan, 'Come Dirty, Leave Clean'. 
----
v4i39