How is a REALTOR like Kleenex?  They're both registered trademarks that have entered into the common vernacular.  To be a Kleenex® tissue you have to be made by Kimberly-Clark.  And to be a REALTOR® you have to be a member of the National Association of REALTORS®.  In Tompkins County that means joining the
Ithaca Board of REALTORS
®.  Not all licensed real-estate brokers are members, but the benefits are such that most join.
"It is a trade association," explains Executive Officer Rebekah Coleman-Brahler.  "We are affiliated with the national Association of REALTORS and the state Association of REALTORS.  We work to bring back knowledge and information about the industry, business building tools and a lot of other resources for our Realtor members to help them run their businesses as professionally as possible."
The Ithaca board is beginning its ninth decade this year.  It offers training, marketing opportunities, a local real estate listing service, business building tools, and other services to its hundreds of members.  The organization interfaces with the state and national organizations to bring wider resources and lobbying efforts to the mix. 
With only two staff members on the local level, most of this work is done by members who volunteer to serve on the board of directors and nearly 20 standing committees.  These range from advertising and public relations, to multiple listing, finances, and technology.  Serving on the board of directors is a five year path that culminates with a year as President.  While officials say they don't actively recruit, they do present a picture of the benefits of belonging.  Members include agents, agencies, appraisers, and affiliates.
"As a board we have to present to them the value of membership and what services they will benefit from by joining," says incoming President Amy Wood Gonzalez.  "We do a pretty good job of doing that, so most of the licensed brokers in our area are members."
Coleman-Brahler says getting a new president every year keeps the board vital.  "I get a new boss every year," she says.  "That keeps it really interesting because every person coming in has a fresh perspective on what we do and how we do business.  Even though a lot of the job is the same, every year it allows you to approach everything differently."
In February they will host the third annual
Housing Opportunities Fair
in partnership with Cayuga Radio Group.  It's a trade fair that invites the public to meet real-estate professionals and learn about the process of buying a home.  The show features a trade fair, informational panels, workshops, credit counselling, and activities for kids.  Outgoing President Amanda Ryen-Yowhan says it is very different from a home show.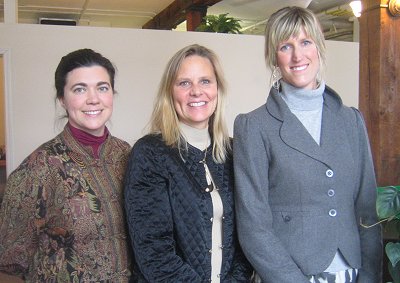 (Left to right) Amanda Ryen Yowhan, Amy Wood Gonzalez, Rebekah Coleman-Brahler
"The classes are about the process and connecting people with the resources that are out there," she says.  "We have a panel with an attorney, and insurance agent, a home inspector, a lender, and a real estate agent.  They are generally well attended classes to help people understand the process."
Ryen-Yowhan and Gonzalez say that the real estate business has changed dramatically in the Ithaca Board of REALTORS'® 80 years.  They invited past and present members to a birthday bash last year that included the first female member, who joined when the real estate business was male dominated.
"She had to go through an arduous process to become a member," Gonzalez says.  "She had to petition hard and fight to be allowed to join."
"We're lucky that we have really different experiences," notes Coleman-Brahler.  "That was one of the things we learned while organizing the party -- the history of our organization and what some of the members had gone through, and what real estate was like back then.  It was a nice part of the impetus of the event, to educate newer members about what some of our members had gone through to open doors for us to have a female-run organization now."
The national mortgage crisis and economic downturn have effected home sales just as they have impacted all industries.  But Tompkins County remains a relative bubble of prosperity.  Last November State-wide sales in New York were down by 23.5% from the previous year, and 26.5% from October.  But the Ithaca Board of REALTORS® reported only an 11% drop from 2007 with an average selling price of $180,216, actually up 2.1% from 2007.
"Things have slowed down from 2005 and 2006 but those were outstanding years everywhere," says Coleman-Brahler.  "It was in no way sustainable.  A certain amount of leveling out needed to happen and that's what we've seen.  We've still had a great year."
"All real estate is local," Gonzales says.  "Although the news may be terrible in regards to the national industry, it may not be what is happening here.  Our board stats are published monthly, and they show we still have a strong community  with good real estate opportunities."
While both the incoming and outgoing presidents say that volunteering takes a lot of time from their businesses, they agree that the contacts they make means growing their businesses in the long run.  Gonzales will guide the organization as President this year.  "I'm looking forward to keeping membership relevant to our members, preparing us for the future of real estate and the conditions that we continue to face," she says.
"My favorite part is making a difference for our membership, for the public, and I really enjoy working with my fellow realtors and with our staff," Ryen-Yowhan says.  "The ability to make a difference is really rewarding.  And we have a good time."
----
v5i4