Every Tuesday morning at 7:15 people from a wide variety of businesses come to the Ithaca Holiday Inn to learn about each others' businesses and to help each other do more business.  They are members of the largest Business Networking International (BNI) chapter in North East New York. 
Thumbs Up Ithaca
Chapter President Gretchen Avery credits the group's success to going beyond just business networking.
"The philosophy of BNI is 'Givers Gain,'  but in our group I see it goes beyond that," she says.  "When you look out for the businesses of the other people you're naturally going to get something back.  But that's not why you do it.  You do it because of the collegiality.  It's a thrill to see somebody take off and all of a sudden have all this business that stemmed from one little incident."
That may sound warm and fuzzy, but members say it produces tangible results.  "BNI has doubled my wedding and business catering events, as well as healthy eating and educating business," says Arthur Birnbaum, whose catering service is called 'Wellness Gourmet'. "It has helped me to be more exact in what I want for my business and, coincidentally, in my life from week to week not year to year. I am grateful for the opportunities to meet members, one to one, in which we reveal our feelings about our connectedness, hopes and trust of each other."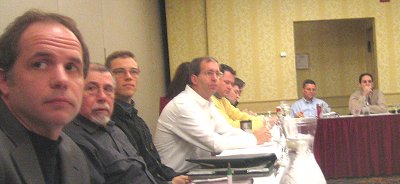 Members sit around a big table, taking turns telling
each other about their businesses every week
BNI chapters can only have one representative from each type of business, so that none of the members directly compete.  With Birnbaum in the group, other caterers cannot join that chapter.    Ithaca's diversity is certainly reflected in the Thumbs Up chapter, but the members mesh successfully.   A second chapter has sprung up in Ithaca, providing a way for people whose business is already represented in the Thumbs Up chapter to participate.  Members must attend all 52 meetings or get a substitute to take their place.  Members of one chapter may sub in another, providing even more networking opportunities.
BNI was founded in 1985 by Dr. Ivan Misner, an expert in business networking.  By 2008 the organization grew to more than 111,733 members in 5291 chapters in 37 countries.  Those members made 5.6 million referrals with a value of $2.3 billion.
The Thumbs Up chapter began about three years ago when local Web  designer David Makar got about a half dozen local business people together to see if there was interest in starting a chapter here.  He attracted Living Well's Avery, P.W. Wood & Son's Jamie Ferris, Re/Max in Motion's Amanda K. Ryen-Yowhan, among others.  The group met in a downstairs conference room in Ferris's office until they outgrew the space and moved to the Holiday Inn.
Today the chapter has 37 members, making it the largest chapter in the North East New York region.  Last month chapter members referred nearly $30,000 of business to each other, and the group is inching close to $1.5 million in total referrals.  A typical meeting includes a 'one minute commercial' by every member, one or two eight minute presentations by featured members, brief educational presentations, and the giving of referrals and turning in of 'BNI Bucks,' a way for the chapter to add up the dollars that referrals actually brought members.
Members say that benefits transcend just doing more business, although that is a big one.  Some members increase their business between 20% and 50% in the first year.  Others get even larger portions from their BNI referrals.  Membership benefits old and new businesses, providing instant access to a focussed business networking community.
"On a personal level, the contacts and friends I've made through BNI, as a newcomer to Ithaca, quickened my ability to feel a part of the greater community," says Integrated Business Ventures Managing Partner Patricia M. Brown.  "It helped me to find much needed service providers for my own personal and business needs, and to feel at home."
Being forced to get your message across in 60 seconds every week has another benefit, helping some members get over their fear of public speaking in a supportive environment.  It also forces them to market their business effectively, both in the meeting and a variety of other settings.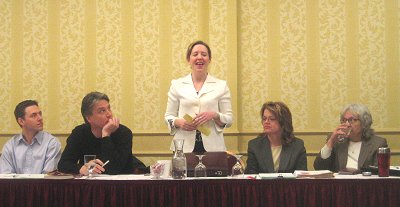 Paula
Maguire
delivers her 60 second commercial
"What you're doing in that sixty seconds is telling them what you want for business," says Ferris.  "If you're not getting that message across you're not getting referrals because you haven't clearly connected with the other people there.  You either hit it or you don't."
Of course the referrals are what you make of them.  "I think it makes better business," Ryen-Yowhan says.  "We are accountable to each other.  We care about other peoples' referrals.  We take them seriously and follow through.  Since the beginning I've seen people that are starting absolutely brand new businesses that now are renting their own spaces downtown.  I am blown away that 50% of their business has come from BNI.  I'm proud of those people.  They've obviously gotten the message and taken BNI to the nth degree."
Ryen-Yowhan also notes that the group provides a rich resource that she can share with her clients.  As a realtor, she can refer a new homeowner to a handyman, an attorney, a dentist, a chiropractor, a bank, a college admissions consultant... That gives her many opportunities to pass referrals to fellow members.
Thumbs Up has hosted a couple of breakfasts for potential new members, and just about every meeting has a guest or two who may or may not eventually join.  The chapter encourages guests to participate, giving them a kind of try-before-you-buy experience and tangibly showing benefits as regular members exchange referrals, or as chapter officers report on the number of referrals and BNI Bucks.
"I appreciate the structure of weekly meetings," says Educational Consultant Dr. Betsy Grigoriu.  "I always go away from meetings believing I got the most out of the time spent with other BNI members. I never, ever feel like I've wasted my time."
----
v5i10