If you were going to launch a top-40 station but you don't have a studio or on-air talent ready yet, what would you do? 
Z95.5
's General Manager Frank Lischack pulled a stunt that was guaranteed to get attention.  The station just played songs, 10,000 of them with no commercial interruption.
"I had the contractor build a closet," Lischack says.  "We put a couple of computers in and sealed the door with tape so the dust wouldn't get in.  Our program director programmed all the music, and every two or three days he would go in and update the programming, add new liners and jingles.  So we just existed in the closet for the first few weeks."
The station hit the ground running.  The first song played on September 17th.  While the music played offices and studios were being built.  On-air talent was hired, and an aggressive marketing and advertising campaign was launched.  On September 18th the Arbitron rating service fall sweeps period began and Z95.5 instantly became number one in its targeted demographic for the Ithaca market.
"Top 40 is a female skewing format," Lischack explains.  "According to Arbitron 65% of our listeners are women.  We're number one with women 18-34,.   We're number one with women 18-44.   We're number one with women 18-49.  And we're number one with women 18-54.  All key demographic that advertisers work for.  What business doesn't want to reach women?  Women make the majority of the buying decisions."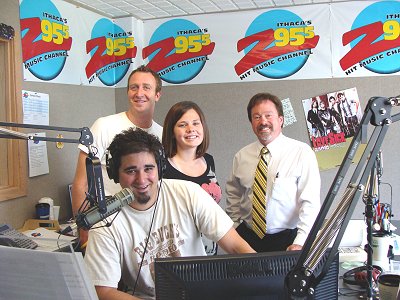 In the studio and on the air (front) on-air personality Birdman,(standing, left to right) Program Manager Justin Wright, Intern Kori Pensabene, General Manager Frank Lischack
On October 29th the regular on-air lineup went on the air with Program Director Tommy Frank co-hosting the early morning show.  The next morning Frank, 42, was found dead of a heart attack in his apartment.  Justin Wright, who had been hired to host the 6pm - 11pm slot suddenly found himself promoted to Program Director.  Today he co-hosts the morning show with Birdman, who continues through 3pm, including the noon requests hour.  The syndicated Ryan Seacrest show runs from 3pm to 7pm, followed by Corey at Night until midnight, and Keara Riley until 5:30.
The South Hill facility has two studios, one for live on-air shows and the second for producing recorded pieces such as advertisements.  A cadre of sales people sell advertising campaigns not only for Z95.5, but also for Finger Lakes Radio Group stations, notably The Wall 99.3 / 96.3.  An antenna on the roof beams the station to the tower in Odessa, which you can see in the distance through the back window.
Lischack has been in love with radio since he was a kid.  He says he knew he wanted a career in radio from the time he was 12 years old.  Growing up in Syracuse he would visit the local stations and watch the DJs work.  He was fascinated with every aspect of the field, but especially the on-air component.
He earned an associates degree in broadcasting at  Onondaga Community College, where he worked as a DJ at the college radio station.   He earned his bachelors in broadcasting management at Syracuse University.
At his first job interview he was told he'd have to make a choice between the on-air side and the business side of radio.  The General manager of the station told him that if he wanted to make money he should pursue the business side.  Lischack was hired in sales and a year later he was the General Sales Manager for the station.  He worked there for six years, and at several other stations since then.
In the late '90s he worked with Alan Bishop at Clear Channel Communications, a large conglomerate that owned about 1,200 radio stations at one time.  That proved to be a fortuitous connection.  While working at Jacor Communications in Sarasota he and his wife, a Senaca Falls native, missed upstate New York and wanted to move back here.  At that time Bishop managed KISS 107 in Rochester, and was looking for a sales manager.  He hired Lischack, then left the station a year later to form Fingerlakes Radio Group.  In 2004 he hired Lischack again as sales manager.
Three years ago The Wall came to Ithaca, and plans began to form for a new station here.  "In June of '08 we started building Z95 from the ground up -- the tower, the transmitter, we hired a consultant to do the market research to determine the format," Lischack says.  "We had a really good idea of what the market needed.  It definitely needed a Top 40 outlet.  This market had been without one for over 15 years.  In a market where over 43% of the population is under 40 years old, and not one local radio station was specifically targeting that demographic, it seemed obvious what needed to be done."
Justin Wright demonstrates the state of the art production studio.  No more platters, 8-tracks, or cassettes -- everything is on computers and hard drives.
Lischack partners with Finger Lakes Radio Group owners Allan Bishop and George Kimball in Z95.5 and ROI Broadcasting.  He says that no expense was spared to provide the most up to date technology for the station.  He says the future of radio is where it always was, in local programming, and is proud of the fact that the station produces its own content with local personalities with the one exception of the Seacrest show.
He says that local element is why individual stations with local on-air personalities will always be successful.  He says people tune out of national ads, but will listen to local ones to keep track of where the sales are and what's going on in their community.  He is optimistic about the future of local broadcast radio, even in the face of competition from satellite radio, the Internet, or iPods.  He notes that satellite radio is floundering, and that many of the big radio conglomerates are in bankruptcy.  As for the Internet, he says that with the younger demographic the station woos, many listeners listen to Z95.5 via the Internet in Ithaca, and when students go home for the summer they listen from there.
"The days of conglomerates like Clear Channel, Citadel, Cumulus -- who by the way are all on the verge of bankruptcy -- radio stations became owned and run by corporations.  You can't do that with a radio station.  Radio stations belong to the communities they serve. If you're going to be a part of the community and perceived to be here to serve the community you have to be active in community events.  We are firm believers in that.  Anything we can get involved in in Tompkins County, Ithaca, Cortland, Cortland County -- we do.
In that vein Lischack isn't satisfied to just sell ads.  A current job listing states, 'The popularity of Z95.5 has exploded in Tompkins and Cortland counties and we need an aggressive street fighter to meet with local business owners and managers to create strategic marketing campaigns that will help them to grow their business.'
"That is so important," Lischack says.  "We train our sales people that we're not here to sell a package and hope it works.  Everything we do is strategic.  It's customized.  We sit down with business owners and come up with marketing solutions for them that will help them achieve their goals.  One clients told me his sales for the year in a down economy rose 25%.  He credits a lot of it to the work that we've done."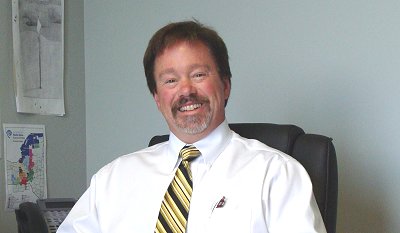 Frank Lischack
After 27 years in the business Lischack still loves everything about radio.  He says he lives and breathes it, and the oldest of his two sons is considering a career in the field.
"I really enjoy the music -- it doesn't matter what the format is," he says.  "I love being responsible for putting music out over the air that people will respond to and want to hear.  I love the sales end, because I love working with business owners and being a part of their growth.  I love coming up with ideas that will get our listeners in their front door.  Nothing gets me higher than when a client says a campaign was fantastic, the response was unbelievable."
He is proud of what his team has accomplished in only one year with Z95.5.  "Ithaca and Cortland now have a radio station that's live, local, and fun," he says.  "We've put the fun back into radio.  We've brought competition to the market and we've brought fun back into local radio."
----
v5i29