Integrated Business Ventures
comes in.
"We help sellers provide succession plans and implement the plans for their businesses," says partner Michael Matteson.  "We typically work with owners of two million to 20 million dollar per year companies. The geography is upstate New York, particularly the Finger Lakes area from Rochester to Syracuse, down to the Southern Tier."
Matteson works on analysis and strategies for making a business viable and more attractive to potential buyers, while his partner Patricia Brown focuses on sales and marketing.  Their core business is to sell businesses or help corporate buyers to buy businesses.  They also help companies that may have been profitable but have suffered a slump, or others that want to take their business to the next level.
"When you take a company from loss to profitability or a company whose owner would like to take the business to a new level, whether it's getting into new markets or changing some infrastructure, we have the ability to help business owners do that," Brown says.  "There is usually a need to change or adjust the financial process and there is usually a need to change and enhance the sales and marketing process."
For Matteson and Brown business is personal.  While they have considerable experience and business acumen, they focus their energy on a very specific niche, one that they have found typical in the Finger Lakes region.
Matteson has been a middle market merger and acquisition specialist for 27 years.  He grew up in the Olean area in southwestern New York State.  He went to Clarkson University, then earned his MBA at University of Pittsburgh.  He began his careeras an engineer a steel company, then worked at Alcoa.  He worked at Xerox for 12 years, then left to buy a manufacturing company.
He says his experience nurturing that company to profitability gave him hands on experience he brings to his clients today.  The actual process of buying the company was a challenge in itself, and it was then that he realized there was a need for acquisitions consultants in the lower middle market.
"I realized there was a niche in the market that was under-served  between the business brokers and the big investment bankers," he says.  "The two to 20 million dollars is our sweet spot in terms of the sellers.  The buyers can be any size.  We've had buyer clients with two billion dollars a year in revenue.  But typically, in 80% of the cases our client is the seller, between 2 and 20 million dollars in revenue, and located in the Finger Lakes area of New York."
Brown grew up on Grand Island, near Niagara Falls.  She attended the University of Baffalo and graduated from the University of California in Santa Barbara with a degree in economics.  She worked for Fortune 500 companies as an account executive and small startup as a Director of Sales and Marketing, specializing in opening up and developing new territories for companies.  She was also a social studies teacher for five years, and says that teaching and sales and marketing have a lot in common.
She was working for a troubled company in Rochester that Matteson was consulting to when he asked if she was free for an afternoon to accompany him to another client's meeting he thought she would be interested in.
"She came with me and she related so well to my perspective client," he recalls.  "It was as if she had been doing this for years.  I said, 'You're a natural.  You have an ability to make connections that's important in our business.'"
Brown began working for him as an independent contractor for a time before becoming his partner in business and in life.  Today they make a formidable team, complementing each other's value to the client and offering a full package.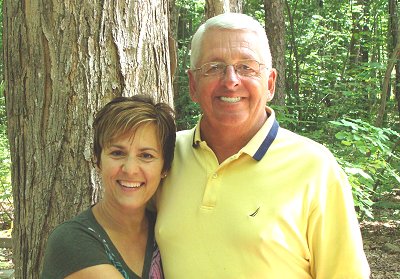 Patricia Brown and Michael Matteson
That encompasses the spiritual side of life and business as well as the bottom line.  The couple looks for clients who are interested in the 'Triple Bottom Line,' which expands the traditional view of business existing only to make money to one that encompasses people, planet, and profit.   Matteson and Brown look for clients who want all three.
They work to get the best price for the business, but they also look at how a business owner develops his or her people, contributes to the community, caring for their world.  Brown notes that socially responsible companies have outperformed traditional companies for the past ten years or so.
"We think the other Mergers and Aquisitions people are old school," Matteson says.  "It's still about maximizing the monetary return to the business owner.  We think that's just a piece of it.  If the business owner is only concerned about how much money he is going to realize that's probably not our kind of client."
The couple typically meets with a potential client for the first time at no charge to get a sense of the client's values and determine whether they will be a good fit.  If the chemistry is there they look at the financials, sales and marketing, the operational piece, and the management team.
"We assess the whole business," Brown says.  "Then we ask what is happening here and what needs to happen.  Once we understand that we decide whether we think we can help."
A convergence of  values and spirituality have become an important element in assessing clients.  Unlike selling a house, finding a buyer for a business must be strictly confidential, and that requires that the couple develop a relationship based on trust.
"We're mind, body and spirit," Brown says.  "We find that when we do we can be so much more effective because the level of trust is much deeper.  People in business want to trust you, but don't necessarily trust you.  When we take on a client they find out their interest is our best interest.  We do whatever it takes to make sure we accomplish what we set out to do with them."
Today the couple maintains a small office in South Hill in Ithaca.  Most of the work they do is at client sites, so they don't need a large office or staff.  Doing the work themselves is part of building the relationship with their clients, and they like to build a team of experts early in the process, rather than bringing attorneys and accountants in at the last minute.  Both say their favorite part has to do with the impact they can have on clients' lives.
"Our clients are pretty well identified through their businesses," Matteson says.  "They can't separate the personal from the business in many cases.  We've made a real difference in the lives of every single client that we've worked with.  That includes saving clients from bankruptcy, or just helping them build their businesses to a higher level and getting more out of their life as a result of that."
"My favorite part is connecting with people on a very deep level and helping to make a difference in their lives," Brown says.  "Business, especially in America, can be very transformational.  As this world and consciousness is evolving we have the ability to bring more than just the business piece to, I hope in our small way, to craft a better world."
----
v5i32
When you want to sell your house everybody knows you have to spruce it up, fix those rusty pipes, replace the faded wallpaper, give the kitchen a makover, then put a sign in the yard.  Selling a business is more complex, but the concept is similar.  The business must be prepared for sale to attract the right buyer.  That's where